One of the great joys of our friendship comes from sharing our holidays.  For many years we have been lucky enough to celebrate both the Jewish traditions with Rhona's family and the Italian traditions with Joan's family.  As Passover and Easter rapidly approach (and they fall on the same weekend this year) we find ourselves in heavy planning mode — making lists, shopping, cooking, but also dreaming and remembering.  So many of our family celebrations are based on those we remember from our own childhoods, traditions we hope to pass on to the next generation.  So we drag out the old faded recipes, tablecloths, photos… and the stories come rushing back.  Today we share with you a few sample menus and iconic dishes from our diverse backgrounds, using the fresh ingredients available to us in the Santa Barbara markets.  We know you will recognize some of these recipes, and perhaps find some inspiration for your own celebrations in a few of our ideas.  As for us, we will sit down at the Seder table together on Friday and then hunt for Easter eggs together on Sunday… our families will share the holidays once again and we will revel in the commonality of our experience as well as the diversity of our traditions.  Wishing you all a beautiful holiday weekend spent with loved ones and filled with joy.
Rhona's Passover Seder
For me, the holiday is all about family and tradition.  As I peel the potatoes, slice the onions, braise the brisket, simmer the carrots, update our family Haggadah (the book that guides our telling of the Passover story), set the table, light the candles, I think about all of the Seders that have taken place all over the world for so many centuries.  All the dishes we put on the table on the first night of Passover represent a link to a very old story, but also a timeless one, of freedom, of family, of appreciation for what we have been given. My niece recently made me aware of a poem called "A Passover Love Story," which reminds us that all the thought that goes into this one meal, the endless details:  the Seder plates, the many courses, the recitation of the story, grandma's silver, mom's linens, granny's candlesticks, and the memories: the voices of my grandfather and my father in my head as they read the Hebrew in the Maxwell House Haggadah, the laughter of our children as they searched for the hidden "afikomen," the Manischewitz wine – all of it is a sort of unspoken code for the passing of tradition from one generation to the next. So here is my partial menu, along with my mother's recipe for matzo ball soup, an important part of that code, and the symbol of everything Jewish that can heal whatever ails us!
 Menu:
Eggplant dip with matzo crackers, green salad, gefilte fish, charoset (a mixture of apples, wine, and cinnamon), brisket smothered in onions and cooked for hours, chicken with artichoke hearts and sun-dried tomatoes, roasted whole salmon, fresh green asparagus, potato and broccoli kugel, tzimmis ( a sort of carrot and sweet potato stew), flourless chocolate cake, cheesecake with strawberry sauce, coconut macaroons, and of course, bowls of steaming matzo ball soup.

matzo ball soup
There are as many ways to make matzo balls as there are Jewish grandmothers, each recipe claiming to be the best, the fluffiest, the lightest, the densest... it's all according, as my own grandmother used to say. It's what you're used to. For my family, we've gone the route of light and tender, easy on the salt.
Ingredients
3 jumbo eggs, separated, yolks beaten
3 tablespoons chicken fat or shortening
3 tablespoons cold water or sparkling water
⅔ cup matzo meal
½ teaspoon salt
1 teaspoon chopped fresh dill (optional)
1 large onion, chopped (optional)
1 tablespoon vegetable oil (optional)
Instructions
If using the onion, cook in a heavy skillet in vegetable oil over medium heat until softened, then lower heat and continue cooking until well-browned and fragrant. Be careful not to burn it. In a bowl, combine the egg yolks, chicken fat, water, matzo meal, dill if using, and salt. In an electric mixer, whip the egg whites, then fold it gently into the yolk mixture. If using the onion, add it to the mixture now and combine well. Chill in refrigerator six hours or in freezer one hour.
Put a pot of water up to boil. Using a tablespoon measure, scoop and shape by hand into 2" balls, being careful not to over-handle the mix. Drop each ball into the boiling water, cover and cook for at least 30 minutes. Ladle one or two in each person's bowl and cover with your own hot chicken soup or broth. (If you need a basic recipe for the soup, think about simmering a whole chicken in a big pot of water, adding chunks of carrots, onions, celery, parsnips, dill, and parsley. Bring it to a boil and then cook it over a low flame for about an hour before straining out the broth and letting it sit overnight in the refrigerator. The fat will rise to the top so you can scoop it out and discard it. Then just re-heat your clear broth when you're ready to serve it.)
Joan's Sicilian Easter Breakfast

As children, my sisters and I couldn't wait for Easter morning – the end of Lent lifting the ban on eating candy, the Easter baskets somehow magically appearing on our beds, and the Easter eggs we colored the day before, now hiding in the house awaiting our discovery. Our hunts took place first thing in the morning because they were needed for Easter breakfast. Our father always helped out the sister with the least eggs, urging her on with, "You're getting warmer. You're getting colder." I'm not sure who had more fun, the three of us rushing around to collect the most eggs or our parents watching our fervent efforts as we upended upholstery, crawled under tables and rummaged through kitchen drawers. When all the eggs were accounted for, we sat down to an amazing breakfast.  Along with the newly rescued eggs, our Easter table consisted of an assortment of Italian salami, cheeses and crusty rolls purchased at the local Italian deli. The Easter table would not be complete without our father's cured black olives.  But the star of our Easter table had to be our mother's Italian Easter Bread. Yes, the braided bread, shaped like a wreath with brightly decorated eggs nestled inside. We adored this festive bread as children.  Our mother continued to make this bread for her grandchildren, using the eggs they colored. Her grandchildren were equally delighted. This bread is sure to enchant children of any age and when my daughters are home we love making the bread together and remembering Grandma Julie and her fabulous bread.  Here's our breakfast menu and my mother's Italian Easter bread recipe.
Menu:
Dyed Easter eggs, an assortment of salami (genoa, soprosata capicola, proscuitto and/or mortadella), an assortment of cheeses (provolone, mozzarella, asiago and the unusual and must have luminary, ricotta salata), black cured olives, castelvetrano olives, Caprese salad, crusty Italian rolls and Italian Easter Bread.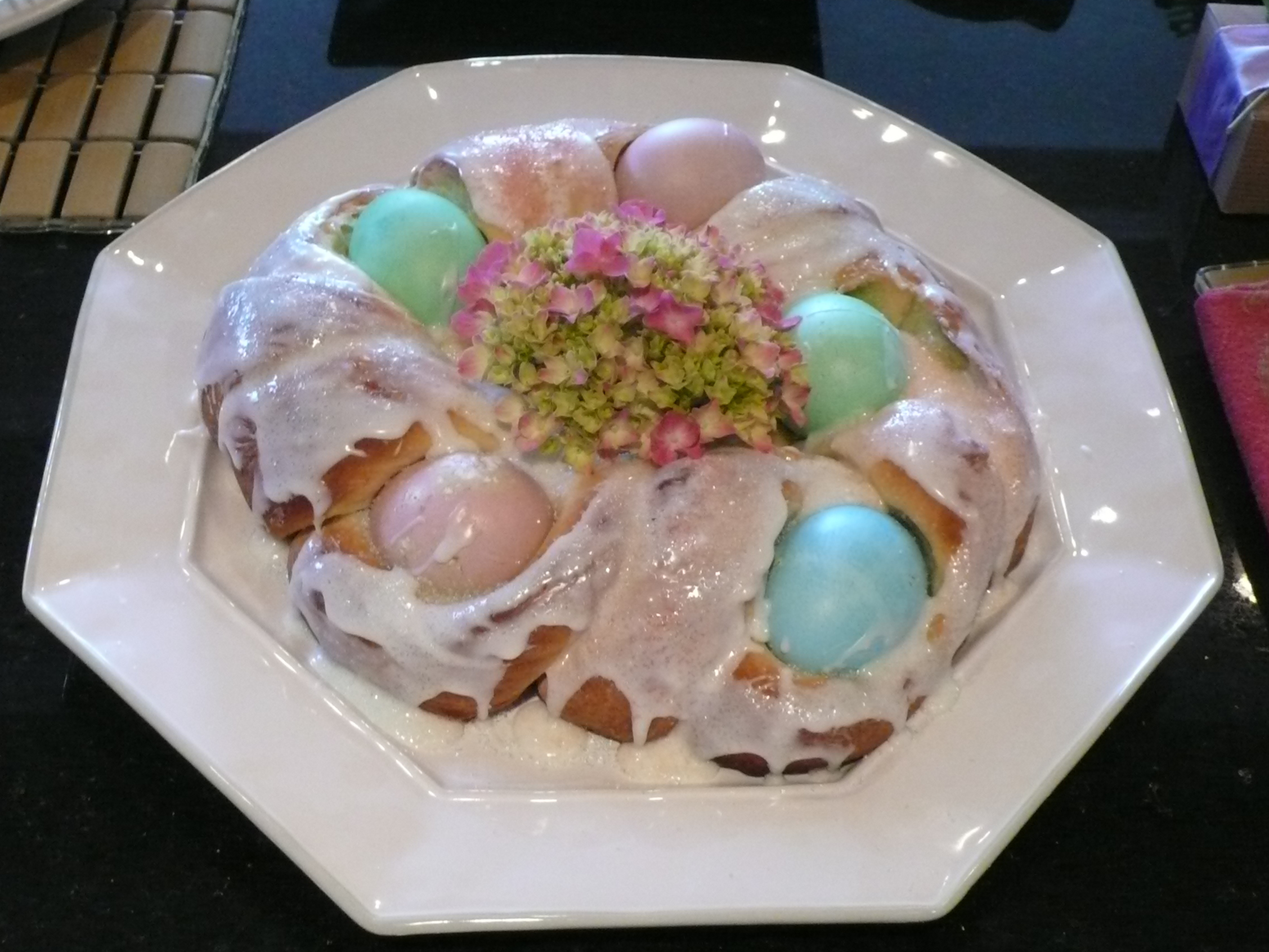 italian easter bread
Ingredients
Bread
¼ cup sugar
1 teaspoon salt
1 package dry yeast
2-1/2 cups unbleached flour, divided
⅔ cup milk
2 tablespoons butter
2 eggs, room temperature
2 tablespoons melted butter
Vegetable oil
5 uncooked eggs colored with Easter-egg dye
1 egg
2 tablespoons cold water
Icing
1 cup confectioner's sugar
2 -3 tablespoons milk
¼ teaspoon vanilla extract or fresh lemon juice
colored sprinkles, for decoration
Instructions
To Make the Bread
In a large mixing bowl, blend the sugar, salt, and yeast and 1 cup of flour; stir well.
In a small saucepan, combine milk and butter, heating slowly until the milk is warm and the butter is melted.  Gradually add the milk and butter to the flour mixture, stirring constantly.  Add the two eggs and ½ cup flour and beat well.  Add the remaining flour, ½ cup at a time, mixing well after each addition.  When the dough draws away from the bowl, turn it out onto a lightly floured surface and knead until smooth and elastic, about 8 minutes.  If the dough is sticky, add more flour in small amounts.  Lightly oil a large bowl, and place the dough in the bowl, turning to coat with the oil.  Cover with a damp cloth and place in a warm, draft-free place until doubled in volume, about 1 hour.
Punch down the dough and turn it out onto a lightly floured board. Divide the dough in half.  Carefully roll each piece into a 24-inch rope.  Loosely braid the two ropes together and form it into a ring on a greased baking sheet. Pinch the ends together to seal.  Gently open the braid slightly to make a place for each colored egg. Carefully push the eggs down into the dough as far as possible. Cover the bread with waxed paper and let rise in a warm, draft-free place until double in bulk, about 45 minutes to 1 hour.
Beat water and egg together and gently brush the mixture over the dough with a pastry brush.  Bake the bread in a preheated 350 degrees oven for about 35 minutes, or until a toothpick inserted into the bread comes out clean. Place onto a wire rack to cool. Once the bread is cool, drizzle the icing on top between the eggs, and decorate with colored sprinkles.
To Make the Icing
Combine sugar, milk and vanilla in a medium bowl and mix well.