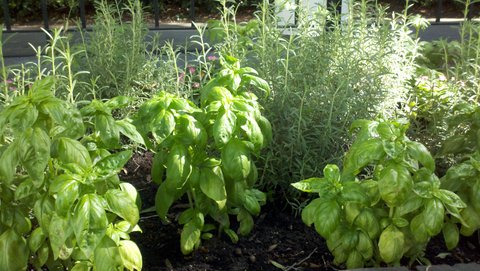 Basil, parsley, mint — so green, so pretty!  What better way to use all those herbs multiplying in the garden than to make a little pesto.  It's quick, delicious, and versatile.
Joan's father used to make big batches every summer with basil from his garden.  He would freeze the pesto in ice cube trays and use them throughout the year to season his tomato sauces (secret #1!).
Our foolproof basil pesto recipe comes from Michael Chiarello's wonderful cookbook, Tre Vigne, named for his first Napa Valley restaurant.  The trick to his beautiful pesto comes from blanching the basil for about 15 seconds in boiling water and then immediately transferring the basil to a bowl of ice water to "shock" it and stop the cooking process (secret #2!).  Your pesto will maintain its luscious green garden color for days.
Usually, pesto refers to a mix of basil, garlic, pine nuts, Parmesan, and olive oil.   But if you have no basil, no problem. We often use mint, tarragon, thyme, parsley, even spinach and arugula to make a pesto. It's as easy as throwing it all in a food processor or blender and hitting the start button!
In fact, why not try a mint pesto over thickly sliced bright red tomatoes, for a beautiful hors d'oeuvre or side dish.  It's an unexpected and fabulous flavor (and looks especially pretty on a plain black or clear glass plate).
Here's a guideline for making a presto pesto with any soft leaf herb that comes your way.

classic pesto
(adapted from Tre Vigne, by Michael Chiarello)
Ingredients
4 cups packed fresh basil leaves (can substitute mint, parsley, tarragon, or arugula)
1 tablespoon garlic, minced
Salt and freshly ground pepper
1 cup olive oil
2 tablespoons pine nuts, toasted in a dry pan for about 5 minutes, or until fragrant and light brown
½ cup freshly grated Parmesan cheese
Instructions
Prepare an ice water bath in a large bowl, and bring a large pan of water to a boil. Put the basil in a large sieve and plunge it into the boiling water. Immediately immerse the basil and stir to blanch evenly (about 15 seconds). Remove and shake off the excess water, then plunge the basil in the ice water bath, stir to cool fast. Drain well.
Squeeze water out of the basil until dry. Roughly chop the basil and put in blender or food processor. Add the garlic, salt and pepper, olive oil, and pine nuts. Blend for at least 30 seconds. Add the cheese and pulse to combine. The pesto will keep several days in a sealed container in the fridge. (We use Joan's dad's method of freezing it in small batches in an ice cube tray for pesto whenever you want it.)
Makes about 1½ cups.