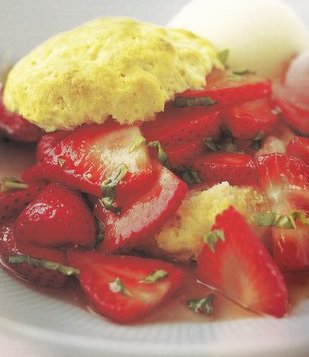 Strawberries are in season all year long in Santa Barbara, but in late June, they are everywhere!  We hear from our friends that markets across the country and across the world are overflowing with them:  sweet, bright red, juicy…. whether they're small wild berries or large Chandlers or Albions, we are crazy about them.
Between us, we have more cookbooks in our collection than we can count; so we thought we would start to incorporate recipes from some of the lesser known ones, starting with this one, adapted from  Lori Longbotham's Luscious Berry Desserts.

Strawberry and Basil Shortcakes
Ingredients
Berries:
2 pints ripe strawberries, hulled and sliced
2 tablespoons finely shredded fresh basil leaves
2 tablespoons sugar, or more to taste
1 tablespoon fresh lemon juice
Biscuits:
1 ¾ cups all-purpose flour
1 tablespoon sugar
4 teaspoons baking powder
½ teaspoon baking soda
½ teaspoon salt
¼ cup (1/2 stick) cold unsalted butter, cut into small pieces
¾ cup plus 2 tablespoons buttermilk
Strawberry sorbet or vanilla ice cream (optional)
Instructions
Preheat oven to 450 degrees
Berries: Stir together the strawberries, basil, sugar, and lemon juice in a medium bowl. Let stand at room temperature while you make the biscuits.
Biscuits: Whisk together the flour, sugar, baking powder, baking soda, and salt in a large bowl. But in the butter until the mixture resembles coarse crumbs. Make a well in the center of the flour mixture, pour in the buttermilk, and stir with a fork until a dough just begins to form; it will be very sticky.
On a well-floured surface, knead the dough very lightly once or twice with floured hands. Pat out the dough to ¾ inch thick. Dip a 2 ½ inch biscuit cutter into flour and cut out 8 rounds, being careful to reflour the cutter as necessary but not to twist it or the biscuits will be tough. Gather the scraps together and pat them out again if needed. Transfer the biscuits to an ungreased baking sheet.
Bake for 12 to 15 minutes, or until light golden brown. Cool slightly on the pan on a wire rack.
To serve, split each biscuit with a fork, and place the bottom halves on 8 serving plates. Spoon a generous portion of the berries over each one, if using ice cream or sorbet, put a scoop on the side, then add the tops and serve immediately.