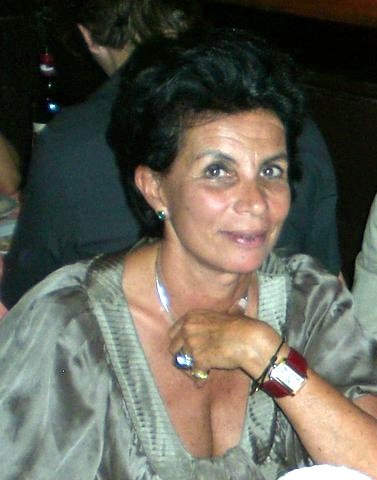 When our friend Anja comes to visit, it's always a party!  If you're anywhere near Coast Village Road and you see an elegant dark-haired woman with orange pants and a Panama hat walking by, stop and say hello!  Chances are you've seen her before, as she has visited Santa Barbara many many times.  In fact, we met on her first trip from Geneva with her family many years ago, and have been friends ever since.  Long distance friendships are priceless.  Anja says we might not be such good friends if we saw each other every day, but we disagree!  And now that there's texting and cheap long distance calling, it's a relationship that has become easier to nourish with frequent contact.  We've watched our children grow and have shared occasions and vacations in many faraway places.  But the most fun is when she stays with us and we get quality girlfriend time!  Oh, the gossip and the laughter, the margaritas and the pizzas!  Her husband, Jacques, says Anja makes the best Swedish meatballs in the world, and we believe him; but in summer, she tells us that her meal of choice is often a cold soup, a throwback to her childhood days in a small Swedish town.  It can be a vichyssoise, gazpacho, or a yellow courgette (zucchini), but they sounded so refreshing that we asked for her recipe.  She says it can be made with most any vegetable, and although she uses no cream, it helps if you have an immersion blender or food processor to give it a creamy consistency.  Her special twist:  adding 1 teaspoon of garam masala, an Indian spice combination that gives the soup an interesting kick.
It's summer comfort food, delicious and beautiful in its simplicity.

anja's cold vegetable soup
Ingredients
Soup
1 onion, chopped
olive oil or butter for sautéing
1 clove garlic, chopped
3 cups vegetables of your choice, chopped (leek and potato, zucchini, broccoli, asparagus work well)
1 quart stock, chicken or vegetable
*1 teaspoon garam masala
Kosher salt
*Garam masala
1 tablespoon ground cumin
1½ teaspoons ground coriander
1½ teaspoons ground cardamom
1½ teaspoons ground pepper
1 teaspoon ground cinnamon
½ teaspoon ground cloves
½ teaspoon ground nutmeg
Instructions
To make the soup
Sauté onion in olive oil or butter for about ten minutes, or until transparent. Add clove garlic and sauté another minute. Add chopped vegetables and stock and bring to a low boil, then simmer for about 20 minutes, until the vegetables are softened and tender. Working in batches, put the whole thing in a blender or food processor and pulse until smooth. We like using an immersion blender because the mixture can be pureed right in the pot.
When smooth, add garam masala and salt to taste; stir until mixed thoroughly.
To make the garam masala (there are many variations; this is a basic one)
Mix cumin, coriander, cardamom, pepper, cinnamon, cloves, and nutmeg in a bowl. Place mix in an airtight container, and store in a cool, dry place.)
And if we're talking about cold soups for the dog days of summer, here's a staple … quick, easy, light, and so healthy, we have it for breakfast all year long!
cold cucumber soup
(adapted from Love Soup by Anna Thomas)
Ingredients
1½ pounds cucumbers (We prefer Persian or hothouse so the skin is thin and there are no seeds)
1 bunch mint leaves (about ⅔ cup)
3 cups nonfat Greek-style yogurt
1 teaspoon salt (optional)
2 tablespoons lemon juice (optional)
½ teaspoon sugar (optional)
Instructions
Wash the cucumbers and trim off the ends, but do not peel them. Cut into ½ inch dice. Combine the cucumbers, mint, and yogurt in a bowl and either just stir, or blend lightly in a blender. You can add a dash of kosher salt, lemon juice or sugar to taste , but we like it pure and simple!
Save
Save
Save
Save
Save
Save