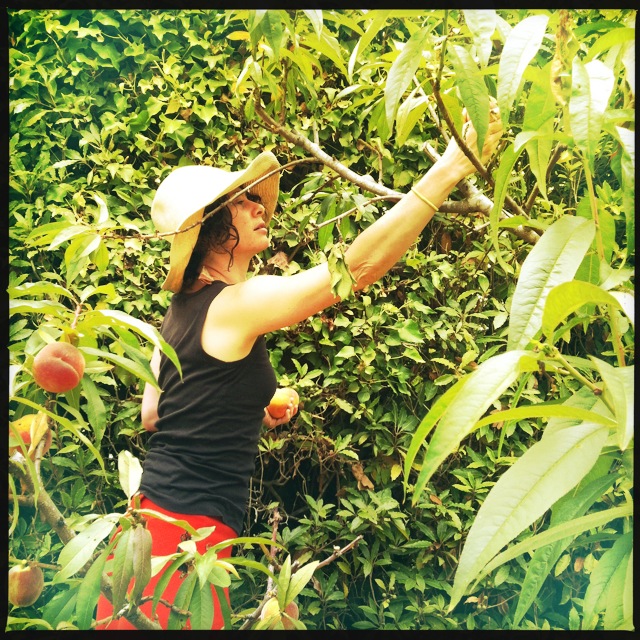 Trees overflowing with peaches:  tangy yellow and sophisticated white, luscious and juicy.  Once they appear, they seem to ripen all at once.  What to do with all those beautiful gems?  Time for peach everything!!!  Ice cream, jam… but of course, peach cobbler.  Alice Waters has a classic recipe in her Art of Simple Food cookbook; Ina Garten combines peaches and raspberries for a delicious crisp.
But here's a new twist, taken from an old Junior League recipe appearing in the Los Angeles Times:  make the batter and put it in your pan, THEN add the macerated peaches and cook.  As it bakes, the fruit will rise to the top, the dough will sink down and puff up along the sides, and the aroma in your kitchen will waft throughout the house and into the street!  Just be sure to use very ripe peaches — we prefer yellow ones for this.
It's a showstopper, and sweet as a summer night.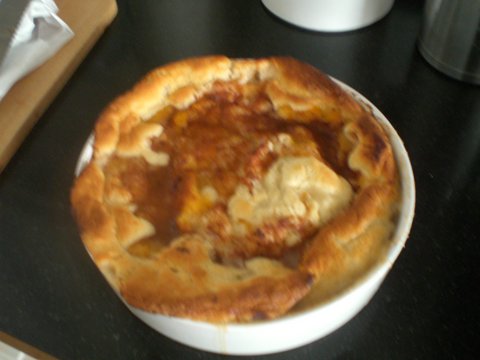 easy fruit cobbler
Ingredients
Biscuit Topping
¼ cup butter at room temperature
½ cup sugar
1 cup flour
¼ teaspoon salt
2 teaspoons baking powder
½ cup milk
Fruit Filling
3 cups peeled and quartered peaches
½ cup sugar
¼ teaspoon cinnamon
1½ cups water
Can serve alone or with a scoop of vanilla or butter pecan ice cream.
Instructions
Preheat oven to 375 degrees.
To make the biscuit topping
Cream butter and sugar together. Sift together flour, salt ad baking powder. Add to butter alternately with milk. Pour into shallow greased 2-quart baking dish.
To make the filling:
Spoon 3 cups peaches over Biscuit Topping batter. Sprinkle with sugar, cinnamon, and water. (Yes, it's counter-intuitive, but do it! It will work!) Bake until set and light brown on top, about 45 to 50 minutes. Fruit will sink, we promise!