Happy 4th of July!  We're lighting up the grill for a low-key feast that's fast and fabulous!  We think there's nothing like the basics:  extra long hot dogs from the deli (thank you, Nora Ephron), fresh sweet corn from the farmers' market, French potato salad, and Mario Batali's make-ahead ribs.  Add a buttery oatmeal crisp of peaches and raspberries, some watermelon, and a show of spectacular fireworks off Stearn's Wharf, and you've got an Independence Day celebration that will bring out the patriot in all of us!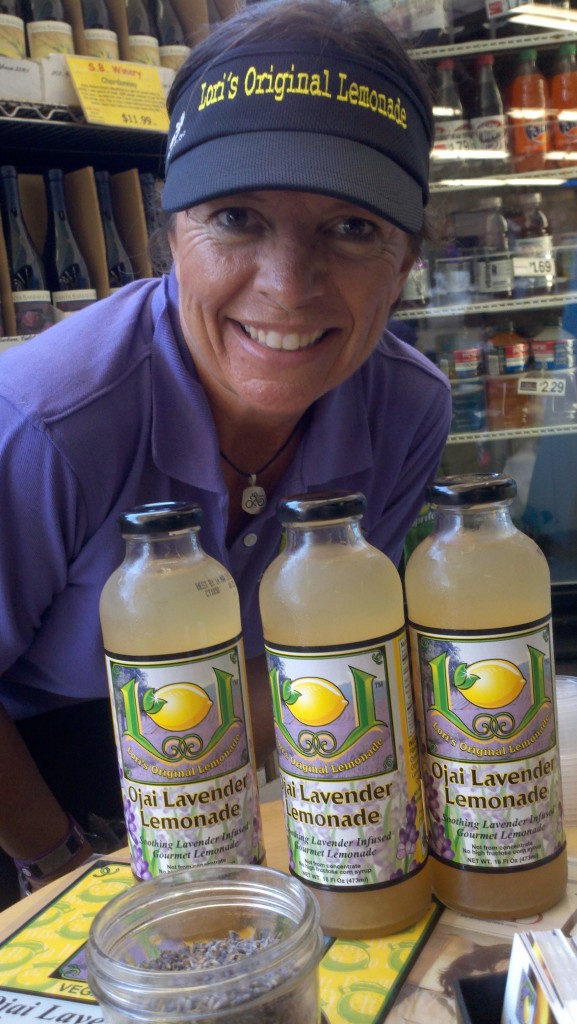 Today we're also featuring the lavender lemonade from Lori's Original Lemonade.  After years of selling this at her kids' lemonade stands and having everyone tell her she should bottle it professionally, she put together her special blend in Ojai only a few months ago and has already sold over 50,000 bottles.  You can find her at the local farmers' markets as well as at Tri-Counties Produce on Milpas.
honey glazed ribs
Serves:
4 for main course or 6 to 8 as an appetizer
(adapted from Mario Batali)
4th of July Bonus: These ribs are cooked ahead of time and ready to be warmed up on the grill with the honey glaze just before serving.
Ingredients
3 to 4 pounds baby back pork ribs (about 2 slabs)
½ cup white wine
½ cup soy sauce
1 bunch scallions, green parts only, finely chopped
3 inch piece fresh ginger, peeled and finely chopped
8 cloves garlic, coarsely chopped
6 tablespoons brown sugar
1 tablespoon Chinese five-spice powder
Honey Glaze
⅔ cup honey
½ cup orange juice
¼ cup fresh lemon juice
3 tablespoons soy sauce
2 tablespoon Dijon-style mustard
1 tablespoon sesame oil
1 teaspoon curry powder
1 teaspoon dried ginger
Instructions
Preheat the oven to 350°F.
In a large bowl, combine the wine, soy sauce, scallions, ginger, garlic, brown sugar, and five spice powder
Cut each rack into individual ribs and place them in the bowl with the wine mixture, tossing the ribs gently so they are covered. Transfer the ribs and liquid to a baking pan, cover with foil, and bake in the center of the oven for one hour. Let the ribs cool, then transfer to resealable freezer bags, and refrigerate for up to 2 days,
To finish the ribs on the grill:
In a small bowl combine the ingredients for the Honey Glaze.  Cook the ribs over a medium fire, turning and mopping them several times with the glaze until they are heated through and are nicely browned, about 15 minutes.  Serve immediately with lots of napkins.
french potato salad with bacon
A classic from The Silver Palate.
Ingredients
8 or 9 new potatoes (1 pound)
Salt (to taste)
¼ pound bacon
¼ cup finely chopped shallots
¼ cup red wine vinegar
2 tablespoons olive oil
Freshly ground black pepper (to taste)
¼ cup chopped red onion
½ cup chopped fresh Italian (flat-leaf) parsley
Instructions
Scrub the potatoes under running water with a soft brush. Quarter them and drop them into a large heavy pot of cold, salted water. Bring to a boil and cook until tender but still form, 8-10 minutes after the water reaches a boil.
Meanwhile, chop the bacon and saute in a small skillet over medium-low heat until crisp. Remove the bacon and reserve.
In the bacon fat remaining in the skillet, saute the chopped shallots until tender but not at all browned, five minutes or so. Reserve the shallots and fat.
When the potatoes are done, drain them and drop them into a mixing bowl.  Pour the vinegar, olive oil, shallots and reserved bacon fat over the still-hot potatoes. Season with salt and pepper and gently toss. Add the red onion and parsley and toss again. Cool to room temperature, cover and refrigerate.
To Serve:
Before serving, bring back to room temperature, toss, correct the seasoning, and add additional oil and vinegar if the salad seems dry. Sprinkle the reserved crisp bacon on top.