So it's August in Santa Barbara, which means Old Spanish Days, or Fiesta as we locals call it.  State Street parades, childrens' parades, flamenco dancing at the Mission, nightly Mercados filled with mariachi music, sprays of confetti eggs and the scent of cinnamon churros and carne asada….. but let's not get ahead of ourselves.  We still have two more tomato recipes to share;  if you haven't figured out what to do with all the tomatoes coming your way, these two ideas will close the deal.  Here's chunky gazpacho, served cold, with crunchy croutons and maybe a dollop of sour cream on top.  And if that doesn't use up your crop in the most delicious way, and you want a reminder of these long summer days when fall starts to peek in, here' s a recipe for easy marinara sauce… just the thing when you have Too Many Tomatoes, the actual  title of a very handy cookbook by Laura Myers.  We added the last three ingredients for extra flavor and punch, but if you are a purist, feel free to omit them.  This will make about 5 pints.
Easy Gazpacho

(serves 4 – 5)
There are so many ways to make gazpacho.  We've seen it with a base of tomato juice or tomato soup, but with all the fresh tomatoes out right now, there's no reason not to just let those be the heart of the dish. Some people like it smooth and blended, but we prefer it chunkier; the texture is up to you.
4 cups tomatoes, cored
1 cup cucumber, seeded
1/2 medium red onion
1/2 medium green bell pepper, stemmed, seeded
1/2 small red pepper, stemmed
1 clove garlic
4 tablespoons olive oil
4 teaspoons wine vinegar
1/2 teaspoon salt
splash of lemon juice (squeeze 1/2 lemon)
1 small jalapeno, cored and seeded (optional)
Put the tomatoes in the blender first, then just add the other ingredients and blend until you have the consistency you like.  Season to taste and add croutons, extra chopped cucumbers, or sour cream.
For best flavor, allow the soup to be refrigerated for about an hour so it's nice and cold and the flavors have a chance to blend.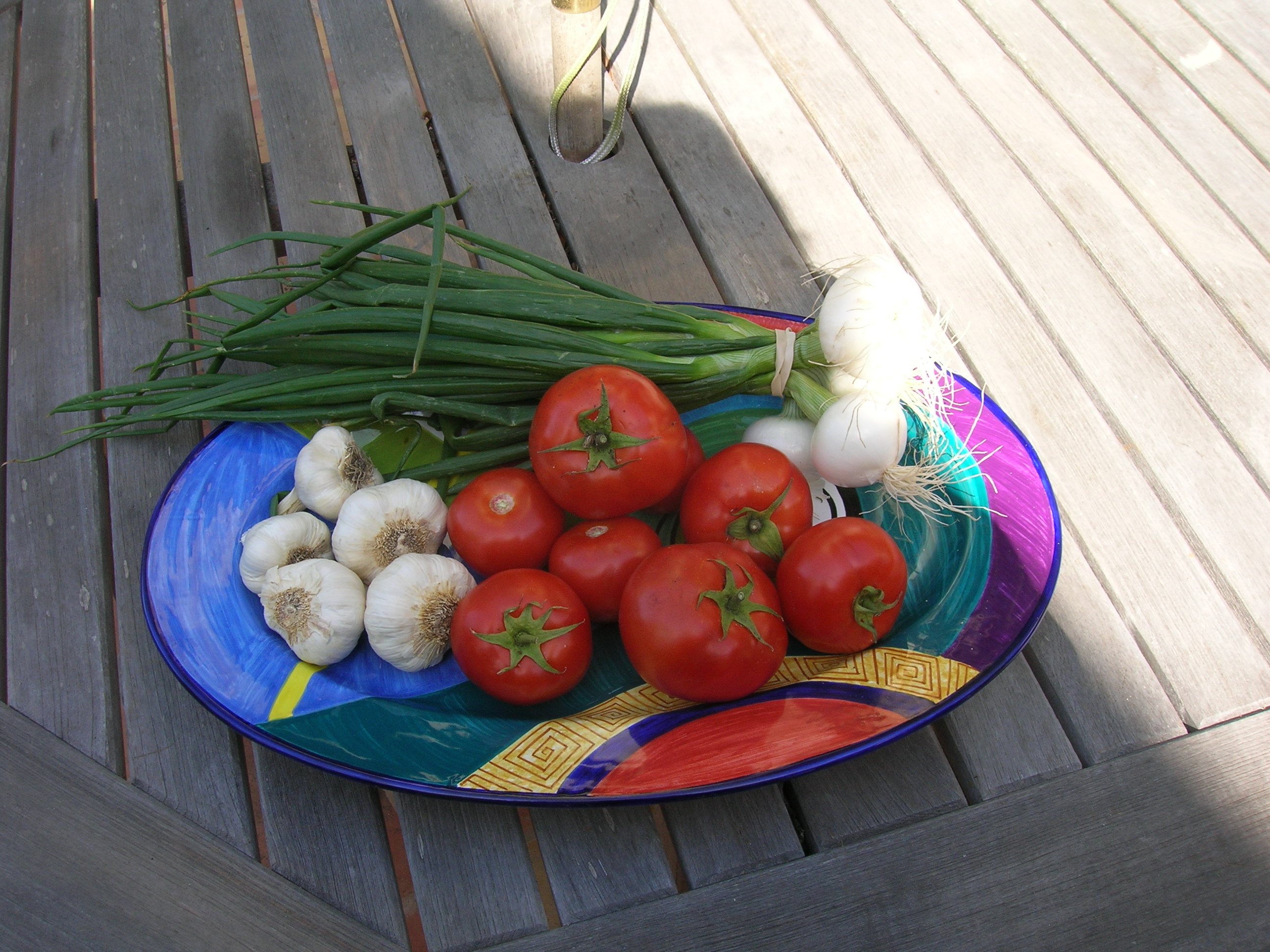 Too Many Tomatoes Sauce
(Adapted from Too Many Tomatoes by Laura Myers)
2 large onions, chopped
2 cloves garlic, minced
1/3 cup olive oil
15 large very ripe tomatoes.  (Very ripe tomatoes make the best sauce!)
2 cups red wine
12 ounces tomato paste
1 1/2 teaspoons salt
1/4 teaspoon pepper
2 heaping teaspoons dried oregano
1 teaspoon dried basil or 24 leaves, chopped coarsely
1 teaspoon crushed dried rosemary
1/3 cup Parmesan
1 cup fresh pesto
1/2 teaspoon sugar
Saute onions in olive oil in large pot over medium heat until golden, about 10 minutes.  Add garlic and saute for an additional minute or two, making sure the garlic doesn't burn.
Peel tomatoes, cut into eighths, discarding as much of the seeds as possible, and add to pot. (If you have a food mill, you can just put the tomatoes through the food mill and it will do the peeling and seeding for you!)  Add rest of ingredients and bring to boil, then simmer for one hour.  Allow to come to room temperature if you want to freeze in bags or containers.