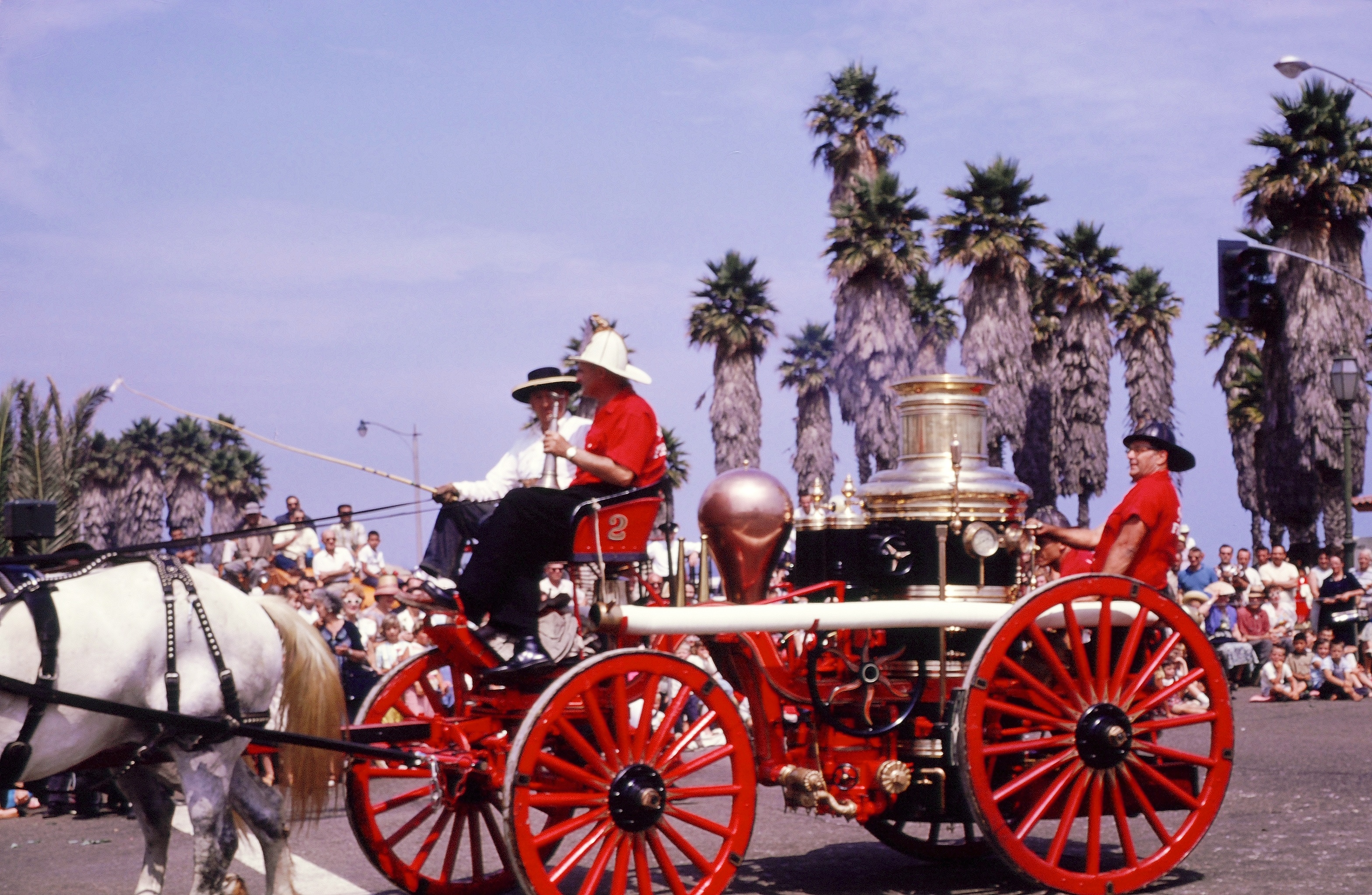 If you've ever lived in our town or passed through in early August you're sure to have memories of Fiesta, Santa Barbara's yearly celebration of its Spanish heritage.  Joan remembers coming to Santa Barbara as a child; she has fond memories of posing for pictures in her fancy dress, watching the parade down a State Street that looked very different than it does today.  But the flavor of Fiesta never changes.  Rhona dressed up her young children every year and they participated in the Saturday morning children's parade;  riding in a wagon or cart dressed as mariachis or horses, they got to throw confetti eggs to the onlookers along the parade route.  Afterwards,  the city treated all the kids to ice cream at the "finish line!"
Of course, Fiesta comes with traditional celebratory foods.  The quintessential Santa Barbara menu calls for marinated tri-tip or flank steak grilled medium-rare over hot coals and sliced wafer thin, spicy beans, lots of tomatillo salsa and guacamole with bowls of corn chips, and grilled fruit or creamy flan for dessert.  Serve up pitchers of margaritas or sangria, and ole!  Viva la fiesta!
Tri-Tip
Bobby Flay has Santa Barbara-style down pat with his recipes for tri-tip and bean relish.
2 tablespoons kosher salt
1 tablespoon garlic salt
1 tablespoon coarsely ground black pepper
1 (2/1/2-pound) tri tip roast, fat trimmed or 2 ½ pounds of steak of your choice
canola oil
Heat your grill to high.  Combine salt, garlic salt and pepper in a small bowl.  Rub the mixture all over the beef and drizzle with the oil.  Put steak on the grill and cook, turning once, until golden brown and slightly charred on both sides and cooked to medium rare, about 15 minutes total.  Transfer the steak to a cutting board, tent with foil, and let rest for 5 minutes before slicing across the grain into ¼-inch-thick slices.
Santa Barbara Pinquito Bean Relish
8 ounces bacon, finely diced
1 medium Spanish onion, finely diced
1 poblano chile, finely diced
2 cloves garlic, finely chopped
2 (15.5-ounce) cans pinquito or pinto beans, drained, rinsed, and drained again
2 tablespoons chopped cilantro or flat-leaf parsley
Kosher salt and freshly ground black pepper
Heat a large sauté pan on a medium-high flame.  Add the bacon and cook until golden brown and the fat has rendered, about 10 minutes.  Remove the bacon with a slotted spoon to a plate lined with paper towels.
Add the onion and poblano to the bacon fat in the pan and cook until soft, 3 5o 4 minutes,  Add the garlic and cook for 30 seconds.  Add the beans and cook until warmed through, 3 to 4 minutes.  Fold in the cooked bacon and cilantro, season with salt and pepper, and transfer to a medium bowl.  Serve warm.
Tomatillo Salsa
Tomatillos are actually not little tomatoes.  They are related to the cape gooseberry and the ground cherry, and are a staple in Mexican cooking.  Thank the Café Pasqual in Santa Fe for this easy and addicting salsa.  Great with anything Mexican, Southwestern, or frankly, anything.
1/3 pound tomatillos, husks removed
1/2 small white onion, chopped
1 clove garlic
1 fresh Serrano or jalapeno chile, stemmed
¼ cup water
½ teaspoon salt
½ bunch fresh cilantro or flat-leaf parsley, stemmed
Place the tomatillos, onion, garlic, chile, and water in a blender or a food processor fitted with the metal blade.  Add the cilantro or parsley and whirl until smooth.  Do not add the cilantro or parsley until just before serving because it will lose its flavor and bright green color.  Makes ¾ cup salsa.
Classic Margarita
1 slice lime
coarse kosher salt
1/2 ounce fresh lime juice
1/2 ounce fresh lemon juice
1/2 ounce tequila
1/2 ounce triple sec
4 ice cubes
Rub the inside of a chilled glass with the slice of lime and dip the glass into the salt.  Combine all other ingredients in blender.  Serve with garnish of slice of lime.
Orange Flan
(adapted from The New Basics Cookbook and Emeril Lagasse)
Flan, or creme caramel, is a custard baked in a ramekin or baking pan that has been lined with caramelized sugar.  After baking the custard and chilling it, you invert it onto a plate where the caramel forms a delicious sauce that slides off the top.  Flans can be flavored with all kinds of things, like coconut or kahlua, but here is a light orange one, just right to top off your Fiesta meal.
Caramel
1/2 cup sugar
3 tablespoons water
Custard
1 cup fresh orange juice
5 whole eggs, lightly beaten
2 egg yolks, lightly beaten
1/2 cup sugar
2 tablespoons heavy cream
1 tablespoon Grand Marnier liqueur
1/2 teaspoon vanilla
Preheat the oven to 350 degrees.
Prepare the caramel:  Combine the sugar and water in a small heavy saucepan and cook over medium heat until the mixture is thick and starts to melt  Lower the heat and cook until caramelized to a golden brown.  As it cooks, brush down any crystals formng on the sides of the pan with a wet pastry brush or keep the pan covered for the first five minutes.  Do not stir or touch the sugar, just swirl the pan to melt evenly.  The mixture will be very hot.
Pour the hot caramel into a dry 4 to 5 cup ring mold or 9-inch cake pan.  Wearing oven mitts, swirl the pan to coat the bottom and part of the sides with caramel.  Set aside to cool and harden.
Prepare the custard:  Whisk the orange juice, whole eggs, yolks, sugar, cream, Grand Marnier, and vanilla together in a bowl just until smooth.
Pour the mixture into the caramel-coated mold.  Set the mold in a larger pan, and put enough hot water in the larger pan to reach halfway up the sides of the mold.
Bake until the top of the custard is firm to the touch, about 30 minutes.  Let it cool to room temperature on a wire rack, and then refrigerate it until chilled, at least 2 hours.
To unmold the flan, run a thin sharp knife around the rim of the flan.  Place a large plate or platter on top of the flan and gently invert so the plate is on the bottom.  Slice and serve, spooning caramel over each serving.