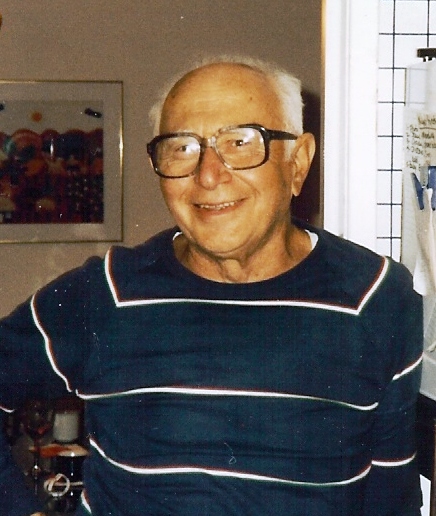 Today is the first day of August.  A poignant day for my sisters and me because it marks the 20th anniversary of our dad's passing.  Joe Marinello was a great gardener and a prolific Italian cook.  He loved nothing better than to bring each of his grandchildren into the garden as soon as they could walk to show them how to collect his ripened tomatoes.  Joe and his wife Julia left his children, grandchildren, and sons-in-law a rich Italian-American heritage celebrating the importance of good food, close friends, and lots of love.  Today in honor of my dad, we're posting his trademark pasta sauce he loved to brag was the Fastest Sauce in the West.  The directions are classic Joe.  So, get out your blender, reach for your tomatoes, use your imagination, and whirr away.  You're in for a treat!
Joan
The Fastest Sauce in the West
1 ounce of olive oil
3-4 cloves garlic
Basil, as much as you want
Parsley, lots of it
Salt and pepper
½ teaspoon dried oregano
3-4 fresh tomatoes, sliced (the riper the better) or 1 large can of whole plum tomatoes.
1 pound spaghetti or linguine
In a blender add the following:  olive oil, garlic, basil, as much as you want, parsley, salt and pepper, and oregano.  Blend the mixture thoroughly until it is deep green and liquidy.  Add the fresh or canned tomatoes.  Give it a little spin to get it going.  Blend for only ten or fifteen seconds until the color changes to a reddish-green.  Cook the pasta until al dente and it's ready to pour over the linguine or spaghetti.  How fast is that?