The New York Times ran an article recently about what to do when your garden is producing an overabundance of vegetables.   Anyone with a summer garden can relate — it's either peaches, berries, lemons, or, the most challenging in our opinion, zucchini (courgettes, for all you non-Americans!).  After all, it's safe to say that none of us craves a zucchini pie or zucchini trifle… ugh… and we've all had it up to here with zucchini bread recipes.  So aside from bringing a barrelful over to an unsuspecting neighbor's porch, ringing the doorbell and running away, what do we do with all that accumulated zucchini?  And come to think of it, why did we plant so many zucchini in the first place?  What were we thinking?  Note to self:  next year, just one plant will suffice…
However, since they're here, why not make the best of it and go for a few really wonderful dishes that feature zucchini… here are 3 of our favorites, a little off the beaten track but tried and true.  Enjoy….
Sautéed Zucchini Batons with Melon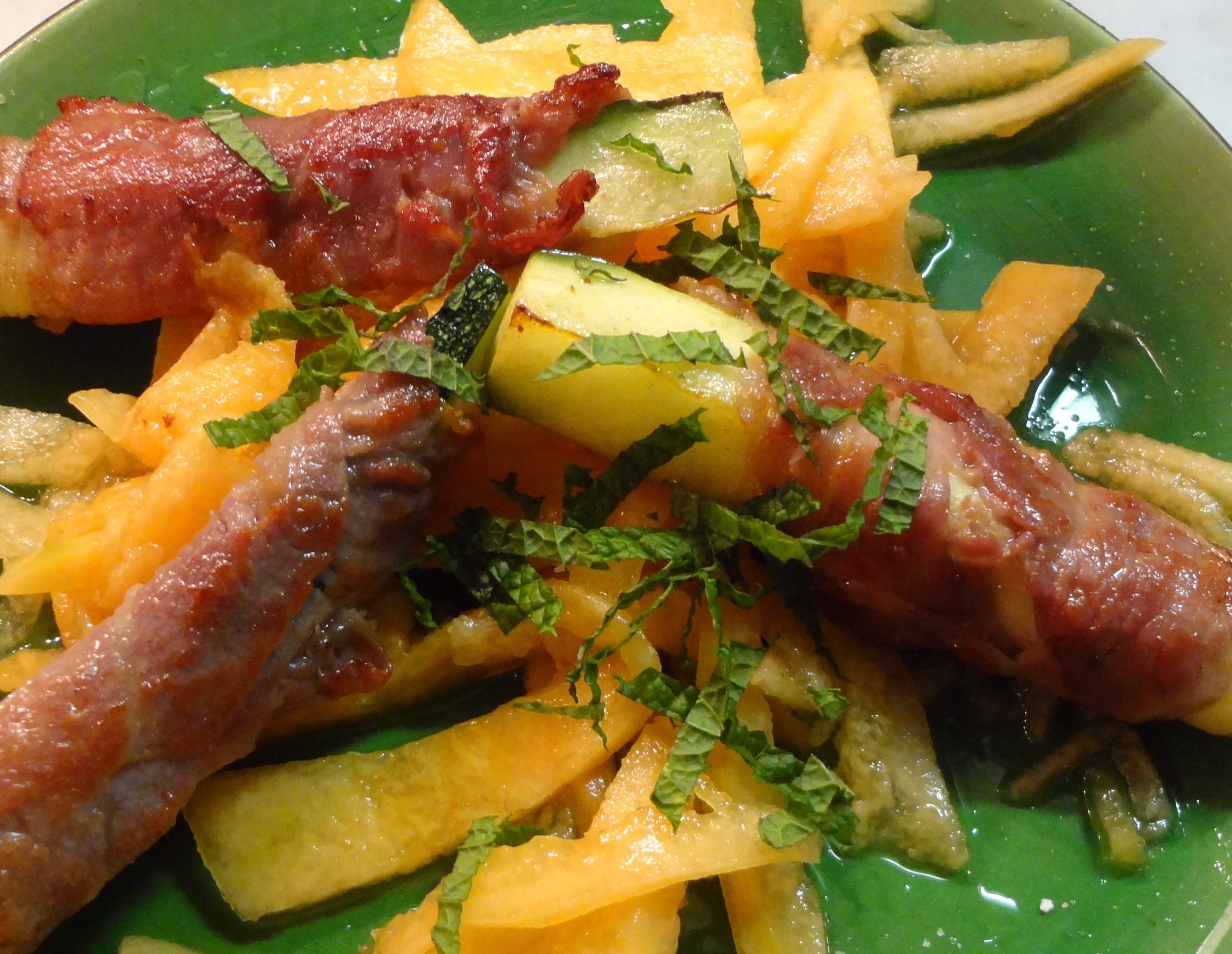 (from Michael Chiarello's Tra Vigne Cookbook)
Serves 4
Ingredients
1 medium-sized ripe melon
3 zucchini, each about 8 inches long and of equal diameter
Gray salt and freshly ground pepper
24 very thin slices pancetta or prosciutto
1-1/2 teaspoons extra virgin olive oil
balsamic vinegar
1 tablespoon finely chopped fresh flat-leaf parsley or mint
Directions
Halve and seed the melon, then peel. Cut the melon on a mandoline with the julienne blade, or cut by hand into thin slices and then again into flat "noodles" about 1/4 inch wide. Arrange in a pile on a platter or divide among 4 plates and sprinkle with a little salt. Keep refrigerated until needed.
Trim the ends from the zucchini and cut into quarters lengthwise. Season with salt and pepper. Wrap each piece tightly in a slice of pancetta. Heat the olive oil in a large sauté pan over medium heat until hot. Add the zucchini and sauté until the pancetta is crispy but the zucchini is still nearly raw, about 5 minutes.  (Note:  zucchini can be grilled or roasted instead of sautéing.)
Place 3 zucchini batons on top of each portion of melon, drizzle with balsamic vinegar, and dust with parsley.
Zucchini Frittata
(Adapted from An Italian Garden by Judith Barret)
Serves 6
2 small zucchini, thinly sliced
Salt
2 tablespoons extra virgin olive oil
6 large eggs
1 tablespoon milk or water
¼ cup freshly grated Parmesan cheese
2 tablespoons basil, chopped
¼ cup Italian parsley, chopped
Salt and freshly ground black pepper to taste
1 – 2 tablespoons unsalted butter
2 mild Italian sausage, removed from casing and sautéed and broken into small pieces (optional)
Heat the oil in a 10-inch sauté or omelet pan with a handle that can be placed in oven.  Add the zucchini and cook, stirring, for 7 to 10 minutes, until the zucchini is tender.
Heat the oven broiler.
In a medium sized mixing bowl, add the eggs and beat lightly with a fork.  Stir in the milk, Parmesan, basil, parsley, salt, and pepper.  Using a slotted spoon, add the zucchini to the bowl.
Melt the butter in the sauté pan over medium heat.  When the butter foams, add the egg mixture.  Reduce the heat to low and cook slowly without stirring, for 7 to 10 minutes, until the eggs are set and only the egg mixture at the top is uncooked.
Place the pan under the oven broiler and broil for 1 to 3 minutes, watching closely, until the top is lightly browned and the eggs are set.
Loosen the underside of the frittata with a large spatula and gently slide onto a round serving dish.  Serve hot or at room temperature.
Zucchini Carpaccio with Avocado, Pistachios, and Pistachio Oil

(from Salad As A Meal by Patricia Wells)
Serves 4
Ingredients:
1 tablespoon freshly squeezed lemon juice
1/4 teaspoon Lemon Zest Salt (see recipe below)
3 tablespoons best-quality pistachio oil (such as Leblanc) or extra-virgin olive oil
4 small, fresh zucchini (about 4 ounces each), rinsed and trimmed at both ends
1 large ripe avocado
1/2 cup salted pistachios
4 fresh lemon thyme sprigs, with flowers if possible
Lemon Zest Salt
1 tablespoon lemon zest, preferably organic
1 tablespoon fine sea salt
Combine the lemon zest and salt in a spice grinder, and grind into a fine powder. Can stay refrigerated for up to a week in a sealed jar.  After a week salt will start losing lemon flavor.
Directions:
1. In a small jar, combine the lemon juice and flavored salt.  Cover with the lid and shake to blend. Add the oil and shake to blend.
2. With a mandoline or chef's knife, slice the zucchini lengthwise as thin as possible. Arrange the slices on a platter and pour the dressing over them. Tilt the platter back and forth to coat the slices evenly. Cover with plastic wrap and let marinate at room temperature for 30 minutes, so the zucchini absorbs the dressing and does not dry out.
3. Halve, pit, and peel the avocado, and cut it lengthwise into very thin slices. Carefully arrange the slices of marinated zucchini on individual salad plates, alternating with the avocado slices, slightly overlapping them. Sprinkle with the pistachio nuts. Garnish with the thyme sprigs and flowers and fleur de sel.  Serve.