Tomorrow is Yom Kippur, the day in the Jewish calendar when we face the fact that not everyone will be around next year!  Last week we ushered in a new year and gave thanks for our blessings; this week we atone for our sins of the past and ask that we and our loved ones be inscribed in the book of life for another year.  It's a serious, reflective time and one in which the bedrocks of Judaism are front and center:  remembrance, atonement, hope, family, friends, and, of course, food!  It's traditional to dip slices of apples in honey for a sweet year, but other foods make their appearance as well.  Since Yom Kippur itself is a day of fasting, the meal before the fast is usually quite hearty…. for us, matzo ball soup and braised brisket with vegetables.  After sunset of the next day, we break our fast with all kinds of goodies, usually less heavy, often dairy, but always fun:  bagels and lox, tuna salad, egg salad, smoked fish, sweet noodle kugel, sour cream coffee cake or honey cake, and rugelach (the cream cheese-filled cookies not arugula the vegetable)! We celebrate with friends and family, and invite anyone who doesn't have a place to go to break their fast.
Here's our recipe for sweet honey cake,  a moist and delicious classic by Marcy Goldman, author of A Treasury of Jewish Holiday Baking and creator of BetterBaking.com.  Enjoy, and may you and your loved ones be inscribed and sealed in the book of life for a sweet year.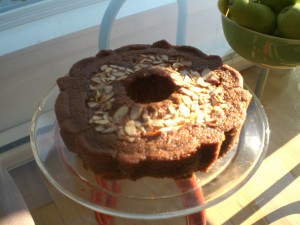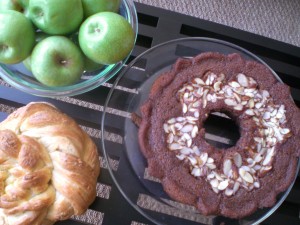 Holiday Honey Cake
(adapted from Marcy Goldman's A Treasury of Jewish Holiday Baking)
(You can use a 9-inch angel food cake pan or a 10-inch tube or bundt cake pan, a 9 x 13-inch sheetpan, or three loaf pans.  I prefer the bundt pan.)
Ingredients
3 1/2 cups all-purpose flour
1 tablespoon baking powder
1 teaspoon baking soda
1/2 teaspoon salt
4 teaspoons ground cinnamon
1/2 teaspoon ground cloves
1/2 teaspoon ground allspice
1 cup vegetable oil
1 cup honey
1 1/2 cups granulated sugar
1/2 cup brown sugar
3 eggs
1 teaspoon vanilla extract
1 cup warm coffee
1/2 cup fresh orange juice
1/4 cup whiskey or bourbon (yes, that's right!  It's optional, but if you can, use it! Otherwise, you can replace it with more orange juice)
1/2 cup slivered or sliced almonds (optional)
Directions
Preheat oven to 350 degrees F.  Lightly grease the pan(s).
In a large bowl, whisk together the flour, baking powder, baking soda, salt, and spices.  Add the oil, honey, sugars, eggs, vanilla, coffee, orange juice, and whiskey or bourbon if using.  Using an electric mixer on slow speed (or a wire whisk), combine the ingredients well to make a thick batter, making sure that no ingredients are stuck to the bottom of the bowl.
Spoon the batter into the prepared pan(s) and sprinkle the top of the cake(s) evenly with the almonds, if using.  Place the cake pan(s) on two  baking sheets stacked together and bake until the cake springs back when you touch it gently in the center.  For tube or bundt cake pans, bake for 60 to 70 minutes, loaf cakes, 45 to 55 minutes.  For sheet-style cakes, the baking time is 40 to 45 minutes. Because the batter is liquidy it may need a little extra time.  Cake should spring back when gently pressed.