Julie and Michael, niece and nephew of Rhona, recently came for their annual summer visit.  Both were born in Santa Barbara and now live back east, but they try to come back whenever they can to re-visit their home town, enjoy the slower pace, the sunshine, and the garden… bunnies and all!
When they were little we'd take them to the Saturday farmers market and send them off to see who could find the most interesting item.  Now they're all grown up and both are terrific foodies, so creative in the kitchen.
They came for ten days with their parents, checklist in hand for all the things they wanted to do while they were here.  Most houseguests have things like "go to the beach" or "see the Courthouse" on their to-do list.  Julie and Michael wanted to try grilling plums and nectarines, or chasing down the bunnies that were demolishing the lawn, or figuring out a creative way to use the poblano peppers from the garden, or the ripe berries at the market.
First night here, we had trifle for dessert and as soon as she got home, here's the one Julie made: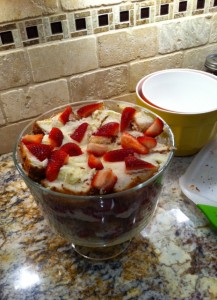 Julie's Trifle
Ingredients:
1 angel food cake, cut into medium-sized pieces*
1 cup fresh lemon juice
1 cup sugar
2 pints raspberries
2 baskets strawberries, rinsed and halved
1 pint whipping cream
8 ounces mascarpone cheese
2 teaspoons grated lemon zest (optional)
Note:  It's nice if you have a special glass trifle dish but if not, any glass bowl will do.
Directions:
Make a lemon syrup by heating the lemon juice and sugar until warm.
In a large bowl, pour enough lemon syrup over the angel food cake pieces until the cake is moistened but not drowned.
Mix the raspberries and strawberries together in another large bowl.
In an electric mixer fitted with the whipping attachment (or using a hand mixer), whip the cream until soft peaks form, about 4 minutes.  Add the mascarpone cheese and combine with the whipped cream on slow speed.
Put a layer of the lemon-infused angel food cake on the bottom of the dish or bowl.
Add a layer of the mixed berries, then a layer of the whipped cream and mascarpone cheese.
Continue layering until all the ingredients are used up, ending with the berries on top.  You can sprinkle a little lemon zest over the top if you like.
* You can buy a ready-made one or use this easy recipe found here: http://allrecipes.com/recipe/angel-food-cake-iii/detail.aspx?src-3811_39