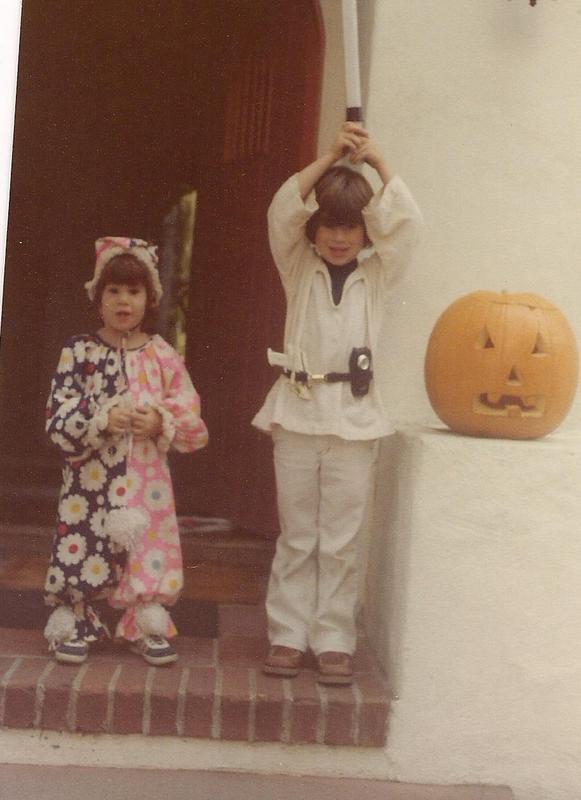 Jack-o-lanterns and scary costumes, candy corn and haunted houses.. these are the ghosts of Halloweens past, when our children were small and this was the most wonderful day of their year!  One of our family traditions for many years was to go to Sherry's house where she had decorated to the hilt, with "spider webs" on the windows, "coffins" in the bedrooms (where Bob would pop out to scare the kids who dared approach), apple bobbing in the back yard, and gypsy fortune telling (that was me with my crystal ball) in the hall closet.
These days, the elementary schools have their Halloween sings and parades, and our neighborhood has Ghost Village Road where many of the local businesses open their doors and give candy out to the costumed toddlers and teens.  It's crowded but amazing, whether you're there to accompany your little one, or just there to watch the fun.  The costumes seem to get more creative every year, but there are always the old standards.  And if you're looking for an old standard to bring to your child's classroom for their holiday party, here's an idea for easy pumpkin muffins that may bring in the neighborhood kids when they smell the cinnamon and spice coming from your kitchen!
pumpkin muffins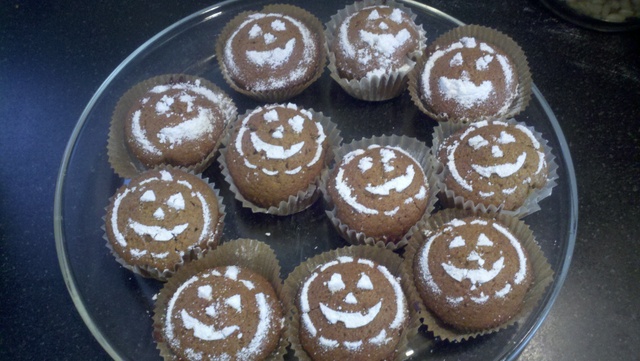 (adapted from USA Weekend Pam Anderson)
ingredients:
1 (15 ounce) can 100% pure pumpkin
1 1/2 teaspoons ground ginger
1 teaspoon ground cinnamon
1/4 teaspoon ground cloves
1 cup dark brown sugar
1/2 cup vegetable oil
2 large eggs, lightly beaten
2 cups all-purpose flour
2 teaspoons baking powder
1/4 teaspoon baking soda
1/2 teaspoon salt
powdered sugar and Halloween stencils (optional)
directions:
1.  Preheat oven to 425 degrees.  Spray muffin cups with cooking spray to coat or use paper liners and lightly spray those.
2.  Bring pumpkin, ginger, cinnamon, and cloves to a simmer in a medium saucepan until puree thickens enough to start sticking to the bottom of the pan, about 6 minutes.  Turn hot puree into a bowl and whisk in brown sugar and oil then slowly beat in eggs.
3.  Meanwhile, sift the flour, baking powder, baking soda and salt into a medium bowl and whisk into pumpkin mixture until just combined.
4.  Divide batter among the muffin cups and bake until golden and cooked through, about 10 minutes if you're using mini-muffin tins, about 12 minutes for larger muffins, depending on your oven.  Let stand a few minutes then transfer muffins to a wire rack to cool.  (For a simple decoration, I used Halloween stencils that I got at Williams-Sonoma, but you can just dust the tops with powdered sugar.)