How do you celebrate a milestone birthday?  Lots of folks decide to mark the day by doing something they've never done before, like skydiving, bungee jumping, taking an African safari or traveling to India… everyone seems to have what's come to be known as a bucket list, something we want to do before, well, you know.  Of course, some bucket lists are more extreme than others.   So it was that our friend, Ned, on the occasion of his 70th birthday, decided to do something on his bucket list: he learned to bake bread!  Charmingly called Ned Bread by his wife Ann, here is Ned baking his no-knead double-rise rustic birthday bread.   Well done Ned!  Happy 70th!
Ned Bread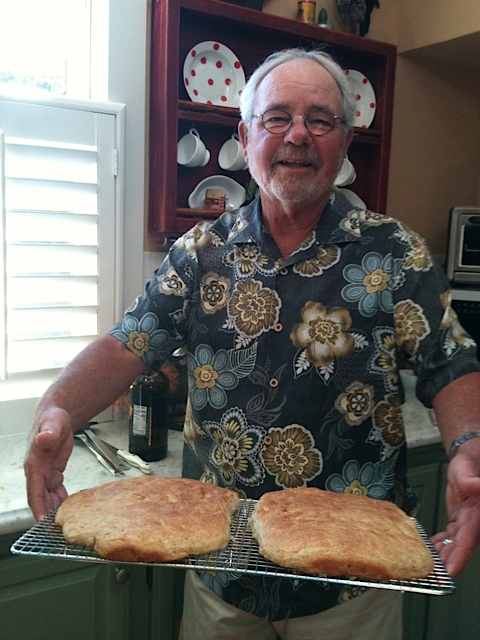 Yield: 2 oval loaves
Ingredients:
I package dry active yeast (2 tablespoons)
2 cups lukewarm water (100-120 degrees)
1 tablespoon sugar
2 teaspoons salt
4 cups flour (3 cups all purpose; 1 cup whole wheat)
1 tablespoon coarse cornmeal or polenta
1 tablespoon melted butter and 1 tablespoon extra-virgin olive oil
Directions:
Combine yeast and sugar in a mixing bowl.
Add lukewarm water.
Check to be sure the yeast is bubbling appropriately.
Add flours and salt.
Mix well, using dough scraper and/or spatula and check consistency (add more water or more flour if needed)
Transfer dough from mixing bowl to greased bowl. Cover with clean dish towel.
Put onto warm oven door or other warm non-drafty surface.
Let rise for 45 minutes. Set a timer!
Generously grease rimmed baking sheet with olive oil and dust with coarse cornmeal.
After first rising, cut dough in half with pastry cutter.
Put each half on greased sheet that has been dusted with cornmeal.
Dust hands with flour and form two loaves with space between (see photos).
Place in warm, open oven for another 45 minutes. Set a timer!
Melt 1 tablespoon butter in microwave; add 1 tablespoon olive oil.
Liberally brush tops and sides of loaves. Any remaining butter/oil, put between two loaves.
Bake at 450 degrees for 10 minutes, tossing a bit of water into the bottom of the oven for a crispier crust.
Reduce heat to 375 degrees and bake for 25 more minutes.