I should have taken a picture of the pot when I got home.  I walked in the door at 5:30, hoping to inhale the scent of perfect osso buco. Thinking I was being so clever and organized that morning, I had prepared my saffron risotto, readied the broccolini, put the osso buco in to braise, and set my oven timer to go off at 1:30 so I could spend the day with my childhood friend, Suzanne, who had come to visit.  We had a lovely lovely day!  But upon entering the house that afternoon, instead of the scent of simmering stew, we were greeted by the smell of something that was definitely, uh, not right!  Apparently, the oven had not turned itself off as it always had in the past… and after 4 extra hours of cooking, my poor osso buco was a charred mess, unsalvageable and totally stuck to the bottom of my previously gorgeous Le Creuset Dutch oven.  (A white one, which is not easy to find!  Not sure which I was more upset about.. the burnt dinner or the ruined pot.)
Bottom line:  dinner out.  Via Vai to the rescue.
But the next day I attacked my Le Creuset pot with a magic brew and it worked so well I had to tell you about it….here's what to do before tossing out a burned out pot or pan:  Pour a generous amount of vinegar and baking soda in the injured pot and let it boil for about 10 minutes.  I'm telling you… magic!  I'm afraid you'll have to imagine the "before" because I was too shocked to get out my camera, but take a look at my "after" photo.  Good as new!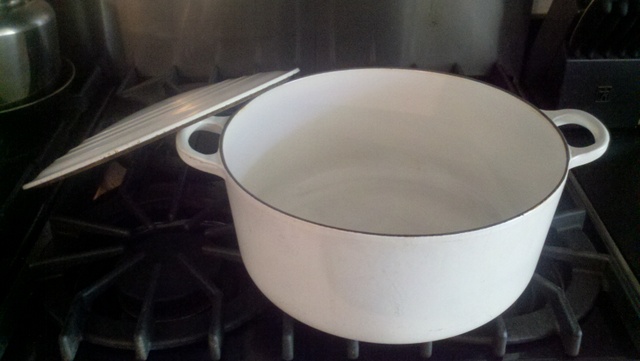 Osso buco recipe, sans char?  Stay tuned.
*  For those Broadway babies who are reading this — recognize this line from a classic old show? (arguably the best musical ever!)  I'm taking answers here if you think you know.