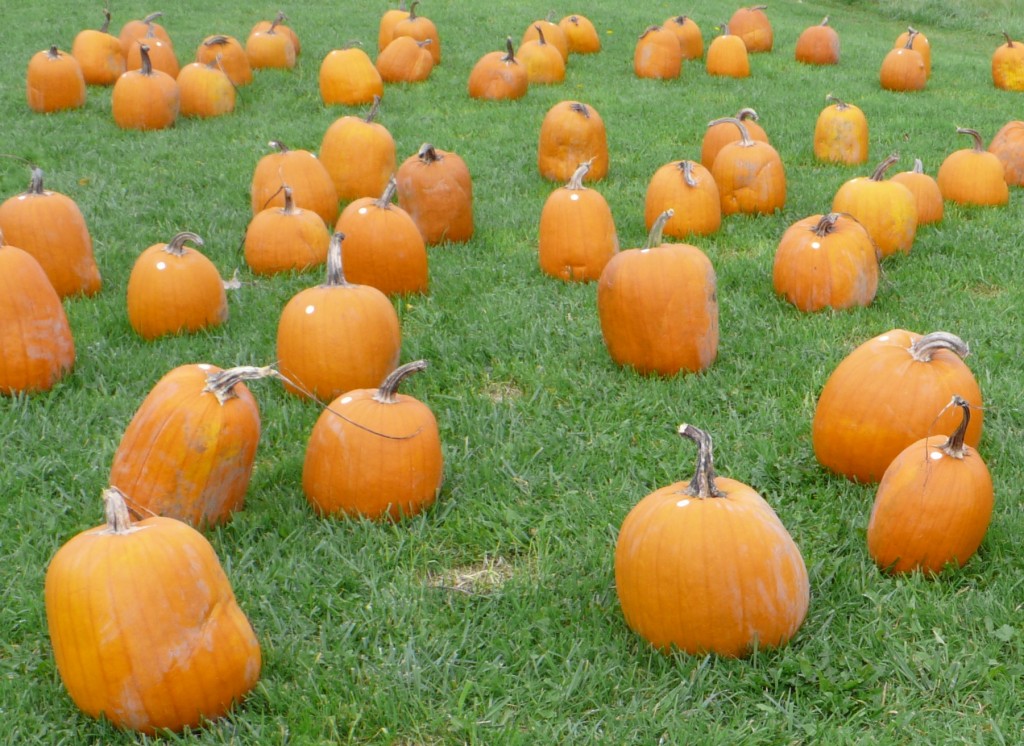 These days here in Santa Barbara we have fields of pumpkins visible from the freeway that seem to go on for miles, reminding us that we're never too old for Halloween!  Don't you just want to run through those farms and choose the perfect one, carve a jack-0-lantern, dress up in a funny costume, go trick-or-treating… well, maybe not that last thing.  Ugh, all those sugary candies.  How about an alternative like creamy pumpkin cheesecake or, when you just need a little crunch that reminds us of the season, a perfect pumpkin granola.
Pumpkin Crunch Granola

This is a favorite from the Canyon Ranch spa, healthy and delicious, adapted from their cookbook, Nourish,  by Scott Uehlein.  You can also add 1/2 cup each of coarsely chopped almonds or pecans for extra flavor.
Makes ten ¼-cup servings
1 cup pumpkin seeds
1 ½ teaspoons canola oil
2 tablespoons pure maple syrup
½ teaspoon ground cinnamon
½ teaspoon ground nutmeg
¼ teaspoon ground allspice
½ teaspoon sea salt
1 ¼ cups dried cranberries
1.  Preheat the oven to 300 degrees.  Lightly spray a baking sheet with canola oil spray or line the baking sheet with parchment paper.
2.  Toss the pumpkin seeds and canola oil in a small bowl.  Spread the coated seeds evenly on the baking sheet.  Roast for 20 minutes, or until almost dry.
3.  Place the pumpkin seeds in a medium bowl and stir in the maple syrup until coated.
4.  Combine the cinnamon, nutmeg, allspice, and salt in a small bowl.  Add the spice mixture to the pumpkin seeds.  If using almonds or pecans, add now and stir to combine.
5.  Return the pumpkin seeds to the baking sheet and roast for 15 minutes or until dry, stirring occasionally.  Turn the pan several times to ensure even roasting, checking frequently – seeds burn easily.  Set aside until completely cool, about 30 minutes.
6.  Combine the seeds and dried cranberries in a large bowl.  Store in a tightly sealed container.
Nutrition note:  Pumpkin seeds are a rich source of healthy mono- and poly-unsaturated oils, besides being a good source of fiber, iron, magnesium, and phosphorus.  And for all you calorie conscious folks out there, each ¼ cup serving contains 125 calories.
Pumpkin Cheesecake with Caramel Swirl
Bon Appétit, November 1993
Ingredients
Crust:
1 1/2 cups ground gingersnap cookies
1 1/2 cups toasted pecans (about 6 ounces)
1/4 cup firmly packed brown sugar
1/4 cup (1/2 stick) unsalted butter, melted
Filling:
4 8-ounce packages cream cheese, room temperature
1 2/3 cups sugar
1 1/2 cups canned solid pack pumpkin
9 tablespoons whipping cream
1 teaspoon ground cinnamon
1 teaspoon ground allspice
4 large eggs
1 tablespoon purchased caramel sauce
1 cup sour cream (optional)
Preparation
For Crust:
Preheat oven to 350°F. Finely grind cookies, pecans, and sugar in processor. Add melted butter and blend until combined. Press crust mixture onto bottom and sides of 9-inch-diameter springform pan with 2 3/4-inch-high sides.
For Filling:
Using electric mixer, beat cream cheese and sugar in large bowl until light. Transfer 3/4 cup mixture to small bowl; cover tightly and refrigerate to use for topping. Add pumpkin, 4 tablespoons whipping cream, ground cinnamon and ground allspice to mixture in large bowl and beat until well combined. Add eggs 1 at a time, beating just until combined. Pour filling into crust (filling will almost fill pan). Bake until cheesecake puffs, top browns and center moves only slightly when pan is shaken, about 1 hour 15 minutes. Transfer cheesecake to rack and cool 10 minutes. Run small sharp knife around cake pan sides to loosen cheesecake. Cool. Cover tightly and refrigerate overnight.
Bring remaining 3/4 cup cream cheese mixture to room temperature. Add remaining 5 tablespoons whipping cream to cream cheese mixture and stir to combine. Press down firmly on edges of cheesecake to even thickness. Pour cream cheese mixture over cheesecake, spreading evenly. Spoon caramel sauce in lines over cream cheese mixture. Using tip of knife, swirl caramel sauce into cream cheese mixture. (Can be prepared one day ahead. Cover and refrigerate.)
Release pan sides from cheesecake. Spoon sour cream into pastry bag fitted with small star tip (do not stir before using). Pipe decorative border around cheesecake and serve.