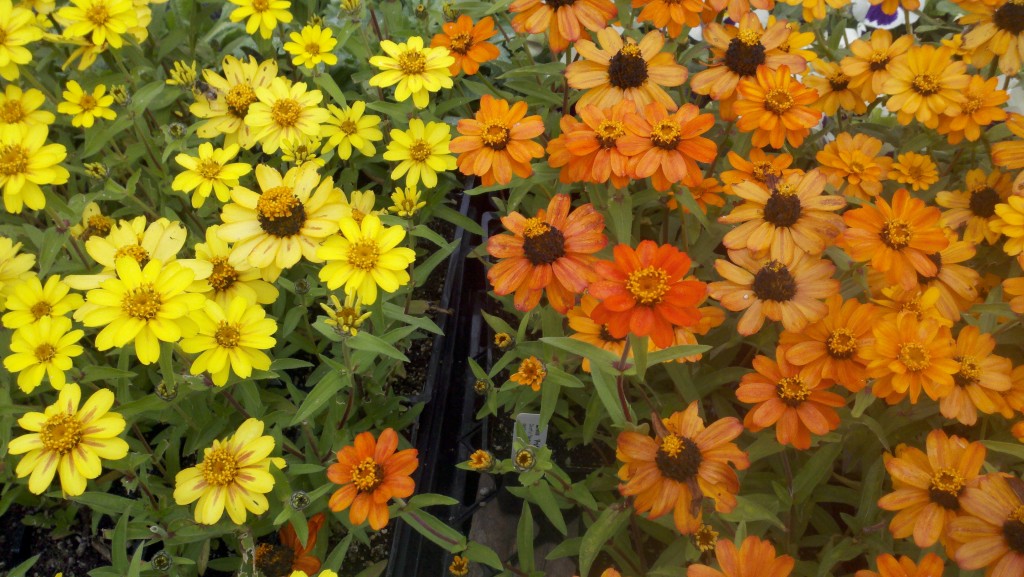 While other parts of the country are feeling the cooler weather and celebrating the gorgeous foliage, we here in Santa Barbara have our version of the change of seasons too.  Our pumpkin patches and fall gardens are in full bloom with the colors of fall, the markets are all about apples, squash, pears, and pomegranates.  And although life is busy, the other night we found time to share a meal at Joan's house that featured a sampling of autumn splendor.
We started with a delightful aperitif that was the color of sunset and was laced with slices of orange; it was a mixture of Aperol (Italian bitters, not an antibiotic like it sounds!) and Prosecco.   Then we sat down to a feast inaugurating Joan and Steve's fancy new barbeque grill!   The marinated t-bone steak was perfect, seared on the outside, juicy on the inside.  Joan made amazing zucchini-stuffed ravioli using won ton wrappers and topped with brown butter and sage and a dollop of creme fraiche; she and Rhona had giggles in the kitchen putting it all together but lo and behold, it worked!   Light, creamy, and delicious, it was the perfect first course .  There were peppers of (f)all colors and degrees of heat, tossed with olive oil and charred on the grill.  And dessert was a classic fall plum torte, this one made famous by Marion Burros who published it in the New York Times many years ago and because of constant requests, repeated its publication every year.  The Italian prune plums are only in season now, so how could we resist?  Simple and lovely, served with a scoop of vanilla bean ice cream, it was a sweet finish to our fantastic fall meal.
 Zucchini-stuffed ravioli
(adapted from stonewall kitchen harvest by Jim Stott, Jonathan King and Kathy Gunst)
Makes 40 ravioli
Serves 4 to 6
Ingredients for ravioli:
One 16-ounce package 6-inch-square egg roll wrappers (20 egg roll wrappers)
About 1 ½ cups squash puree (see recipe below)
3 tablespoons unsalted butter
1 tablespoon fresh sage, chopped, or 1 teaspoon dried
Freshly ground black pepper to taste
2 tablespoons crème fraiche
1/8 teaspoon salt, or to taste
Whole sage leaves, for garnish
To make the ravioli:
Place an egg roll wrapper on a clean surface.  Using a small, dull kitchen knife, score the dough into 4 equal squares. (The idea is not to cut through the dough, but simply to create lines that mark off 4 separate boxes.)  Place 1 tablespoon of the squash puree in the center of each of the 4 squares.
Fill a small bowl with water and, using your finger, moisten the outer edge of the wrapper and the scoring lines.  Place a second sheet of the dough on top.  Using your fingers, pinch the dough together along the outside of the egg roll wrappers to seal them.  Then pinch or press down the dough along the outline of each of the 4 boxes and in between them.  (This seals together and creates 4 ravioli.)  If there appear to be air pockets in the dough, use your fingers to seal a small circle around the filling so air will not get in.  Use a pizza cutter or a knife to cut each of the 4 ravioli out of the dough.  Repeat.  (Don't make the ravioli more than 1 hour before cooking, or they will dry out.)  Place on paper towels, without stacking them.
Bring a large pot of water to a boil.
Meanwhile, in a small saucepan, melt the butter.   Add the sage and a generous grinding of pepper and cook over low heat for 1 minute.
Boil the ravioli, without crowding the pot, for 4 minutes, stirring to make sure they don't stick.  Carefully drain the ravioli and place on a large serving platter in one layer.  (The ravioli are delicate and will stick to one another.)  Pour the sage butter over the pasta and place a dollop of the crème fraiche on top.  Sprinkle with the salt, season with pepper, and place the sage leaves in the middle as a garnish.
To make the  squash puree:
2 pounds squash, such as acorn, butternut, zucchini, or pumpkin, peeled and cut into 2-inch chunks
1 tablespoon unsalted butter
2 tablespoons crème fraiche, heavy cream, or plain low-fat yogurt
4 tablespoons freshly grated Parmesan cheese
1 tablespoon chopped fresh sage, or 1 teaspoon dried
Salt and freshly ground black pepper to taste
Bring a large pot of water to a boil over high heat.  Add the squash pieces and cook on medium heat, covered, for about 15 minutes, or until tender; test with a small sharp knife.  Drain the squash and return to the pan.  Mash the squash with a potato masher.  Stir in the butter and crème fraiche, and then add the cheese, sage, salt, and pepper.
Original Plum Torte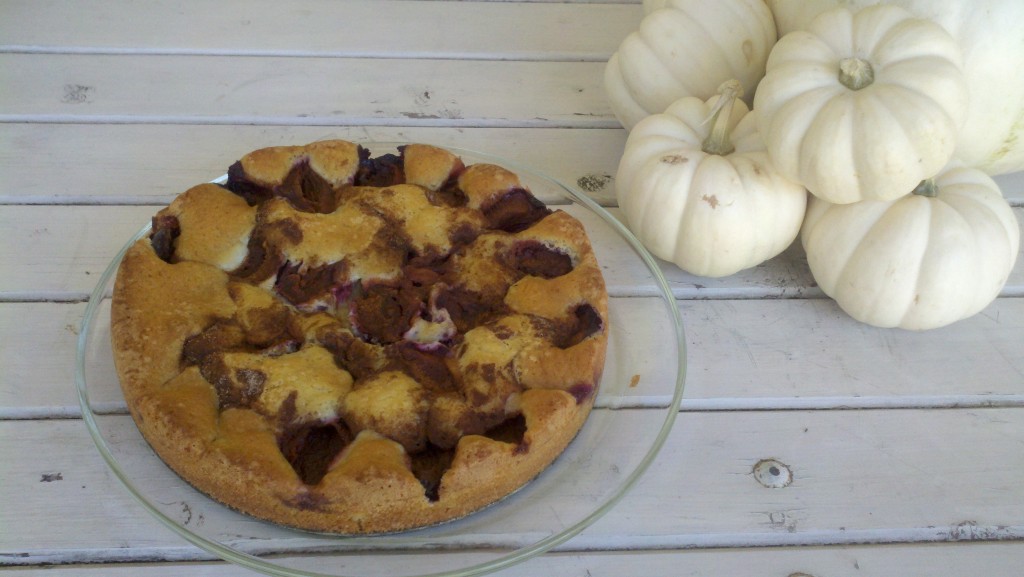 (Marion Burros' Elegant but Easy Cookbook)
Yield:  6 servings
¼ pound( 1 stick) unsalted butter, softened
¾ cup plus 1 or 2 tablespoons sugar
1 cup unbleached flour, sifted
1 teaspoon baking powder
2 eggs
pinch salt
24 halved pitted Italian prune plums (other plums will work too)
1 teaspoon cinnamon or more, to taste
Arrange a rack in the lower third of the oven.  Preheat oven to 350 degrees.
Cream the butter and the ¾ cup sugar.  Add flour, baking powder, eggs, and salt and beat to mix well.  Spoon the batter into an ungreased 9- or 10-inch springform pan.  Cover the top with the plums, skin sides down.  Mix the cinnamon with the remaining 1 or 2 tablespoons of sugar and sprinkle over the top.
Bake for 40 to 50 minutes, until a cake tester inserted in the center comes out clean.  Remove from the oven and let cool; refrigerate or freeze if desired.
To serve, let the torte return to room temperature and reheat at 300 degrees until warm, if desired.  Serve plain or with vanilla ice cream.