As the nights lengthen, the holidays approach and our schedules tighten up, we return to some comforting favorites that can be prepared in a single pot.  Joan turns to her Sicilian roots and a good friend to reveal our first one-pot wonder recipe for a Better Bolognese.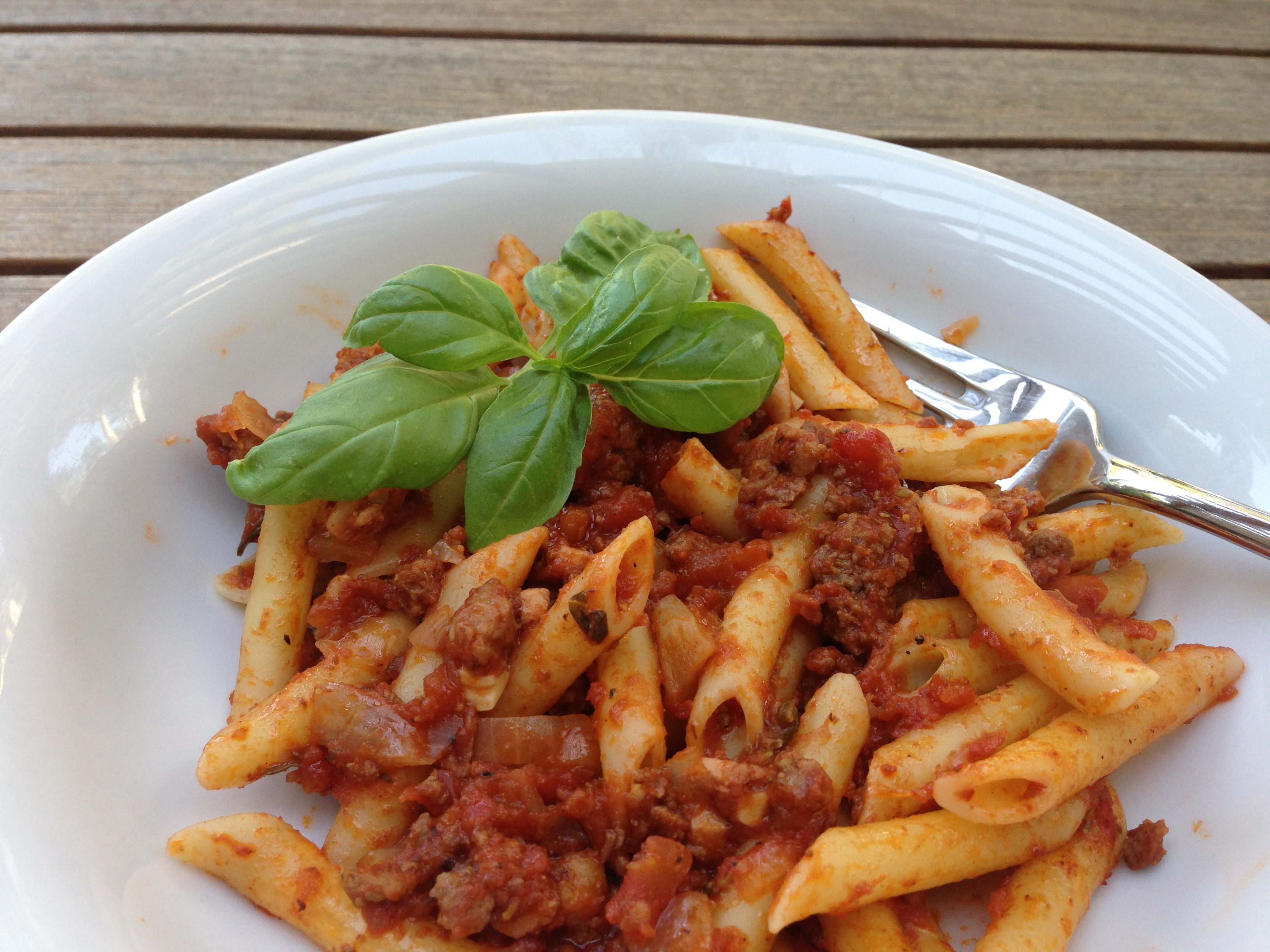 Joan: I must preface this recipe with two admissions:
#1:  My Sicilian parents' pasta repertoire did not include Bolognese.  Perhaps that's because Bolognese heralds from northern Italy and we southerners like our meatballs.  I started making Bolognese because, well, cooking ground meat seemed a lot easier than mixing up a batch of meatballs.  Pretty soon my daughters' frequent requests for Bolognese made it a family favorite.
#2:  This is not my recipe – sigh!  Our friend Ian had threatened for a long time to invite me over to sample his Bolognese, claiming his was better than mine.  Imagine my chagrin when I had to admit that my Jewish jazz pianist friend really did simmer up a better Bolognese.  I put measurements to Ian's recipe and have been making his version to rave reviews ever since.
A Better Bolognese
Serves 4
2 tablespoons plus 2 tablespoons extra-virgin olive oil
1 onion, coarsely chopped
4 cloves of garlic, minced
1 pound ground meat
½ pound ground pork
4 Italian sausages, casings removed
2 (28-ounce) cans of diced tomatoes
4 tablespoons tomato paste
1 cup red wine
2 teaspoons dried oregano
1 teaspoon dried thyme, minced
2 tablespoons fresh basil, chopped or 1 teaspoon dried
1 teaspoons dried fennel or fennel pollen (optional)
2 bay leaves
1 teaspoon salt
½ teaspoon black pepper
Pinch of red pepper, (optional)
1 pound pasta of your choice
Parmesan cheese for serving
Fresh basil leaves for serving (optional)
In a medium sauce pot, heat the 2 tablespoons of olive oil over medium heat.  Add the onions and sauté until soft and translucent.  Add the garlic and sauté one minute longer or until fragrant.  Remove the onions and garlic.  Add the remaining 2 tablespoons of olive oil and all the meat; sauté approximately 8 minutes until cooked through. Use a wooden spoon to break up the meat into equal-size pieces as it cooks.  Return the onions and garlic to the pan.  Add the tomatoes, tomato paste, wine, herbs, salt and pepper and red pepper to the pot and bring to a low boil.  Reduce heat to simmer and cook for at least one to two hours.  Cook longer for a richer sauce.  Add extra water as needed to thin the sauce.
Fill a large pot 2/3 with water, cover and bring water to a rolling boil over high heat. Generously salt the water, add a splash of olive oil and the pasta. Cook until al dente (firm to the bite); stir occasionally, about 8 to 10 minutes.  Drain.
In a large serving bowl moisten the bottom of the bowl with the meat sauce.  Add the pasta and more sauce.  Toss to combine and serve.  Serve with extra sauce and fresh basil and pass the Parmesan.
Variation:  Add a pesto cube to the sauce for added depth of flavor.