Sometimes it just has to be chocolate.  And booze.  Together.  In little bites.
And when that time comes,  you might want to try these delicious bourbon balls, a confection that used to make us squeal with delight when they would appear in the mailbox of our college dorm, wrapped in boxes or packed in tins, covered in brown paper, sent by roommate Ellyn's mom down in Norfolk, Virginia.  Today we might call them "truffles" but Mama Stadler called them bourbon balls so that's how we always referred to them!  In those days we didn't think about how they were made; we were just happy to ecstatically savor them one by one.   I wasn't much of an eater back then, just used food for fuel, and frankly, I wasn't much of a drinker either.  But when Ellyn would get these lovely packages in the mail, I was always the first one to accept her generous offer to share.  I had never tasted anything so amazing!
Ellyn has been making them for years now; she still brings them to holiday parties and they're always a huge hit; there are never any left over.  Sadly, I live far away from her these days, but she kindly shared the recipe with me so I could continue to enjoy them and she graciously shares it with you now.  You're welcome!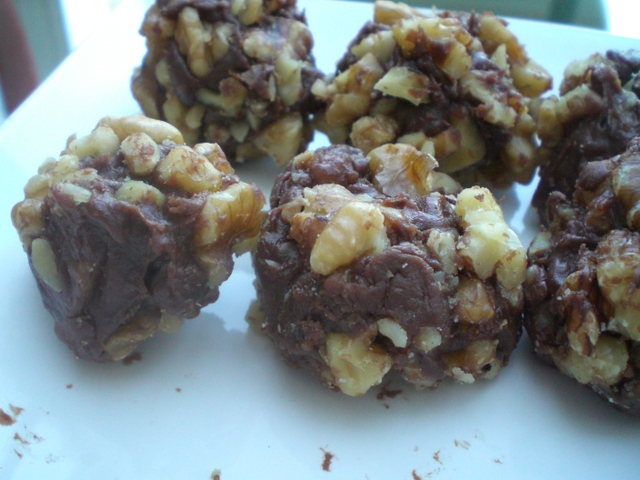 Ellyn's Bourbon Balls
Ingredients:
1 (6-ounce) can evaporated milk
12 ounces semi-sweet chocolate pieces (I used Ghiradelli)
3 cups crushed vanilla wafers (Ellyn says she sometimes cheats and substitutes packaged graham cracker crumbs.)
1 cup sifted powdered sugar
2 1/2 cups chopped walnuts or pecans
2/3 cup bourbon (rum or brandy or even orange juice would make great substitutes)
Directions:
In a heavy 2-quart saucepan over medium heat, cook undiluted milk and chocolate, stirring until chocolate is melted and the mixture is smooth.  Remove from heat.  Add crushed wafers, sugar, 1 cup of the nuts, and the bourbon, as preferred, mixing well.  Put in refrigerator to harden for about 30 to 45 minutes.  Shape into balls 1 inch in diameter.  (The easy way to do this is to use a small ice cream scoop – and don't worry if things don't look promising at this point… it will all come together!)  Roll the balls in remaining nuts or more powdered sugar and put on a flat plate lined with wax paper.  Refrigerate 1 hour or until firm.
This recipe makes about 40 but can easily be cut in half or doubled.
Some for you, some for a friend?  These make a lovely addition to a holiday gift basket, wrapped in plasticene bags and tied with a pretty ribbon.  Enjoy!
Rhona