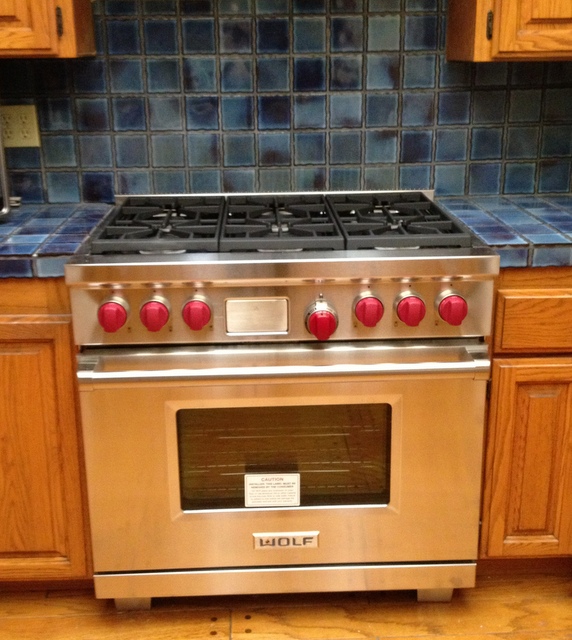 Our friend Joy recently got a beautiful new Wolf range, something she's had her eye on for quite some time!  This was truly cause for celebration because although Joy is a great cook and baker, she's been making do with an old quirky stove or her countertop toaster oven (which was surprisingly effective but a little small).  So it was with great anticipation that she made her famous garlic lemon chicken in the new Wolf the other night, using the convection bake setting.  Despite the fact that her husband joked that he preferred the toaster oven version, the result was an easy weeknight dinner that's moist and delicious.
The secret is to use chicken thighs, bone-in with skin for an extra crispy result.  There's no oil necessary – it will brown without it.  This is a throwback to the baked chicken many of us grew up with or made when we first learned to cook, with lots of fresh lemon juice and garlic –  it's satisfying and yes, finger lickin' good.
Joy's Lemon Garlic Chicken
Preheat oven on convection setting if possible to 350 degrees.
Ingredients:
6 pieces chicken thighs, preferably bone-in and skin on
4 small Meyer lemons (if unavailable, regular lemons will do), halved
6 cloves garlic, minced
1 teaspoon kosher salt
1/2 teaspoon ground pepper
1 teaspoon rosemary or thyme, finely chopped
1 teaspoon paprika
Directions:
Pat each piece of chicken lightly with a paper towel, then arrange on a Pam-sprayed baking sheet or Pyrex dish.
Squeeze lemons all over the chicken pieces.  Be generous here.
Sprinkle garlic, salt, pepper, rosemary or thyme, paprika over each chicken piece.
Bake for about an hour until chicken is crispy.