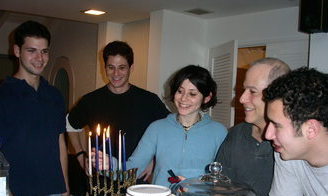 This year Hanukkah comes early (though apparently not as early as next year — have you looked at the calendar?!).  It is sneaking up on us, with the lighting of the first candle on Saturday, December 8th.  In our family, that means that we've barely had time to finish up the Thanksgiving leftovers and put away the turkey baster and pumpkin spices before we're hitting the re-start button for our next celebration!  It's time to shop, yes, but more importantly, it's time to get out our menorahs and holiday decorations, and to start gathering ingredients for the traditional potato latkes and jelly doughnuts.  Our friend Laurie has been in Israel for the past few months and she sent us the most beautiful photo of "sufganiyot"  from her local bakery in Jerusalem.  These are festive jelly doughnuts, a tradition of Hanukkah that connotes sweetness and fun.
Our festival of lights calls for blue and white twinkly lights all over the house; the holiday lasts eight nights and at the end of that time, we have lit the menorah, filled ourselves with latkes, brisket, and sweet pastries, opened presents, and spun the dreidles.  All this before Santa has even packed his bags to start his round-the-world ride.  Whether you're getting ready for Christmas or scurrying to get your Hanukkiah polished and spiffed, there's no getting around it:  holiday time is here and if you're fortunate enough to have family nearby, it's warm and wonderful.
Here in Santa Barbara, we'll share the holidays with our loved ones, both family and the friends that are family to us; in fact, before the month is over, we'll have enjoyed a little bit of Hanukkah and a little bit of Christmas – the best of two worlds.  For now, though, no matter where you are or what holiday you celebrate, may the Hanukkah spirit of re-dedication and hope inspire you, may you enjoy every bit of this festive time of year, and may your life be filled with sweetness.  Enjoy our recipes for latkes and sufganiyot…  we'll think about dieting in January!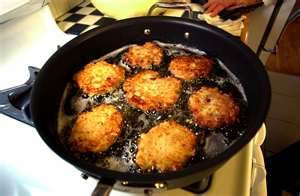 Potato latkes (pancakes)
These are delicious any time, as a side dish or an elegant hors d'oeuvre with a dollop of creme fraiche and tiny topping of caviar.  But at this time of year, they are the quintessential Hanukkah dish.
Ingredients:
Canola oil for frying
3 – 4 large Russet potatoes (Yukon Golds are fine also), peeled (although our friend Annie never peels them and they are delicious that way too, but the traditional way uses peeled potatoes)
2 large onions, chopped
2 eggs
1/2 cup flour
2 tablespoons baking powder
1 teaspoon salt
1/2 teaspoon pepper
sour cream
applesauce (check out our post back in September for easy homemade applesauce)
Directions:
Preheat skillet and add 1/4 inch oil to heat.
Grate potatoes either by hand or in a food processor, then put the grated potatoes in a strainer or wrap up in clean towel to squeeze out excess water.
Add onions, eggs, flour, baking powder, salt and pepper to grated potatoes and mix well.  Don't let the mixture stand more than a few minutes or it will turn gray.*
Ladle out 1/4 cup at a time onto skillet (use cast iron if possible) and cook until edges are brown; then flip and cook on other side — about five minutes on each side. (If using as an hors d'oeuvre, just ladle out less.)
They should be hot, crispy and delicious!
Serve with sour cream and applesauce on the side.
* (You can add a little Vitamin C powder to the mix to keep this from happening, but be warned:  there may be a lingering bitterness in the batter from the ascorbic acid.  Better to just fry the latkes quickly after mixing!)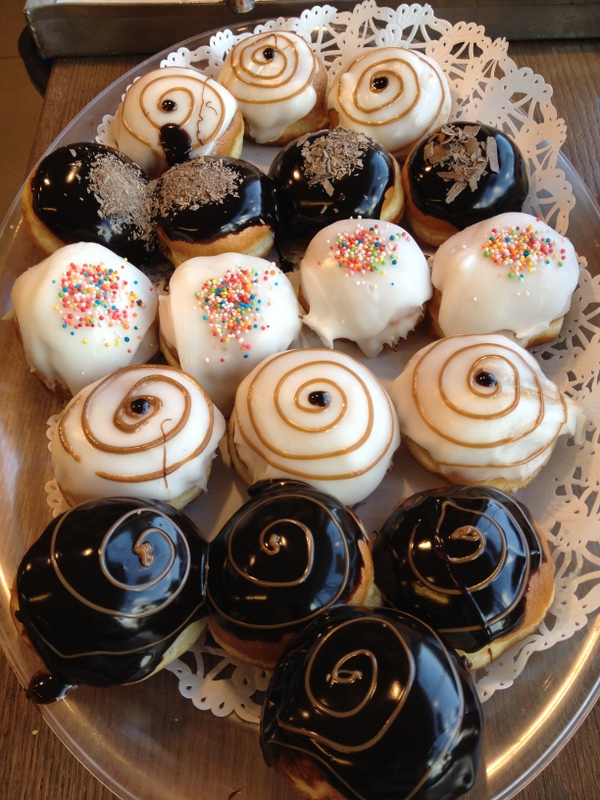 Sufganiyot (Israeli jelly doughnuts)
(makes about 20)
 (adapted from Epicurious.com and Sweet Happy Life, one of our favorite blogs that features kid-friendly recipes)
Ingredients:
1 cup whole milk
2 tablespoons warm water
1 package active dry yeast
2 tablespoons granulated sugar
1/2 teaspoon ground cinnamon
1/4 teaspoon freshly grated nutmeg
1 teaspoon salt
2 large eggs, lightly beaten
3 1/2 to 3 3/4 cups all-purpose flour plus additional for dusting
About 10 cups vegetable oil (2 tablespoons for the dough, the rest for frying)
1 cup fruit preserves or jam, such as blueberry, raspberry or strawberry.
Confectioners sugar for dusting
Directions
Special equipment: Candy thermometer
Make the Dough (Toddler Friendly)
Heat the milk in the microwave until warm, about 40-50 seconds. Set aside to cool.
In a large bowl dissolve the yeast in 2 tablespoon of warm water. Allow to stand for 5 minutes until foamy. (If the yeast doesn't foam, discard and start over with fresh yeast.)
Add the lukewarm milk to the yeast, then the sugar, spices, salt, 2 tablespoons of oil and eggs. Add flour 1 cup at a time, mixing with a wooden spoon between additions, until the dough pulls away from the side of the bowl and is too stiff to stir.
Turn dough out onto a lightly floured surface and knead in remaining flour. You can use additional flour as needed to prevent sticking, sprinkling 1 tablespoon of flour on the dough at a time. Knead dough for 5 to 8 minutes, until the dough is smooth and bounces back when you press your thumb into it.
Grease a large bowl with about 1 teaspoon of oil, then transfer the dough to the bowl and turn once to coat. Allow to rise in a warm place until doubled in size, about 1 1/2 hours.
After the dough has risen, turn out onto lightly floured surface. Tear off pieces of dough and roll into balls using the palms of your hands. The size of the dough balls depends on how big you want the doughnuts to be, but don't go too big or the dough in the center of the ball won't cook through. Set aside on parchment paper to rise for 30 minutes.
Make the Doughnuts
While doughnuts rise, heat about 4 inches of oil (about 10 cups) in a deep 4-quart pot until it registers 375 degrees F with a candy thermometer.
Fry doughnuts 2 at a time, turning occasionally, until puffed and golden brown. The first two doughnuts will brown VERY quickly, so keep an eye on them. Fry doughnuts about 30 seconds on each side, turning them with a metal skimmer once they've browned on the bottom. Transfer to a cooling rack over paper towels to drain.
Make sure children are nowhere near you while frying the donuts as hot oil is very dangerous!
Fill the Doughnuts (Toddler Friendly)
Add about 1/2 cup of jam or preserves to a small ziploc bag. Close the bag. Using scissors, cut off the tip of one of the bottom corners of the bag. Repeat for other ziploc bags if using more than one flavor.
Using a knife, make a small hole in each doughnut. Carefully pick up your ziploc bag, insert the bag's opening into the donut and gently squeeze the bag to fill the donut. If an adult is doing this, you can use a food syringe for this part.
Dust with powdered sugar and enjoy! These doughnuts are best the day they are made.