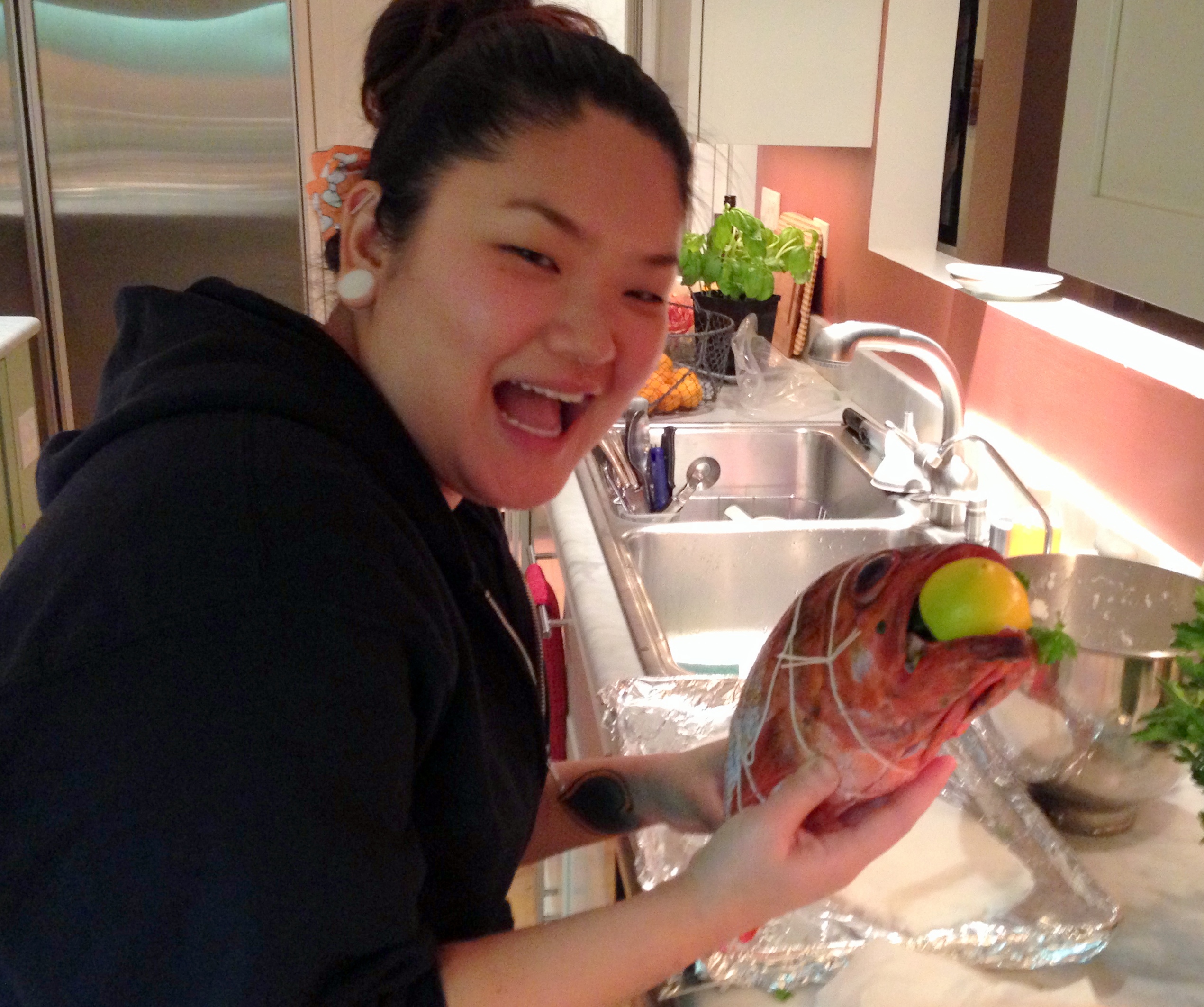 Our lives are blessed with not only our own amazing children, but an array of young people that we consider our "other daughters" or "other sons."  And so it was in the first week of the new year that one of my favorite "other daughters," Kelly, came to visit for a few days.  Kelly's an instinctive cook, combining all sorts of uniquely compatible ingredients to make an exquisite salad or an unusual meat dish.    We couldn't wait to cook something up together and we wanted a challenge.   After spending the better part of an hour perusing Thomas Keller's cookbook, Ad Hoc, we decided to tackle roasting a salt-crusted whole fish.
Off to the marina and the Santa Barbara Fish Market to find a 4 pound red snapper waiting for us.  We headed back with our fallen comrade and proceeded to research just how to make our salted crust.  Turns out there are numerous combinations – salt and water, salt and egg white, and numerous ratios – 1 part egg to 2 parts salt, 4 parts egg to 3 parts salt and so on, and equally numerous ways of mixing the ingredients: stirring, whipping, etc.
Kelly and I settled on a 2 egg whites to 1 pound salt ratio and beat the egg whites into peaks before adding the salt.  To our amazement, we created a mortar-like compound that, when applied, fit snugly around our little red friend.  When cooked, the crust turned a nice golden brown and when tapped firmly with a meat tenderizer, broke away from the fish in large chunks, just as Thomas Keller promised it would!  Delighted with our process, we were even more delighted with the results:  the best fish ever, according to everyone at the table.
joan
Salt-Crusted Red Snapper
(adapted from Ad Hoc by Thomas Keller)
Serves 4 to 6
1 whole 4 pound red snapper, can also use striped sea bass
6 egg whites
3 cups kosher salt
Fronds from one fennel bulb
½ bunch of Italian parsley
4 thin slices lemon or a combination of lemon and orange
Extra-virgin olive oil
4 tablespoons extra-virgin olive oil
1 lemon, cut into wedges, for serving
Have your fishmonger gut fish, remove top and bottom fins, scale and remove gills.
Preheat oven to 425 degrees.
Whisk egg whites to soft peaks and fold in salt.  You should have a nice gritty mixture that should stick together easily.
On a large baking sheet, spread a layer of salt-crust mixture about ¼-inch thick and slightly larger than the fish (you do not need to cover the head or the tail).  Pack the salt tight.  Place the fish on top of the salt mixture and stuff the body cavity with the fennel, parsley and lemon slices.  Pat the remaining salt-crust mixture over the top of the fish, forming a thin coating.  Pack tightly and cover completely (you may have more salt-crust mixture than you need).  Use a paper towel to pat the crust to remove any excess moisture.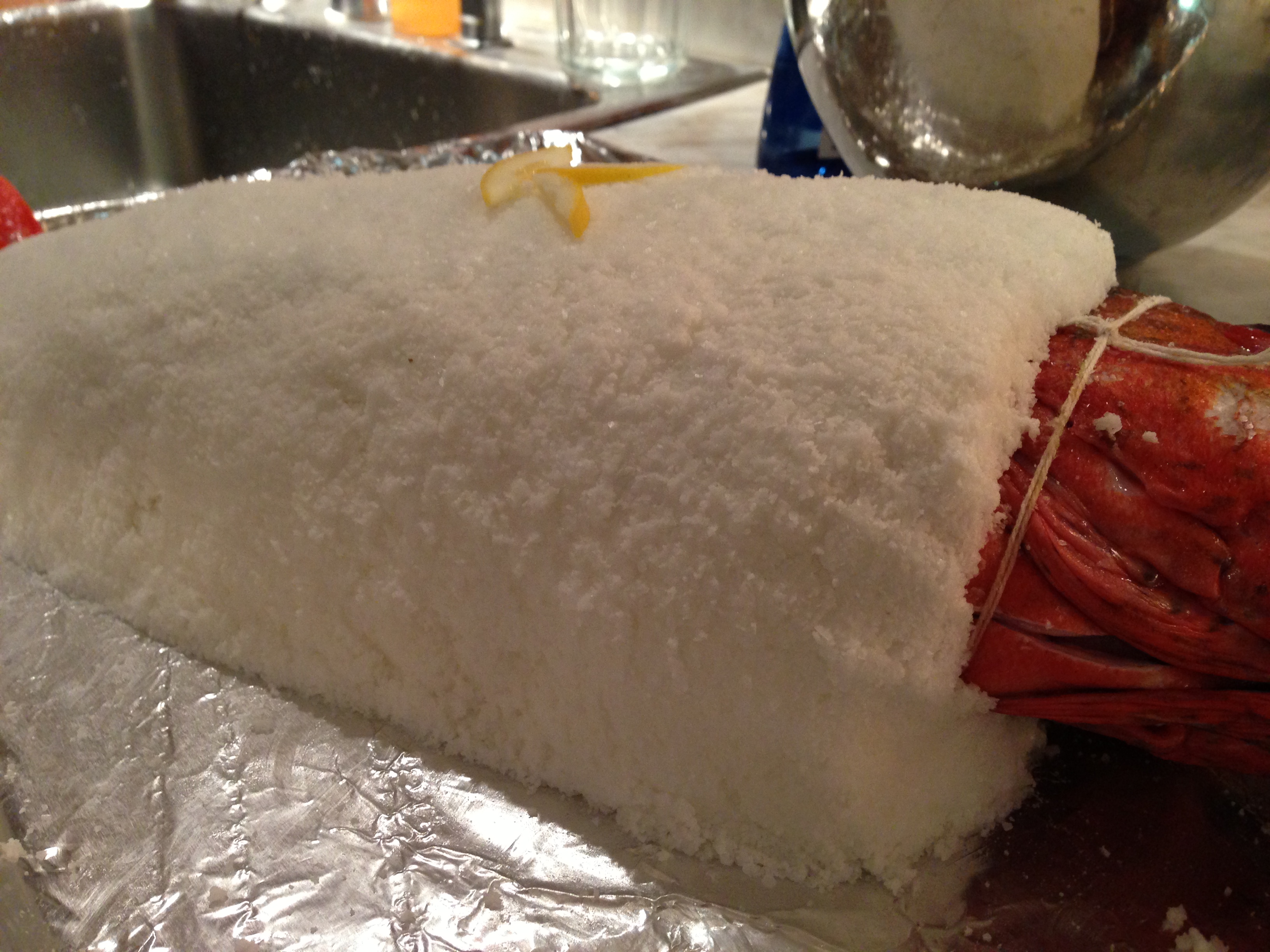 Roast for about 30 to 40 minutes, turning the pan around once after 20 minutes.  Fish is done when thickest part of the fish registers about 125 degrees.  Remove from the oven and let rest for 10 minutes.
To serve, crack the fish with a wooden spoon or mallet and carefully remove the salt-crust pieces.  Push back the skin and, using a palette knife or narrow spatula, carefully lift the top fillets from the frame in large pieces and place on a large serving platter.  Discard the fennel, parsley and save lemon slices for garnish.  Then starting at the tail, remove in one piece the frame that runs down the center of the fish.  It should lift off easily.  Check for any extra bones and then lift the fillets in large pieces and place in the serving dish.  Drizzle with olive oil and serve with lemon slices.
Serve with your favorite variety of sautéed vegetables (zucchini, carrots, asparagus, Brussels sprouts, broccoli) and roasted potatoes.