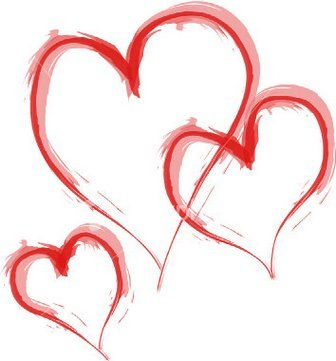 "True love.  It doesn't happen every day you know." (The Princess Bride)
          "I was looking up.  You were there.  The nearest thing to heaven." (An Affair to Remember)
"When you realize you want to spend the rest of your life with somebody,  you want the rest of your life to start as soon as possible." (When Harry Met Sally)
Kevin Costner's "I Believe" speech in Bull Durham
"You complete me." (Jerry McGuire)
What are your favorite romantic movie quotes?   Growing up, we were surrounded by Hollywood's version of what love should be:  meet cute, clever banter, happily ever after, yada yada yada.  And no matter how sophisticated we are or how old we get, we are still suckers for romance, whether it's in a great rom-com or a once-a-year Valentine's Day gesture.  Treacly cards and spray-painted flowers aside, it's kinda nice to be reminded to celebrate the person closest to us, to get our Cary Grant/Audrey Hepburn thing going and remember how to flirt a little.
This week, instead of heading out to an overpriced restaurant, why not have a romantic dinner at home?  Curtain up, light the lights, cue the music, and enjoy!  We know… we had you at "True love."
Filet Mignon with Mushroom Sauce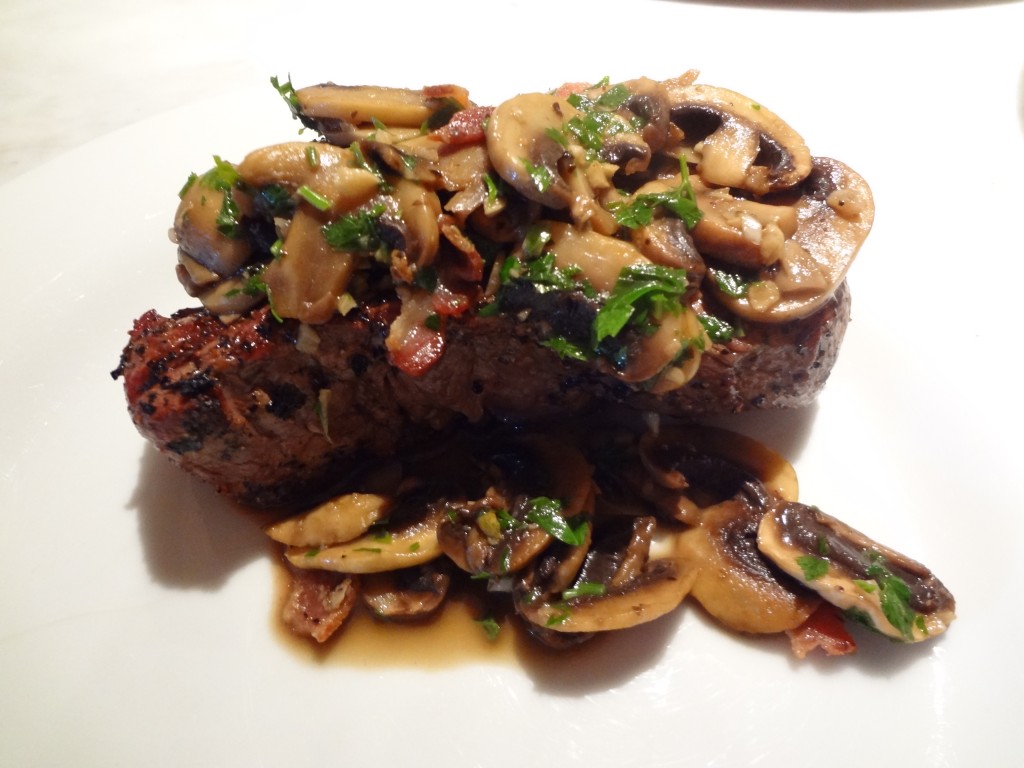 (Gourmet, March 1995)
Serves 2
Ingredients
1 slice bacon
1 small garlic clove, mashed to a paste
1 1/2 tablespoons unsalted butter
6 white mushrooms (about 1/4 pound), sliced thin
2 tablespoons Cognac or other brandy
2 tablespoons water
2 teaspoons fresh lemon juice
1 teaspoon Worcestershire sauce
1 tablespoon minced fresh parsley leaves
2 filet mignon, each about 1 inch thick
Preparation
In an 8-inch skillet, preferable cast-iron, cook bacon over moderate heat until crisp and transfer to paper towels to drain. Pour off excess fat from skillet. Crumble bacon and reserve.
In skillet cook garlic in 1 tablespoon butter over moderately low heat, stirring, until softened. Add mushrooms and salt and pepper to taste and cook over moderate heat, stirring, until liquid from mushrooms starts to evaporate. Add Cognac or other brandy and boil until nearly evaporated. Stir in water, lemon juice, and Worcestershire sauce and boil until sauce is thickened slightly. Transfer sauce to a small saucepan and stir in reserved bacon and parsley. Keep sauce warm.
Pat filets mignons dry with paper towels and sprinkle with salt and pepper to taste. In skillet heat remaining 1/2 tablespoon butter over moderately high heat until foam begins to subside and sauté filets mignons 4 minutes. Sear sides slightly and turn filets over. Sauté 3 to 3 1/2 minutes more for medium-rare meat. Divide filets between 2 plates and spoon sauce over them.
Coeur à la Crème with Raspberries

(adapted from Barefoot in Paris, by Ina Garten)
12 ounces cream cheese, at room temperature (do not use low-fat or non-fat)
1 1/4 cups confectioners' sugar
2 1/2 cups cold heavy cream
2 tsp pure vanilla
1/4 tsp grated lemon zest
Seeds scraped from 1 vanilla bean
Raspberry sauce (recipe follows)
1 pint fresh raspberries, washed and dried
Place the cream cheese and confectioners' sugar in the bowl of an electric mixer fitted with the paddle attachment and beat on high for 2 minutes. Scrape down the beater and bowl with a rubber spatula and change the beater for the whisk attachment. With the mixer on low-speed, add the heavy cream, vanilla, lemon zest and vanilla seeds and beat on high until the mixture is very thick, like whipped cream.
Line a 7″ sieve (heart-shaped if you have it) with cheesecloth so the ends drape over the sides and place it in a bowl so there is space between the bottom of the sieve and the bowl for the liquid to drain (about 1″). Pour the cream mixture into the cheesecloth, fold the ends over the top, cover with plastic wrap and refrigerate overnight.
To serve, discard the liquid, unmold the cream onto a plate and drizzle raspberry sauce around the base. Serve with raspberries and extra sauce. Alternatively, slice pieces, drizzle with sauce and scatter with raspberries.
Raspberry Sauce
1 half-pint fresh raspberries, washed and dried
1/2 cup sugar
1 cup (12 ounces) seedless raspberry jam
1 – 2 Tbsp framboise (raspberry liqueur).  You can substitute kirsch or Grand Marnier.
Place the raspberries, sugar and 1/4 cup water in a small saucepan. Bring to a boil, lower the heat and simmer for 4 minutes. Pour the cooked raspberries, the jam and the liqueur into the bowl of a food processor fitted with the steel blade and process until smooth. Chill.