With Passover and Easter approaching, we're in the kitchen planning menus and thinking of new ways to celebrate our holidays, while still adhering to the traditions that are so important to us.
There's a new cookbook that's been winning all kinds of awards called Jerusalem by Yotam Ottolenghi and Sami Tamimi; it's a beautiful volume with stunning photographs and recipes from the city where both authors grew up, albeit on different sides of town.  Both are Israeli, but one is Muslim and one is Jewish.  They met in London, formed a fast friendship and then began working together, both as chefs and as authors of this fascinating book.
I thought I'd try a few of their suggestions for our Passover seder meal next week.  Although they seem a little unorthodox (pun intended), the ingredients and methods of preparation fit in with our recent attempts to emphasize Mediterranean cuisine, not just for its health benefits, but also because of its colorful, layered, and delicious presentation.  Also, this year seems the right time to up the ante on holiday vegetarian dishes.  Brisket and matzo ball soup will always be on my menu, but have a look at these modern takes on side dishes that go with them.  If you give them a try, let me know what you think.  We can experiment together.
For those of you celebrating Passover or joining those of us who do, have a beautiful and meaningful holiday.
Rhona
Roasted Cauliflower and Hazelnut Salad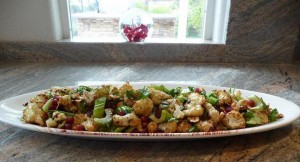 (adapted from Jerusalem, a Cookbook by Yotam Ottolenghi and Sami Tamimi)
Serves 2 – 4
Ingredients
1 head cauliflower, about 1 1/2 pounds, broken into small florets
5 tablespoons olive oil
1 large celery stalk, cut on an angle into 1/4-inch slices, about 2/3 cup
5 tablespoons hazelnuts, with skins
1/3 cup flat-leaf parsley
1/3 cup pomegranate seeds (from about 1/2 medium pomegranate)
generous 1/4 teaspoon ground cinnamon
generous 1/4 teaspoon ground allspice
1 tablespoon sherry vinegar
1 1/2 teaspoons maple syrup
salt and freshly ground black pepper
Directions:
Preheat the oven to 425 degrees.
Mix the cauliflower with 3 tablespoons of the olive oil, 1/2 teaspoon salt, and some black pepper.  Spread out in a roasting pan and roast on the top oven rack for 25 to 35 minutes, until the cauliflower is crisp and parts of it have turned golden brown.  Transfer to a large mixing bowl and set aside to cool.
Decrease the oven temperature to 325 degrees.  Spread the hazelnuts on a baking sheet lined with parchment paper and roast for 17 minutes.
Allow the nuts to cool a little, then coarsely chop them and add to the cauliflower, along with the remaining oil and the rest of the ingredients.  Stir, season with salt and pepper to taste.
Serve at room temperature.
Roasted Potatoes with Caramel and Prunes
(adapted from Jerusalem, a Cookbook by Yotam Ottolenghi and Sami Tamimi)
Serves 4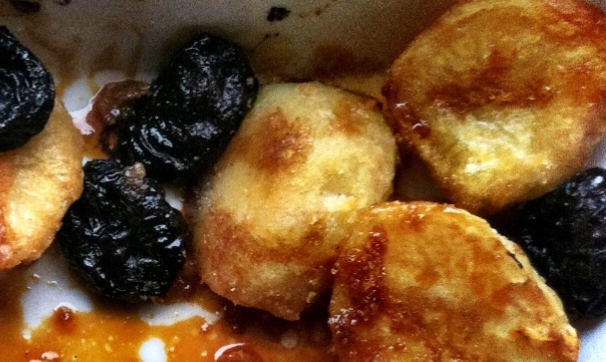 This is a Lithuanian version of tzimmes which is a traditional sweet and savory stew that's usually based on carrots and sweet potatoes;  it makes a great side dish to brisket or roast chicken.
Ingredients:
2 1/4 pounds potatoes, either russet or yellow, peeled and cut into bite-sized pieces
1/2 cup goose or chicken fat
5 ounces whole soft pitted prunes
scant 1/2 cup superfine sugar
3 1/2 tablespoons ice water
salt
Directions:
Preheat oven to 475 degrees.
Place potato pieces into a large pot, cover with cold water, bring to a boil, and simmer for 8 to 10 minutes.  Drain well then shake the colander to roughen the edges of the potatoes.
Place the goose fat into a roasting pan and heat in the oven until smoking, about 8 minutes.  Carefully take the pan out of the oven and with metal tongs add the boiled potatoes to the hot fat, rolling them around in the fat as you do so.  Gently place the pan on the highest rack of the oven and cook for 50 to 65 minutes, turning them occasionally, until the potatoes are golden and crunchy on the outside.
When the potatoes are just about ready, take the tray out of the oven and tip it over a heatproof bowl to remove most of the fat.  Add 1 teaspoon salt and the prunes to the potatoes and stir gently.  Return to the oven for another 5 minutes.
During this time, make the caramel.  Put the sugar in a saucepan and place over low heat.  Without stirring, watch the sugar turn a rich caramel color.  Make sure to keep your eyes on the sugar at all times so it doesn't burn and as soon as it reaches that color, remove the pan from the heat.  Holding the pan at a safe distance from your face [yes, that's what it says!], quickly pour the ice water into the caramel to stop it from cooking.  Return to the heat and stir to remove any sugar lumps.
Before serving, stir the caramel into the potatoes and prunes.  Transfer to a serving bowl and eat at once.