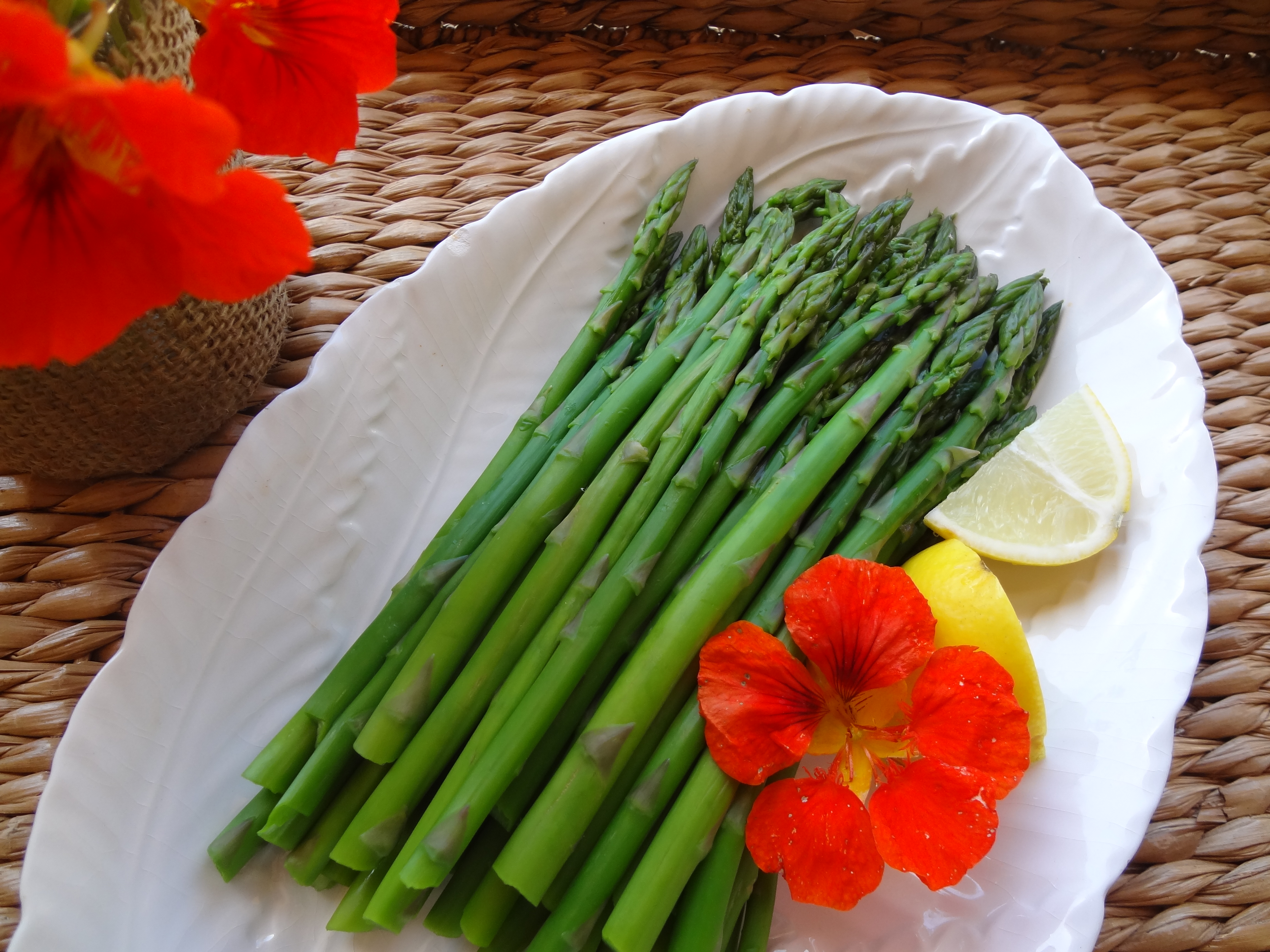 Thin or thick?  Side dish or main dish?  Peeled or not?  Cooked or raw?  So many questions about this lovely vegetable.
In past generations, asparagus, like cashmere, used to be considered fancy, not for the hoi polloi.  But these days, we can buy cashmere at Costco, and asparagus is everywhere, popping up in our markets just as spring begins, showing up at our holiday feasts as well as on our daily dinner tables.  Its new quotidian nature, though, doesn't mean that it's lost its aristocratic air; on the contrary, it gussies things up wherever it appears, whether it's pureed in a soup, served over pasta, in a salad, or on a platter of its own with lovely dressing or a simple wedge of lemon.
We'd love to hear your favorite ways to serve this healthy and delicious dish.
Oh, and the answers?  Thick is more flavorful, thin looks divine.  Side or main, depending on whether it's buffet or sit-down.  Peeled if thick and "stalk-y." Raw, blanched, grilled, steamed, or roasted with olive oil — it's all good.
And it doesn't get more proletariat than this:  throw an egg on it and voila! 🙂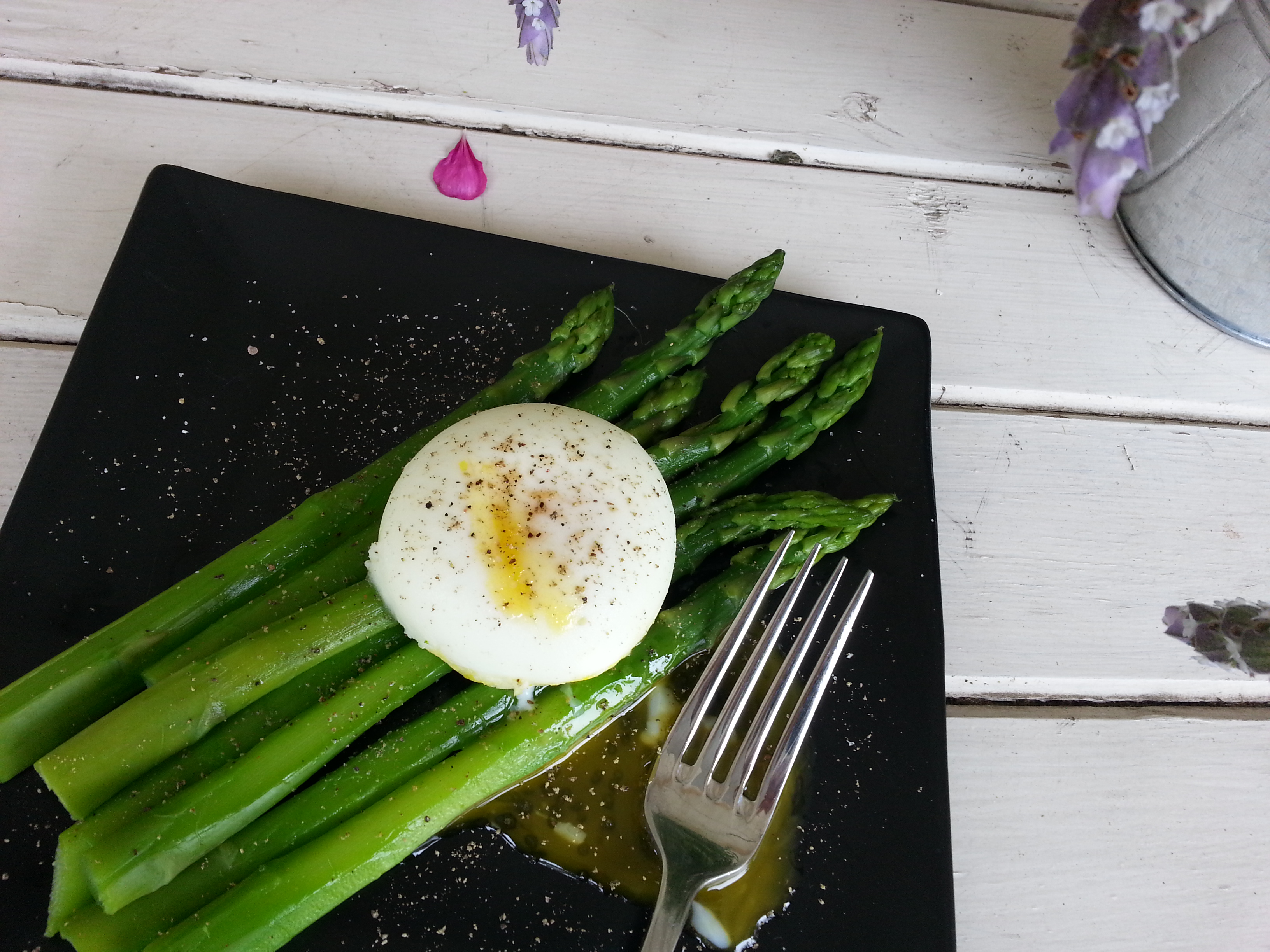 Parboiled Asparagus
Prepare a bowl with ice water and set aside.  Fill a medium-sized saucepan halfway with water and bring to a boil. Add the asparagus and reduce heat to a simmer. Parboil the asparagus for about 4 to 5 minutes depending on the thickness and the number of asparagus stalks.  (Start checking after about 3 minutes.)  Remove when bright green and just tender.  Using tongs, move asparagus to the ice water bath to cool.  Drain and pat dry.
From Molly Katzen, author of Moosewood Cookbook, there's this lovely variation, which she tells us tastes best within an hour of being made, great as a side dish to grilled salmon or with rice:
Asparagus in Warm Tarragon-Pecan Vinaigrette
1 1/2 pounds fresh asparagus, the thinner, the better
2 tablespoons balsamic or cider vinegar
2 teaspoons sugar
2 tablespoons olive oil
1 cup minced pecans
1 tablespoon  minced garlic
3/4 teaspoon salt
1 to 2 tablespoons minced fresh tarragon (or 2 teaspoons dried)
freshly ground black pepper to taste
Break off and discard the tough bottom ends of the asparagus, then slice the stalks on the diagonal into 1 1/2-inch pieces.  Set aside.
Combine the vinegar and sugar in a small bowl and mix until the sugar dissolves.  Set aside.
Heat the oil in a large skillet.  Add pecans, and saute over medium-low heat for about 10 minutes, or until they are fragrant and lightly toasted.  Be careful not to let them burn.
Turn the heat to medium-high, and add the asparagus, garlic, and 1/2 teaspoon of the salt.  Stir-fry for about 3 to 5 minutes, or until the asparagus is just barely tender.
Add the vinegar mixture to the asparagus, stirring well.  Cook over high heat for only about 30 seconds longer, then remove from heat.
Stir in the tarragon, the remaining salt, and black pepper to taste.  Serve hot, warm, or at room temperature.
And from everyone's favorite cookbook guy, Mark Bittman, there's this wonderful spring soup, also paired with tarragon:
Pan-Roasted Asparagus Soup with Tarragon
(adapted from The Minimalist Entertains, by Mark Bittman)
3 pounds thin asparagus
1/4 cup or 4 tablespoons unsalted butter or olive oil
20 fresh tarragon leaves or 1 teaspoon dried
8 cups chicken or vegetable stock
salt and freshly ground black pepper
Break off the bottom part of each asparagus stalk and discard.  Coarsely chop the rest of the stalks, leaving about twenty-five of the flower ends whole.  Put the butter in a large, deep skillet or wide saucepan and turn the heat to medium-high.  A minute later, add the asparagus and tarragon, raise the heat to high, and cook, stirring only occasionally, until nicely browned, about 10 minutes.  Remove the whole flower ends; set aside.
Add the stock and some salt and pepper; bring to a boil, then reduce the heat and simmer until the asparagus is very tender, about 10 minutes.  Cool for a few minutes.
Carefully puree with an immersion hand-held blender or a regular blender in batches.  Return to the pan and over medium-low heat, reheat gently, stirring occasionally.  When the soup is hot, taste and adjust the seasoning.  Put three to four of the cooked flower ends in each bowl; ladle in the soup and serve.