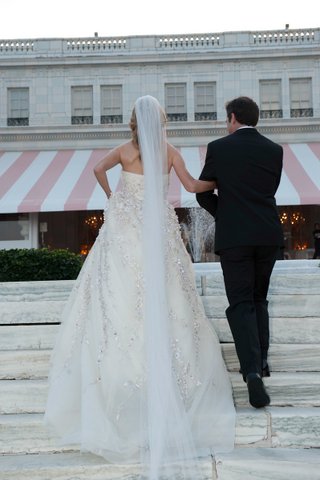 Wedding season is upon us, and from the looks of things at some of the recent ones we've attended, all the food fun is happening before things actually get going.  As guests arrive for the cocktail hour before dinner, there are some delicious and creative ideas that satisfy appetites of every type and put everyone in the mood for a festive celebration.
Two memorable arrays of hors d'oeuvres were on display at my nieces' weddings a few months ago.  The theme of each was comfort food but, as Ina Garten would say, "with the volume turned up."
Lindsay and Paul's wedding, at the American Visionary Arts Museum, had aisles of enormous tables with beautifully arranged roasted veggies and fresh fruit, miniature bruschetta, delicious crispy mac and cheese served in little cups (there were actual squeals of delight at the sight of these) , and because it was Baltimore, tiny and scrumptious Maryland crab cakes along with crab fondue served with gourmet cheeses and French baguettes.   It was impressive, gorgeous, and encouraged mingling and conversation as we prepared to go in for dinner.
At Arianna and Stephen's traditional synagogue wedding in Michigan, the tone of fun was set with a risotto bar (you could choose from roasted butternut squash, duck confit, and wild mushroom with shaved reggiano cheese), a guacamole table (with pulled chicken tacos and three kinds of salsas), a soup station (honey lentil with root vegetables, corn chowder, and acorn squash with apple and cinnamon, all in little cups), tiny peanut butter and jelly sandwich canapes, and my favorite, a "bag station" where small brown paper bags were handed out, each containing goodies like sweet potato fries with cinnamon, braised Brussels sprouts with caramelized onions, tempura artichokes, or salted truffle chips to go with nearby dishes of smoked Lake Superior whitefish mousse dip.
Hungry yet?
No matter how formal the setting, guests love a touch of the unexpected.  At our children's wedding in Newport, Rhode Island, the heat of the summer and the elaborate Rosecliff Mansion grounds gave way to a relaxed ambiance as guests were greeted with paper cups filled with icy cold lemonade.
Here's to beautiful beginnings!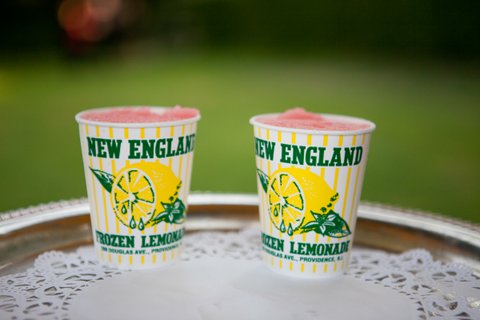 Rhona