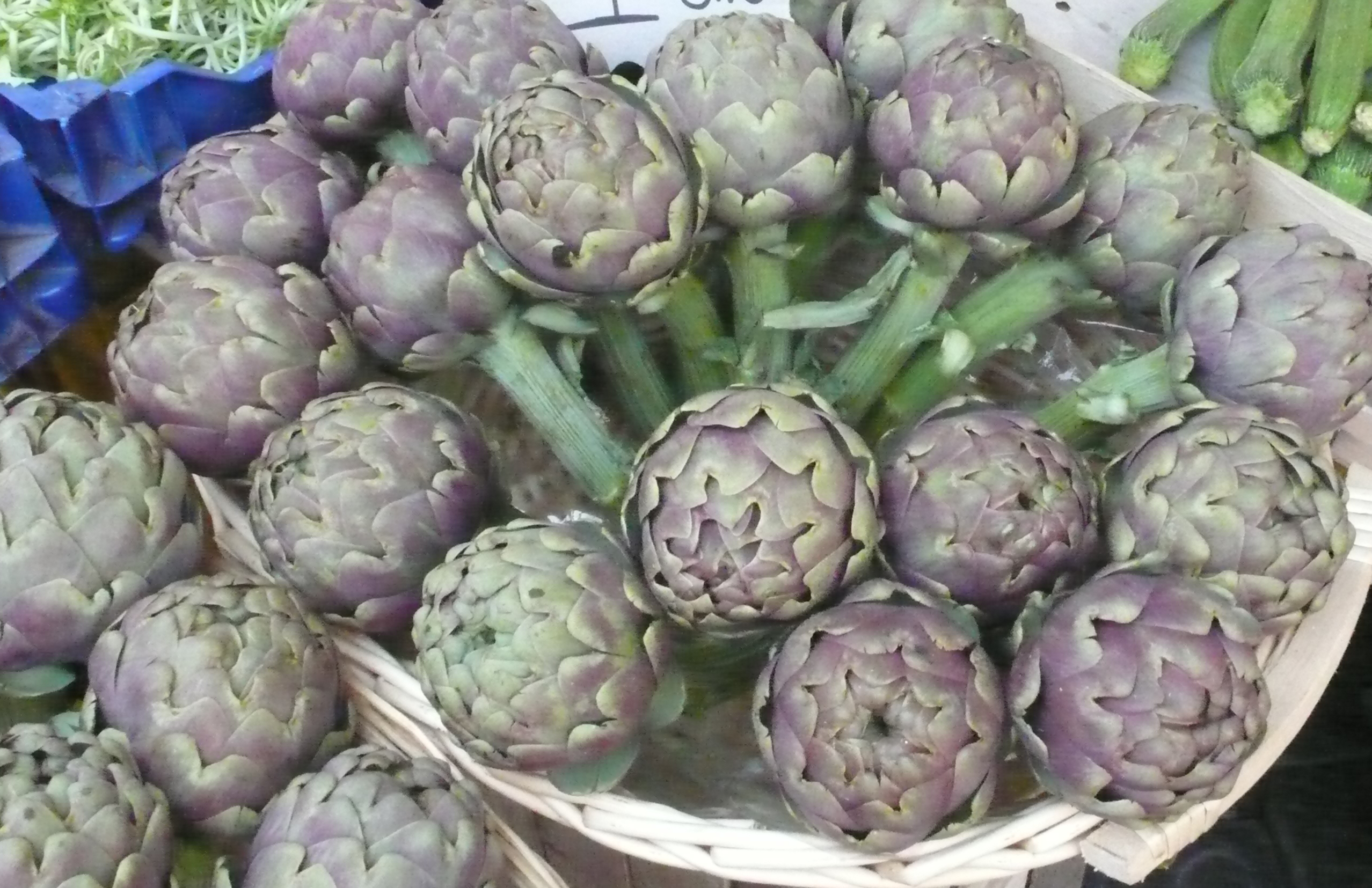 I like to tell my husband that I married him for two main reasons.  First, he can do math in his head, a much undervalued quality in a mate.   And second, being from the midwest, he has the most adorable way of pronouncing certain words that I, as a New Yorker, find absolutely charming.  I used to try to work words like "garbage" and "artist" into our conversations just so I could hear that "arrrrr" sound that was so much nicer than the "gawbige" and "awtist" to which I was accustomed.  I know, weird, but there it is.
So today we give you some fabulous recipes for the beautiful and delicious artichoke, now appearing in abundance at the markets and in our gardens.  I look forward to having my husband read this post aloud to me tonight.
Rhona
Crab-stuffed Artichokes
(adapted from Mark Bittman's recent New York Times article)
Snap off the hard outside leaves of the raw artichoke and lop off the prickly top parts.  Use a spoon to dig out the inside choke, rotating it and pulling out the spiny stuff until it looks nice and clean inside.
Heat oven to 400 degrees and put 4 hollowed-out artichokes upright in a roasting pan.
Combine 2 1/4 cups breadcrumbs, 1 1/2 cups crab meat, some chopped garlic and parsley, 1/4 cup melted butter.  Mix; stuff center of artichokes with the mixture.
Add 1 inch of water to the pan.  Cover with foil, but poke a few holes in it, and bake until tender, about 1 1/2 hours.
Lemon Braised Artichokes over Pasta
(Recipe adapted from Michael Chiarello's Tra Vigne Cookbook)
I have been making this recipe for years.  I use baby artichokes when they are in season, which happens to be now!!!  Artichokes are sensational, with or without the pasta.  Joan
Lemon-Braised Artichoke Hearts:
1/2 cup extra-virgin olive oil
1/2 cup freshly squeezed lemon juice
1 1/2 teaspoons finely chopped fresh thyme leaves
1 1/2 teaspoons minced garlic
1 1/2 teaspoons kosher salt
Small pinch freshly ground pepper
4 medium to large artichokes
1/2 lemon
Preheat the oven to 375 degrees F.
Combine the olive oil, lemon juice, thyme, garlic, salt, and pepper in a medium nonreactive saucepan. Mix well and set aside while preparing the artichokes.
Snap outer leaves from an artichoke. Cut off the top half, and then use a paring knife to trim down to the heart, rubbing cut surfaces with the lemon half as you work to avoid discoloration. Cut the heart in half and scrape out the choke with a spoon. Cut each piece in half again.
As each artichoke heart quarter is completed, immediately turn it in the marinade to coat completely. When all the artichokes are trimmed, put the pan over high heat and bring to a boil. Pour the artichokes and marinade into a baking dish (or cook them in the saucepan if it is ovenproof), cover with foil, and cook until the artichokes are tender when pierced with a fork, about 45 minutes. Remove from the oven and let cool in the cooking liquid.
Pasta Recipe
6 servings
1 pound fettuccine
1/4 cup olive oil
4 cloves garlic, sliced
2 teaspoons fresh oregano
1/2 cup chicken broth or stock
4 cups spinach, stemmed and washed
Lemon Braised Artichoke Hearts, recipe above
1/4 cup chopped Italian parsley,
1 tablespoon butter
kosher salt
freshly ground black pepper
grated Parmesan for serving
Cook fettuccine according to package directions. While pasta is cooking, heat olive oil in a large skillet over medium heat. Add garlic. When garlic is golden, add the oregano and broth. Bring to a simmer, stir in the spinach to wilt. Add the artichokes. Drain the pasta and place in a serving bowl. Pour over the artichoke mixture and toss with the parsley and butter and season with salt and pepper. Sprinkle with Parmesan and serve.