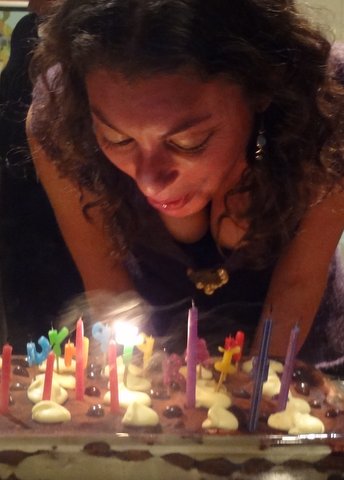 Someone just had a birthday; not saying who, not saying how old, just saying it was a lovely milestone that the rest of us only wish we were celebrating.  Her request was to have an intimate gathering of her nearest and dearest, with an emphasis on the food she loves most, the flavors she grew up on, and those she craves most often:  mamma Joan's spaghetti bolognese and eggplant Parmesan.  Her "other mamma," Rhona, made a light and creamy tiramisu for dessert; the recipe is from one of our favorite local trattorias, Pane e Vino.
The evening was delicious from beginning to end: as we arrived we were greeted with campari cocktails and lavish antipasti.  There were roasted peppers, mushrooms, artichokes, mozzarella wrapped in grilled zucchini and marinating in a mint pesto, and the star of the show: "Italian sashimi" – wafer-thin slices of tuna dressed with freshly squeezed lemon juice, olive oil and capers, and topped with a bit of arugula.
For hours, the conversation and laughter flowed along with the wine.  There were toasts and presents and lots of reminiscing.  We even got party favors: raffia-tied little sacs of crushed spicy red pepper, as well as stylishly printed copies of the family's favorite bolognese recipe (one-pot wonder: better bolognese).  But the biggest take-away was the memory of the glowing smile on the birthday girl's face as she basked in the love and familiar surroundings, a little bit of old Italy right here in Santa Barbara.
Tuna Carpaccio
(adapted from The Italian Country Table by Maxine Clark)
1 pound sushi-grade tuna
1 cup arugula
Dressing:
½ cup freshly squeezed lemon juice (preferably Meyer lemon)
2/3 cup extra-virgin olive oil
1 garlic clove, finely chopped
1 tablespoon salted capers, rinsed and chopped
A pinch of crushed red pepper flakes
Kosher salt and freshly ground pepper
Wrap tuna tightly in plastic wrap and freeze for about 1 hour, until just frozen, but not rock solid. This makes it much easier to slice thinly.
Meanwhile, put the lemon juice, olive oil, garlic, capers, red pepper flakes, salt and pepper in a bowl and whisk until emulsified.
Unwrap the tuna and slice it very thinly with a sharp, thin-bladed knife.  Arrange the slices on a serving platter.
In a small bowl, mix the arugula with a few tablespoons of the dressing.  Drizzle the rest of the dressing over the tuna and top with the arugula.  Serve with crackers or a sliced baguette.
Eggplant Parmesan
2 large eggplants
Kosher salt
Vegetable oil for frying (refined canola or grape seed oil)
3-4 cups marinara sauce of your choice (your favorite bottled marinara is fine for this dish)
½ – ¾ cup freshly grated Parmesan cheese
2-3 cups mozzarella, grated
Freshly ground black pepper
Extra-virgin olive oil for drizzling
Cut eggplants into rounds about ½-inch thick.  Sprinkle with a little salt and place in colander to drain for an hour.  Pat the eggplant slices dry with paper towels.
In a deep heavy skillet fry the eggplant slices in batches in 1/2 inch of 375°F. oil for 1 minute on each side, or until they are golden brown.  Transfer them with tongs to paper towels to drain.  Repeat with the remaining slices.  (Joan's sister Jeri introduced her to this flash frying method which prevents the eggplant from absorbing too much oil and getting soggy.  Seems like a lot of oil, but trust us, you use much less oil and the eggplant cooks quickly.)
Preheat the oven to 350 degrees F.
In a 13 by 9-inch baking pan, spread a layer of marinara sauce.  Add a layer of eggplant.  Sprinkle with 2 tablespoons of Parmesan cheese and cover with a layer of mozzarella cheese.  Spread another layer of tomato sauce and repeat the process using all the eggplant.  Finish with a layer of marinara sauce and 2 tablespoons of Parmesan cheese.  Season with black pepper, drizzle with olive oil and bake in oven for 45 minutes or until bubbly and heated through.
Pane e Vino's Tiramisu
(adapted from Santa Barbara Cooks! by Hilary Dole Klein)
1 pound mascarpone cheese (like an Italian cream cheese)
3 cups whipping cream
1 cup sugar
6 egg yolks *
1 teaspoon vanilla
2 packages of Italian ladyfingers (cookies available at Italian markets)
2 cups brewed espresso
1/2 cup cocoa powder
chocolate-covered espresso beans (available at specialty stores), optional
Put the cheese and whipping cream in the bowl of an electric mixer.  Add the sugar, egg yolks, and vanilla, and whip well, until the mixture has the consistency of whipped cream.
Soak the ladyfingers very briefly on both sides in the espresso.  (There should be a dry portion in the middle of each cookie).  Line a deep dish with a layer of cookies.
Spread one inch of the cream mixture on top.  Repeat until all cookies and cream are gone, ending with cream.  With a tea strainer or fine sieve, sprinkle a generous amount of cocoa powder over the top, covering it well.
Make little designs with dollops of cream around the edges, and garnish with espresso beans, if desired.
This can be made in advance and refrigerated until ready to serve.
(serves 10)
* egg yolk warning:  this recipe does use raw eggs so may not be suitable for certain immune systems.