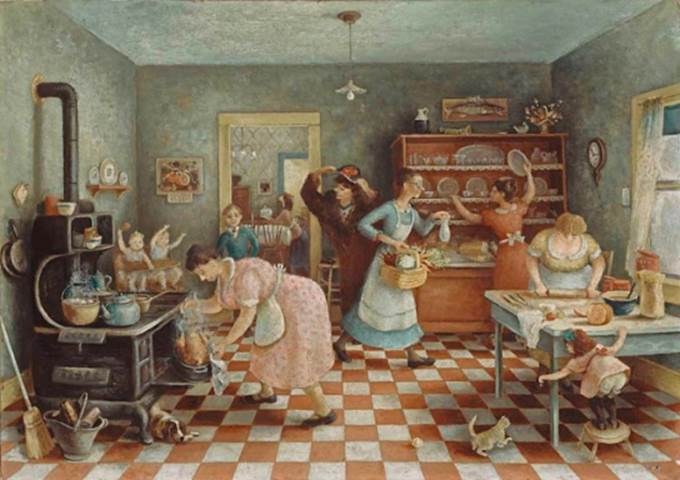 The nature of women's friendships runs so deep.  It's remarkable how we reach out to each other and step in without a thought when stepping in is what's required, or stay back when we sense it's desired.
"I can't do it."  "I'll help you."
"I've gained weight."  "You look beautiful."
"I can't find the right dress."  "You can borrow mine."
"My life is a mess."  "You'll get through it, and I'll be there with you."
We alternate between being mothers, sisters, daughters, best friends … all those roles we play and we do it with love.
Sometimes it means sitting up all night with a friend whose heart is broken; sometimes it means telling her she needs to let go a little; and sometimes it just means bringing frittatas and blintzes.
We recently helped our friend, Phyllis, who was hosting a baby shower.  It was a day full of joy and love, with guests of all ages, both family and "non-bloods" as she calls them, all coming together to enjoy a spring day in the garden and wish the new parents well.  Phyllis is so creative and clever, hanging baby clothes from the trees and using teddy bears as centerpieces on the buffet table.  Clearly, no assistance would have been needed but for the fact that she had a time problem and was a little stressed out about getting everything done.  In we stepped, all of her portable quiche-a-go-go friends.
Sheila made an amazing raspberry whipped cream layer cake topped with blue fondant polka dots and tiny little toy ducks; Carolyn made a pasta salad with sun-dried tomatoes and olives; and we arrived with antipasti, several egg creations, and lemon squares for dessert.
Added to the gorgeous table spread of bagels and lox, yogurt parfaits, sliced banana bread, tiny bear-shaped peanut butter and jelly sandwiches for the little kids, and mini-brioche sandwiches of ham, cheddar, and chutney for the grown-ups, there were enough choices for everyone's taste.  There was even a dish of celery sticks filled with pimiento cheese, straight from the Memphis kitchen of Tom Flournoy because how could our southern girl not have pimiento cheese at a party?
We brought a fabulous spinach quiche (Nora Ephron says there's no reason not to use frozen pie crusts, and we listened!), an amazing roasted vegetable frittata, a potato basil frittata with caramelized onions, and a retro dish inspired by parties in days gone by: a cheesy blintz soufflé that holds up as a classic after all these years.
Help for a friend can come in many forms.  We here at food and friendship believe it's not just the catering of the food but the catering to the soul that means love.  And when the signal comes, like Batman in an apron, we answer the call.
Roasted Vegetable Frittata
(from How Easy is That? by Ina Garten)
1 small zucchini, 1-inch diced
1 red bell pepper, seeded and 1 1/2-inch diced
1 yellow bell pepper, seeded and 1 1/2-inch diced
1 red onion, 1 1/2-inch diced
1/3 cup good olive oil
Kosher salt and freshly ground black pepper
2 teaspoons minced garlic (2 cloves)
12 extra-large eggs
1 cup half-and-half
1/4 cup freshly grated Parmesan cheese
1 tablespoon unsalted butter
1/3 cup chopped scallions, white and green parts (3 scallions)
1/2 cup grated Gruyere cheese
Preheat the oven to 425 degrees F.
Place the zucchini, peppers and onion on a sheet pan. Drizzle with the olive oil, sprinkle with 1 1/2 teaspoons salt and 1/2 teaspoon pepper and toss well. Bake for 15 minutes. Add the garlic, toss again and bake for another 15 minutes. Remove from the oven and turn the oven to 350 degrees F.
Meanwhile, in a large bowl, whisk together the eggs, half-and-half, Parmesan, 1 teaspoon salt and 1/2 teaspoon pepper.
In a 10-inch ovenproof sauté pan, melt the butter and sauté the scallions over medium-low heat for 1 minute. Add the roasted vegetables to the pan and toss with the scallions. Pour the egg mixture over the vegetables and cook for 2 minutes over medium-low heat without stirring. Transfer the pan to the oven and bake the frittata for 20 to 30 minutes, until puffed and set in the middle. (Note:  We had to cook this a little longer than 30 minutes for the middle to set; it may vary with different ovens).  Sprinkle with the Gruyere and bake for another 3 minutes, until the cheese is just melted. Cut into 6 or 8 wedges and serve hot or at room temperature.
 Blintz Soufflé

(adapted from Cookery for Entertaining by Marlene Sorosky)
This may be assembled a day ahead and baked before serving.
1/4 pound butter, softened
1/3 cup sugar
6 large eggs
1 1/2 cups sour cream
1/2 cup orange juice
1 cup all-purpose flour
2 teaspoons baking powder
Blintz filling (see below)
Blueberry syrup or assorted jams (optional)
Blintz filling:  (In a medium bowl or food processor fitted with the metal blade, combine all ingredients until blended.)
1 8-ounce package cream cheese, cut up
1 pint small curd cottage cheese (2 cups)
2 egg yolks
1 tablespoon sugar
1 teaspoon vanilla
Preheat oven to 350 degrees.  Butter a 13″ x 9″ baking dish and set aside.  In a blender or large bowl, mix butter, sugar, eggs, sour cream, orange juice, flour, and baking powder until blended.  Pour half the batter into prepared baking dish.  Prepare Blintz filling.
Drop filling by heaping spoonfuls over batter in the baking dish.  With a knife, spread filling evenly; it will mix slightly with the batter.  Pour remaining batter over filling.  Unbaked soufflé may be covered and refrigerated several hours or overnight until ready to use.
Before baking bring soufflé to room temperature.  Bake uncovered 50 to 60 minutes or until puffed and golden. Serve immediately with sour cream and blueberry syrup, or assorted jams.