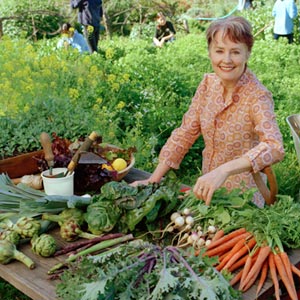 UC Santa Barbara has a fantastic Arts and Lectures series; we're so fortunate to have this amazing resource in our community.  Last week, they featured an evening with Alice Waters, THE Alice Waters, the modern-day Julia Child who, back in the 60's, started a garden to grow the vegetables she served at Chez Panisse, her now world-famous restaurant in Berkeley.  That garden and that restaurant begat a movement that has spread throughout the country; she is considered the doyenne of modern cuisine with followers who have spread their own wings and taken her message to new heights.
Her cause now is to bring the case for organic, local, delicious food to school children both in their lunch boxes and in their classrooms.  She is passionate about getting the word out, teaching families how they can eat beautifully without spending hours in the kitchen or breaking the bank buying fancy ingredients.  Alice feels that we've gotten hooked on what's fast, cheap, and easy when we go to the supermarket, but have sacrificed healthy eating habits for false convenience.
The other night, she delivered a serious and straightforward talk and the audience in Campbell Hall ate it up, so to speak.  In fact, she was preaching to the choir; everyone there seemed to be in her corner and many were eager to tell how they were finding their own paths in the green culinary movement.  Frankly, in our opinion, although we were impressed with her commitment, we found she lacked a certain connection to the reality of how most people live, focusing only on the role of schools and government, dismissing the questions of parents, and uninterested in what others were doing to further similar goals. Oh, Alice.
She did, however, toss off a few quick and easy tricks for eating well and respecting the farms that grow our food, and we pass these along to you:
1.  On your way home from work, drive right by those fast food places and just go home.  You can whip up a lovely fast, cheap, and easy meal there without loading up on the McCalories!  Here's how:
2.  Chicken – buy a whole organic chicken on Sunday, cut it up, and use every bit of it throughout the week.  Roast the breasts and thighs, broil the wings, chop the leftovers for salad, and put the bones in water to make stock for soup (of course, this means eating chicken for a week… hmm).
3.  Vinaigrette – add a salad of fresh lettuce (try to find "little gems") and veggies in season and toss with a simple vinaigrette.  Tomatoes out of season?  Do without until they're back and then when summer comes, preserve some fresh tomatoes to enjoy next winter.
4.   Couscous – if you need to stretch the meal, use quick-cooking couscous or quinoa.  Cook according to the package directions and then add your favorite chopped or sliced vegetables, some fresh herbs, perhaps some chopped almonds or walnuts and toss with a little olive oil to moisten and salt and pepper to taste.  Add a touch of vinegar or lemon juice for additional flavor.
Basic French Vinaigrette
1 teaspoon Dijon mustard
3 tablespoons white balsamic vinegar or wine vinegar
6 tablespoons olive oil
1/2 teaspoon salt
1/4 teaspoon pepper
1 clove garlic, minced (optional)
juice of 1/2 lemon (optional)
Put the mustard in a bowl.  Drizzle in the balsamic vinegar while you count to 3 (just do it — it works!).  Whisk.  Then drizzle in the olive oil at the same speed while you count to 6  (in other words, the ratio of vinegar to oil is 1:2).  Sprinkle in the salt and pepper.  You can then add the garlic and lemon juice if desired.  Whisk it all together.
Curried Couscous
Here's an easy couscous recipe to inspire you from another chef who has had a huge influence on our cooking, Ina Garten .
1 1/2 cups couscous
1 tablespoon unsalted butter
1 1/2 cups boiling water
1/4 cup plain yogurt
1/4 cup good olive oil
1 teaspoon white wine vinegar
1 teaspoon curry powder
1/4 teaspoon ground turmeric
1 1/2 teaspoons kosher salt
1 teaspoon freshly ground black pepper
1/2 cup small-diced carrots
1/2 cup minced fresh flat-leaf parsley
1/2 cup dried currants or raisins
1/4 cup blanched, sliced almonds
2 scallions, thinly sliced (white and green parts)
1/4 cup small-diced red onion
Place the couscous in a medium bowl. Melt the butter in the boiling water and pour over the couscous. Cover tightly and allow the couscous to soak for 5 minutes. Fluff with a fork.
Whisk together the yogurt, olive oil, vinegar, curry, turmeric, salt, and pepper. Pour over the fluffed couscous, and mix well with a fork. Add the carrots, parsley, currants, almonds, scallions, and red onions, mix well, and season to taste. Serve at room temperature.