Rhona: I recently found a small tin box filled with my mother's recipes, all handwritten on index cards.  Going through them, I was fascinated to see how ahead of the curve she was in terms of seeking out vegetarian and healthy options – at least later in her life.  But back when I was growing up, things were different; my grandmother was the keeper of tradition and cooked the way she learned from her mother back in Russia – pastries, blintzes, brisket, soups, all made from scratch of course.  But my mom was a thoroughly modern Lilly, always up on the latest trends, like the newest time-saving appliances; whenever my brother and I would come home from school and hear the whirr of the electric rotisserie, we knew it was going to be a great dinner!  Mmmm…. roast beef!  The smell of the cooking meat and the sight of the juicy gravy would be so enticing, we'd line up for the first piece.  But on any ordinary day we might have had meatloaf made with Quaker oats, tuna casserole made with Campbell's cream of mushroom soup, or the hot item of the day, Swanson tv dinners with frozen fish sticks or chicken pot pies.  We weren't big on cake and ice cream at our house… canned fruit cocktail, chocolate pudding, or jello were our favorite dessert treats!    Such funny food memories.  So very of the time.
Somewhere along the way, though, mom discovered whole grains and fresh vegetable substitutions for some of those typical 1950's dinners.  My daughter has vivid memories of baking nutritious Wheatena cookies with her sassy and up-to-the-minute grandmother; she remembers the tofu stir-frys, and the banana smoothies  … but I remember those other comfort meals before the healthy epiphany occurred.   And when I found that tin box of recipes, it was like finding a time machine.  Oh, did I mention that there were two $20 bills tucked among those index cards?  At the sight of those, I didn't know whether to laugh or cry; it was like having a little visit from my mother right there in my kitchen, and I heard her voice telling me to "put it away for safe keeping."  She could always make me smile.   Oh mom, how we miss you.   Happy Mother's Day.
Joan:  Last week my husband and I visited New York and spent a day touring the Tenement Museum (a must see for anyone visiting Manhattan).  Part of the tour took us to a typical Sicilian apartment from the 1930s.  I felt right at home with St. Theresa's portrait on the wall, a jar of Contadina tomatoes in the cupboard, and the pasta strainer on the counter.  When our guide began to describe the toll the Depression took on immigrant families, some being sent to poor houses and their children placed in orphanages, my eyes welled with tears.  My mom was one of those children.  It wasn't until she married my dad that she began to pick up culinary abilities.  Taught by his mother, she became a master of Italian cooking and, along with my dad who took pride in his vegetable garden, she made the most amazing lasagna, stuffed peppers, eggplant Parmesan, and stuffed artichokes, and created holiday feasts that my sisters and I find hard to duplicate today.
My mother worked hard all her life, first as a seamstress and later as an assembler in an aircraft factory.  She'd wake up at 5:30 am every morning and put in a grueling 8 hour day.  Even though she had to be bone-tired, she would come home from work and somehow manage to put a healthy freshly cooked Italian meal on the table.  My sisters and I are currently putting the finishing touches on our family cookbook.  In the process of gathering her recipes we're also revisiting fond memories of our mother's table – always room for one more, a dozen more.  On the spur of the moment she could create something out of nothing and somehow it was always delicious.  As mother's day approaches, I know my sisters and I and our children will be remembering Julia, who, without the benefit of her own nurturing mother, knew instinctively how to be a loving and giving mother and grandmother.  We miss you mom.  Happy Mother's Day.
Today, in honor of Mother's Day, we bring you two modern versions of our moms' recipes – their classics but with a modern flair.  Perhaps they sound familiar.  Or maybe your food memories are something altogether different.  Let us hear from you… we'd love to know.
 Not My Mother's Tuna Noodle Casserole      
(adapted from Gourmet Magazine, May 2004)
 Ingredients:
1 medium onion, finely chopped
4 1/2 tablespoons unsalted butter
10 ounces mushrooms, trimmed and sliced 1/4-inch thick (about 4 cups)
2 teaspoons soy sauce
1/4 cup Sherry
1/4 cup flour
2 cups chicken broth
1 cup whole milk
2 teaspoons fresh lemon juice
1/4 teaspoon salt
1 6-ounce can tuna in olive oil, drained
6 ounces curly egg noodles (preferably Pennsylvania Dutch style; about 3 1/4 cups)
1 1/2 cups bread crumbs
4 ounces coarsely grated white cheddar (about 1 cup)
1 tablespoon vegetable oil
Directions:
Preheat oven to 375 degrees.  Butter a shallow 2-quart baking dish.
Cook onion in 1 1/2 tablespoons butter with a pinch of salt in a 12-inch heavy skillet over moderately low heat, covered, stirring occasionally until softened, about 5 minutes.  Increase heat to moderately high and add mushrooms, then sauté, stirring occasionally, until mushrooms begin to give off liquid, about 2 minutes.  Add soy sauce and continue to sauté mushrooms, stirring, until liquid mushrooms give off is evaporated.  Add Sherry and boil, stirring occasionally until evaporated.  Remove from heat.
Melt remaining 3 tablespoons butter in a 2- to 3-quart heavy saucepan over moderately low heat and whisk in flour, then cook the roux, whisking, for 3 minutes.  Add broth in a stream, whisking, and bring to a boil, whisking.  Whisk in milk and simmer sauce, whisking occasionally, 5 minutes.  Stir in mushroom mixture, lemon juice, and salt.  Flake tuna into sauce and stir gently.  Season sauce with salt and pepper.
Cook noodles in a 5- to 6-quart pot of boiling salted water until al dente, according to package directions.  Drain noodles and return to pot.  Add sauce and stir gently to combine.  Transfer mixture to baking dish, spreading evenly.
Toss together bread crumbs and cheese in a bowl.  Drizzle with oil and toss again, then sprinkle evenly over casserole.  Bake until topping is crisp and sauce is bubbling, 20 to 30 minutes.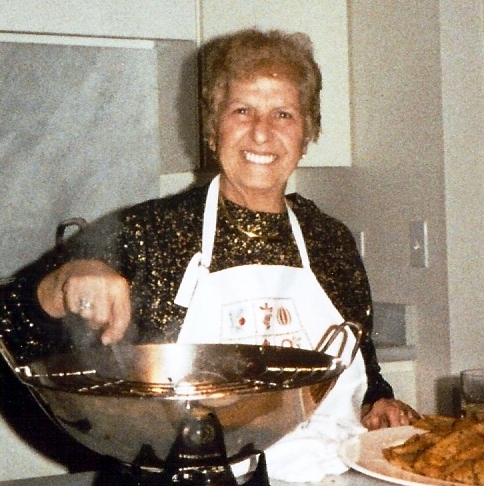 Not My Mother's Pasta with Eggplant or Pasta alla Norma
We ate pasta with some kind of tomato sauce at least twice a week.  For a special treat, our mom would fry eggplant slices, which would be passed around the table to garnish the pasta.  My daughters loved this eggplant addendum as much as I did.  A few years ago, we discovered a Sicilian pasta dish that combined all of grandma's eggplant deliciousness with a fresh tomato sauce and the salty richness of ricotta salata.  I'd like to call it Pasta alla Julia, but Norma got there first.
(adapted from Salvatore Denaro, Arnoldo Caprai Winery)
Ingredients:
2 medium eggplants, about 12 ounces each, cut in 1-inch cubes
Kosher salt
2/3 cup extra virgin olive oil
2 pounds ripe plum tomatoes, finely chopped
2 garlic cloves, minced
1/4 cup fresh basil leaves, torn
1 pound spaghetti or penne
Crushed red pepper, to taste
2 ounces coarsely grated ricotta salata
Directions:
Place eggplant in a colander, salt generously, set colander over a bowl and let sit at room temperature about 1 hour to draw off excess liquid. Rinse eggplant and dry on paper towels.
Heat oil in a large skillet on medium-high and sauté eggplant, in batches if necessary, until golden. Transfer to several thicknesses of paper towel. Pour off and reserve all but a fine slick of oil from the pan. Reheat pan on medium, add tomatoes and garlic and cook, stirring occasionally, until tomatoes are reduced and their liquid has evaporated. Fold in basil.
Bring a pot of salted water to a boil for the spaghetti. Cook until al dente.  Drain, reserving about 1/2 cup pasta water.
Add pasta to tomato sauce. Return eggplant to pan and cook on low, mixing pasta with sauce ingredients. Add the remaining 2 tablespoons of oil, season with salt and crushed red pepper if desired and moisten with some pasta water if needed. Divide among plates or shallow bowls, scatter cheese on top and serve.