Santa Barbara celebrates its Mexican heritage with Fiesta in August but in May, specifically the fifth of May, it's a Mexican celebration of freedom and democracy, a great excuse to indulge in the best our city has to offer in the way of Mexican food.  And if you want to try a few dishes at home, we have some menu suggestions that are authentic and delicious.
Citrus Tequila Cocktail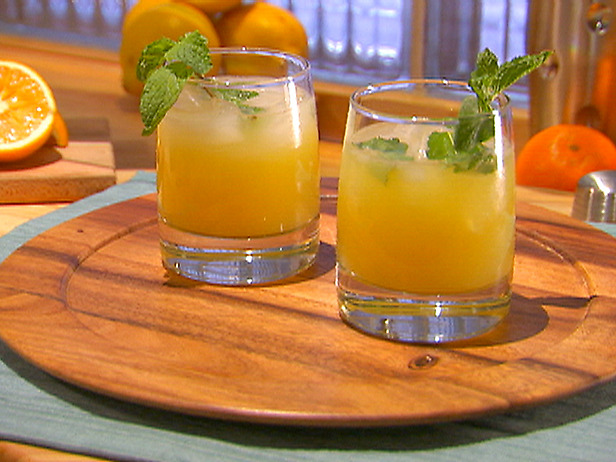 (from Food Network's David Lieberman)
Ingredients:
3 to 4 ounces white or gold good-quality tequila
1 orange, juiced
1 lemon, juiced
2 limes, juiced
2 teaspoons superfine sugar
10 mint leaves, washed, dried, and roughly torn, plus 2 mint sprigs, for garnish
Ice cubes
Directions:
Add the tequila, citrus juices, and sugar to a cocktail shaker and shake well to combine. Add mint leaves and fill the shaker with ice. Shake until frothy. Strain into 2 cocktail glasses filled with ice cubes. Garnish each with a sprig of fresh mint and serve immediately.
Fish Tacos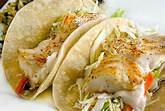 (adapted from Mark Bittman's The Minimalist Entertains)
Ingredients:
1 large onion, roughly chopped
2 jalapenos, stemmed and roughly chopped
3 pounds fillet of cod, halibut, or other thick white fish
salt and freshly ground black pepper
24 corn or flour tortillas
prepared salsa or vegetable avocado salsa *
sour cream or grated cheese (optional)
chopped lettuce, tomatoes, and cucumbers (optional)
lime wedges
Directions:
Put the onion and jalapenos in the bottom of a large nonstick skillet.
Add a tablespoon of water and top with the fish; sprinkle with salt and pepper.
Cover the skillet and put the pan over medium heat.  Cook for about 6 minutes or until the fish is opaque throughout.
While the fish is cooking, heat the tortillas.  You can dry-toast them in a skillet, one at a time; just flip once or twice, over medium heat, until hot, about a minute.
To serve, put a portion of fish, along with a bit of onion and jalapeno, and some of the salsa in a warm tortilla; add as many of the optional ingredients as you like.  Squeeze a bit of lime juice over all.
 * vegetable avocado salsa
2 large tomatoes, peeled, seeded and diced
1 medium yellow bell pepper, seeded and diced
1 large carrot, peeled and diced
1 cup peeled and diced jicama
1/2 cup corn kernels (about 1 medium ear)
2 tablespoons finely chopped cilantro, plus sprigs for garnish
2 tablespoons finely chopped parsley
1/2 small serrano chile, seeded and finely chopped (see note)
2 tablespoons fresh lime juice
salt and freshly ground black pepper
1 medium avocado
Combine tomatoes, bell pepper, carrot, jicama, corn, chopped cilantro, parsley, serrano chile, lime juice and salt and pepper to taste in a medium bowl. Refrigerate for 1 hour.
Just before serving, peel avocado and cut into 1/2-inch pieces. Add to salsa, careful to not break up avocado pieces. Mix well to incorporate. Taste; adjust seasonings if necessary.
Garnish with cilantro leaves. Serve with tortilla chips.
Note: If you prefer a milder flavor, use a jalapeño or Anaheim chile instead of the serrano.  Also, you can always substitute parsley for cilantro.
Enchiladas Verdes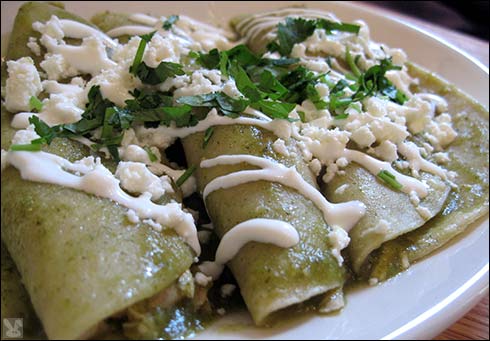 (adapted from Diana Kennedy's From My Mexican Kitchen)
Ingredients:
1/3 cup vegetable oil
12 corn tortllas
2 cups tomatillo salsa, aka salsa verde (see our Viva la Fiesta post), kept warm in a saucepan
2 cups shredded cooked chicken *
1 cup poblano chile strips (about 5 chiles)
topping:
2/3 cup sour cream
1 1/2 cups finely shredded lettuce
1/2 cup crumbled pecorino cheese or queso fresco
1/2 cup finely chopped onion
Directions:
Have a warmed serving dish ready as well as a cookie sheet lined with paper towels.
Heat 1 tablespoon oil in a small skillet.  Fry one of the tortillas lightly on both sides, about 50 seconds total.
Blot the excess oil onto the next tortilla to be fried.
Dip the tortilla into the warmed tomatillo salsa to coat well.
Put a generous portion of the chicken and chile strips on one third of the tortilla and roll it up loosely.
Proceed with remaining tortillas.
Pour the remaining sauce over the top and serve immediately, topped with the sour cream, lettuce, cheese, and onion.
Serve on a warmed dish, immediately after assembling.
*Chicken, poached and shredded
1 whole large chicken breast, about 1 1/2 pounds, halved
5 cups chicken broth
Bring the chicken broth to a simmer, add the chicken, cover the pan, and cook over low heat until just tender, about 25 minutes.  Set aside to cool off in the broth, then strain, reserving the broth for another time.  When cool enough to handle, remove skin and bone and shred the meat.