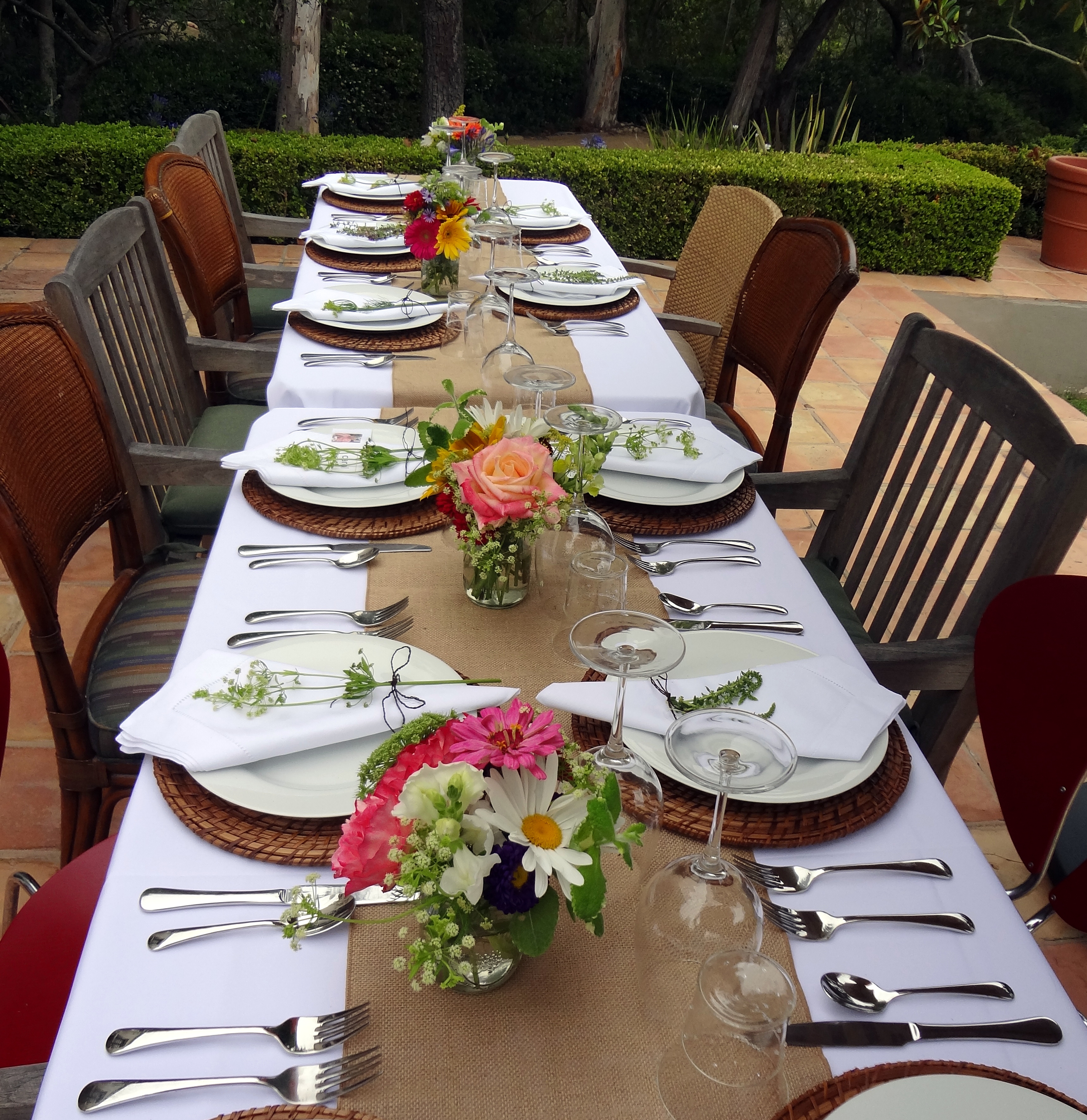 When milestone birthdays occur in June, it's a great opportunity to have an outdoor party!  Our good friends Carol and David were stopping by after celebrating Carol's big day up in the wine country, so we thought we'd throw a surprise birthday luncheon in the garden, Santa Barbara style.
This is what we did:
Set two long tables with crisp white tablecloths and burlap runners.  Filled mason jars with colorful flowers, tied some twine around white linen napkins, grabbed some branches of celery, fennel, and Swiss chard that were going to seed in the vegetable garden and inserted their flowering sprigs into the napkins.  Voilà– a table that read "summer day."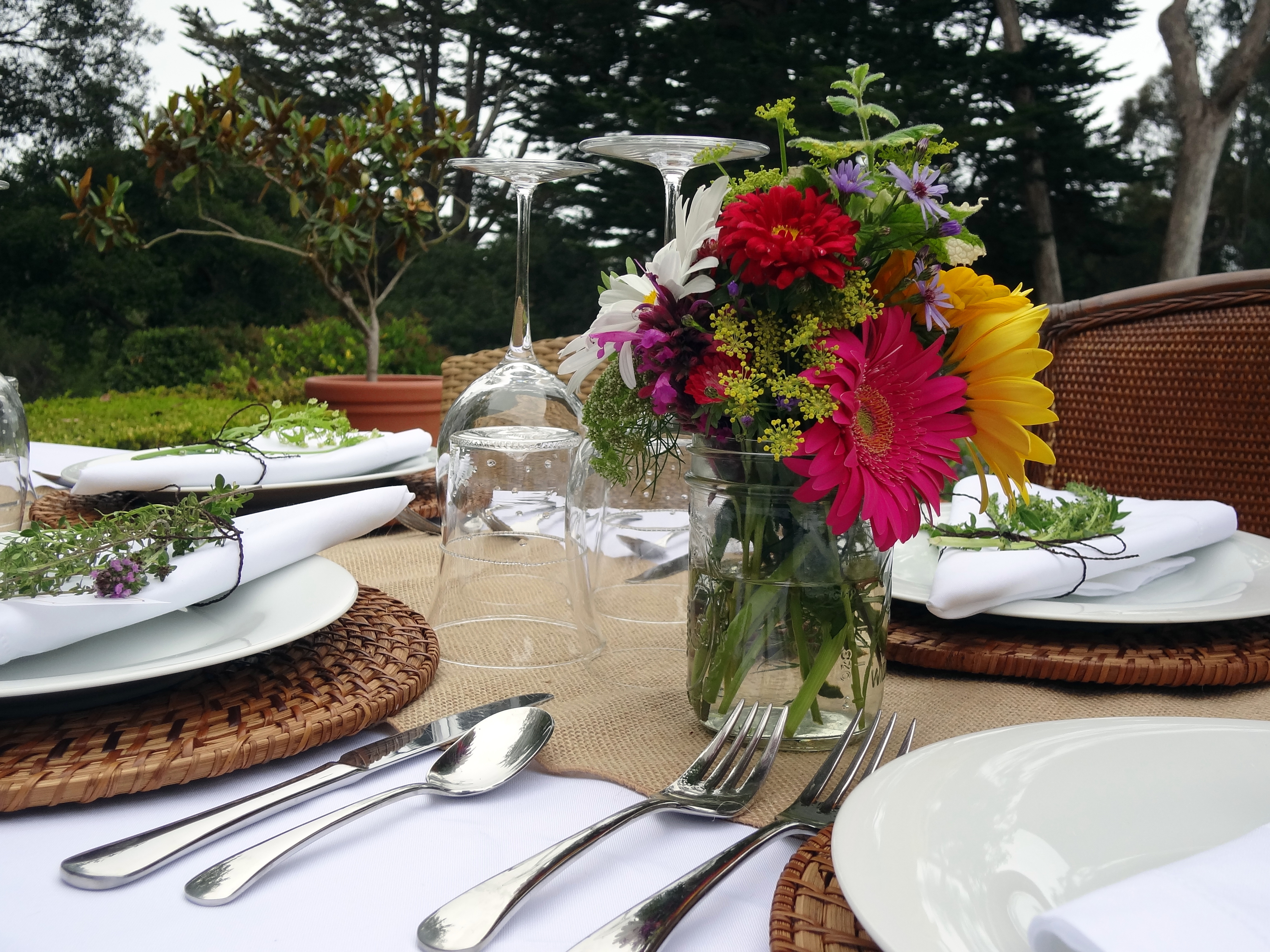 This is what we served:
A favorite aperitif in northern Italy, you'll be seduced first by its brilliant orange color and then by its taste: just a bit bitter, just a bit sweet.
3 parts Prosecco
2 parts Aperol
1 splash of sparkling water
Freshly squeezed orange juice from 1/2 of an orange (optional)
Ice cubes
Half an orange slice for garnish
Pour the prosecco, Aperol, and sparkling water into a large wine glass.  Add the orange juice and ice and garnish with an orange slice.
Appetizer:
Homemade hummus, cubed feta, sliced peppers, cucumbers, watermelon radishes, pickled carrots, and pita triangles.
Lunch:
Italian Sushi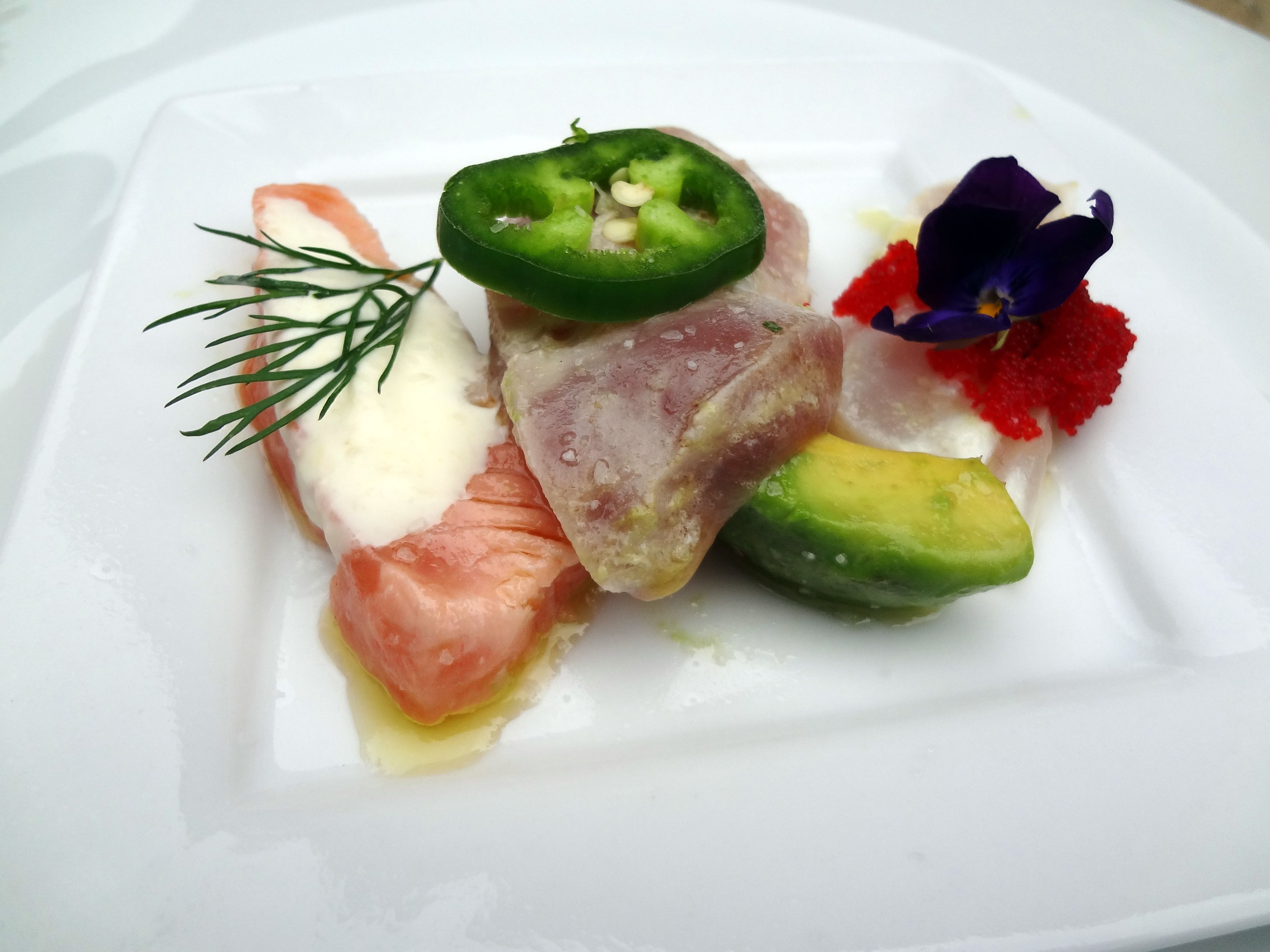 ½ pound each of 1 to 3 sushi grade fish (we used salmon, ahi tuna, and sea bass), cut in 1/4  to 1/2-inch slices
Kosher salt and freshly ground black pepper
½ cup extra-virgin olive oil
½ cup freshly squeezed lemon juice, preferably Meyer lemon
Crème fraiche flavored with creamy horseradish and Dijon mustard to taste
Fresh avocado and jalapeño slices
Fish eggs (flying fish roe or habañero flavored fish eggs)
Fresh dill and johnny-jump-ups (or any small edible flower, herb or fennel pollen) for garnish
Place fish slices in a single layer in a non-reactive dish.  Season with salt and black pepper.  Mix the olive oil and lemon juice together and pour over the fish.  Marinate in the refrigerator for at least one hour and up to four, turning after 30 minutes.  When ready to serve, place a slice of salmon, ahi tuna, and sea bass on a small plate.  Drizzle a little of the marinade over the fish.  Top the salmon with the crème fraiche and a dill sprig, place an avocado slice under the ahi tuna and top with a jalapeño slice; garnish the sea bass with the fish eggs and a small flower.  Sprinkle sparingly with kosher salt and serve.  Note:  Be inventive with toppings, i.e.  serve with a smear of avocado salsa along the top of the plate or drizzle drops of balsamic vinegar around the edge.
Deconstructed Steak Salad – in other words, platters piled high with the following:
Mixed green salad
Soy-marinated grilled flank steak, thinly sliced (recipe in our Father's Day post)
Parboiled green beans dressed with olive oil, freshly squeezed lemon juice and sprinkled with crumbled feta and chopped mint
Boiled potatoes dressed in olive oil and sprinkled with parsley
Sliced tomatoes gently tossed with olive oil, balsamic vinegar and fresh basil leaves (Use the best balsamic vinegar you can afford.  Makes all the difference!)
Dessert:
Carol's favorite – panna cotta with fresh strawberries marinated in balsamic vinegar, fresh nectarines marinated in Lillet (a French aperitif) and fresh basil leaves.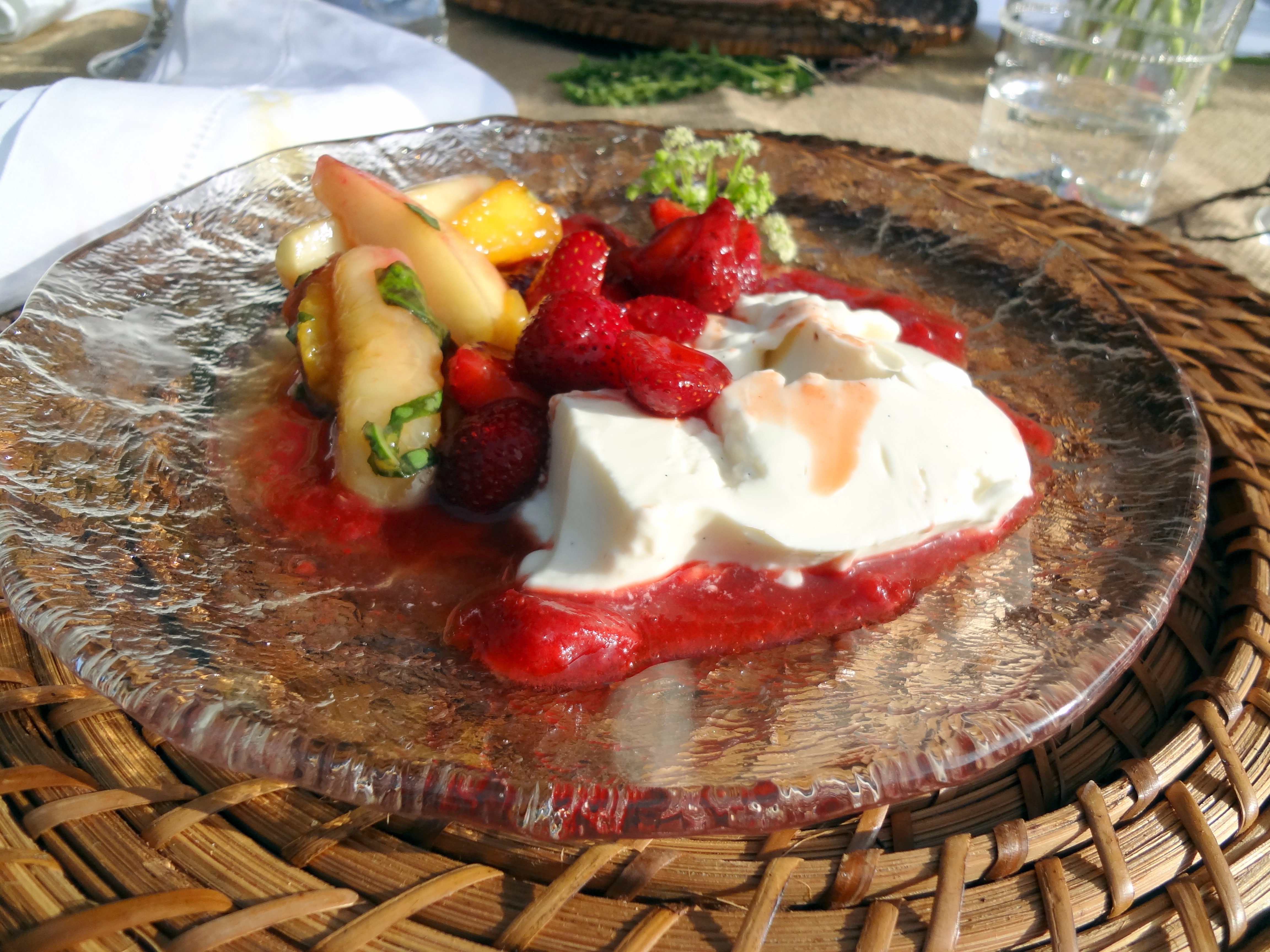 Panna Cotta with Balsamic Strawberries
(recipe by Ina Garten)
1/2 packet (1 teaspoon) unflavored gelatin powder
1 1/2 tablespoons cold water
1 1/2 cup heavy cream, divided
1 cup plain whole-milk yogurt
1 teaspoon pure vanilla extract
1/2 vanilla bean, split and seeds scraped
1/3 cup sugar, plus 1 tablespoon
2 pints (4 cups) sliced fresh strawberries
2 1/2 tablespoons balsamic vinegar
1 tablespoon sugar
1/4 teaspoon freshly ground black pepper
Freshly grated lemon zest, for serving
In a small bowl, sprinkle the gelatin on 1 1/2 tablespoons of cold water. Stir and set aside for 10 minutes to allow the gelatin to dissolve.
Meanwhile, in a medium bowl, whisk together 3/4 cup of the cream, the yogurt, vanilla extract, and vanilla bean seeds. Heat the remaining 3/4 cup of cream and the 1/3 cup of sugar in a small saucepan and bring to a simmer over medium heat. Off the heat, add the softened gelatin to the hot cream and stir to dissolve. Pour the hot cream-gelatin mixture into the cold cream-yogurt mixture and stir to combine. Pour into 4 (6 to 8-ounce) ramekins or custard cups or a 9 by 13-inch baking dish and refrigerate uncovered until cold. When the panna cotta is thoroughly chilled, cover with plastic wrap and refrigerate overnight.
Combine the strawberries, balsamic vinegar, 1 tablespoon sugar, and pepper 30 minutes to 1 hour before serving. Set aside at room temperature.
To serve, run a small knife around each dessert in the ramekin and dip the bottom of each ramekin quickly in a bowl of hot tap water. Invert each ramekin onto a dessert plate.  If chilled in a baking dish, cut in squares and place on individual dessert plates.  Surround the panna cotta with strawberries.   Dust lightly with freshly grated lemon zest and serve.