It's the first day of summer, the longest day of the year!  Of course, that means starting tomorrow the days will be getting shorter.  Bummer.  But let's not go there.  This weekend, Santa Barbara will party hard, starting Saturday morning at the Solstice Parade where the costumes are outrageous and the floats are works of art; it's all visual popcorn, and, for the uninitiated, a little raucous.
Before heading down to State Street to take part in the fun, we like to start the day with a pre-Solstice brunch at the Palace Grill.  If you're lucky enough to get an invitation (you will if you're a regular patron there and sign up for their "friends of the Palace" club), you can partake of such specialties as Bananas Foster French Toast, Quiche Lorraine, or Jalapeño-Cheddar Corn Muffins.   It's flavorful and spicy, all in the spirit of Solstice and their Cajun and Creole motto, "Laissez les bontemps roulez" – let the good times roll!
The Palace Grill's Jalapeño-Cheddar Corn Muffins
1 cup cornmeal
1 1/2 cups plus 2 tablespoons all-purpose flour
2 1/2 tablespoons baking powder
3 eggs
1/3 cup plus 1 tablespoon melted butter
1/4 cup honey
1/3 cup vegetable shortening
1 3/4 cups milk
2 jalapeño peppers, finely diced
5 ounces cheddar cheese, finely grated
Preheat oven to 350 degrees F.
In a large mixing bowl, combine the cornmeal, flour, and baking powder.  In a smaller bowl, combine the eggs, butter, and honey.  Mix well.  Fold the shortening into the dry ingredients until crumbly.  Then add the moist ingredients to the dry ingredients.  Mix just until the dry ingredients are moistened.  Add the milk.  Mix well.  Add the  jalapeño and cheese.  Mix again.  Scoop the batter into lightly greased muffin tins.
Bake for 10 – 15 minutes or until golden brown.  Best served warm.
 Bananas Foster French Toast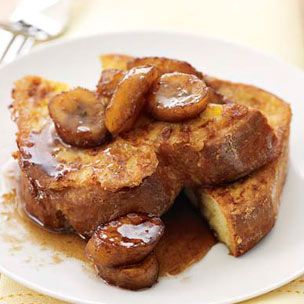 4 eggs
1/4 teaspoon ground cinnamon
1/2 cup milk or cream
6 tablespoons packed dark brown sugar
salt to taste
4 slices brioche, cholla, or other egg bread, cut 1-inch thick  (day-old bread is best)
6 tablespoons unsalted butter
4 bananas, cut diagonally into 1/2-inch slices
1/4 cup dark rum
1/2 teaspoon vanilla
2 teaspoons orange liqueur, like Grand Marnier (or can substitute orange juice)
1 teaspoon grated orange zest
1 cup pecans, chopped (optional)
Preheat oven to 200 degrees F.
French toast:
In a shallow bowl, whisk together the eggs, cinnamon, milk or cream, 1 tablespoon of the brown sugar, and a pinch of salt until combined.  Soak bread in mixture one slice at a time, gently turning once, until bread is well-coated, and transfer to a glass baking pan.  Pour any remaining egg mixture over the bread until absorbed.
Melt 1 1/2 tablespoons of the butter in a large skillet or stovetop griddle.  Add 2 bread slices at a time, or however many will fit without crowding, and cook, gently turning once with spatula, until golden, 2 to 3 minutes per side.  Transfer to a wire cooling rack set over a baking sheet and keep warm in the oven as you repeat with 1 1/2 tablespoons butter and the remaining bread.
Bananas Foster topping:
In a medium skillet, over medium-high heat, melt the remaining 3 tablespoons butter.  Carefully pour in the rum, then add the remaining 5 tablespoons brown sugar, vanilla, orange liqueur or juice, and orange zest.  Add the sliced bananas and cook, stirring occasionally, until lightly browned, 2 to 3 minutes.  Stir to coat the bananas evenly and simmer until the bananas are soft and the sauce is thickened, another 2 to 3 minutes.
Transfer the French toast to individual plates and top with the bananas.  Sprinkle chopped pecans on top if using.  Serve immediately.