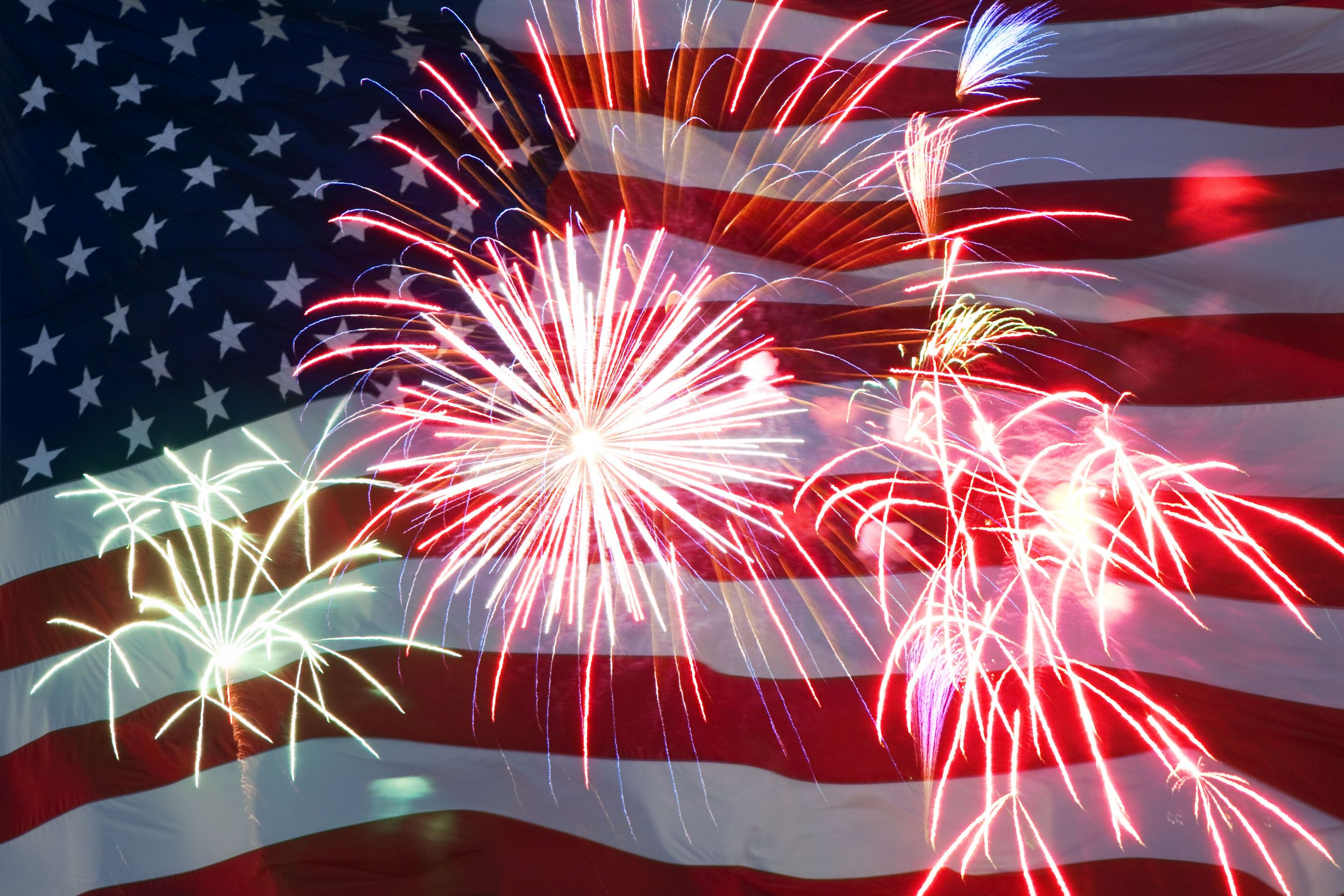 We used to call it Independence Day, this holiday that celebrates the birth of our nation, that radical experiment in democracy that took the world by storm.  These days, it often seems like the original meaning of July 4th has gotten a little blurry and the day itself has mostly become synonymous with barbeques and pyrotechnics.  But this past week we saw seismic changes in the laws of our land; after almost 250 years, it seems we're still in flux, still trying to define who we are … and everyone is talking about it!   Good friends are on different sides of hot button issues;  what seems clear to some seems unthinkable to others; voices are raised in righteous indignation from the Redwood forests to the Gulfstream waters…
and yet, on July 4th, at least when it comes to grilled meat and buttery corn, sweet desserts and ice cold watermelon, we are one nation indivisible.
Enjoy our national birthday party, and may your night bring fireworks, but only the good kind.
Here are a few things on our menu this year:
Red, White, and Blue Burgers
First a few revolutionary tips on how to make the perfect 4th of July burger: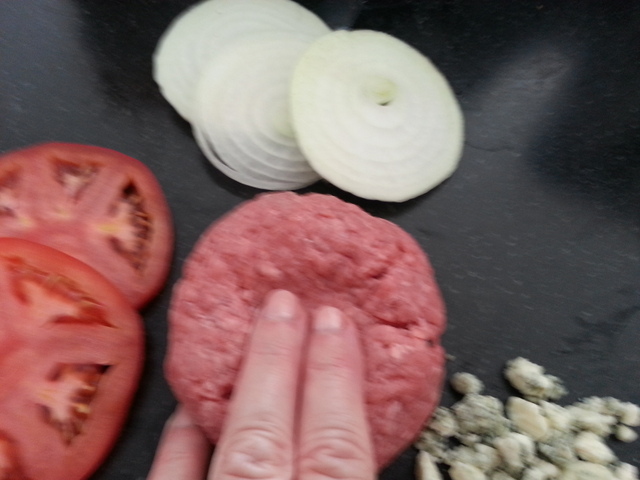 What's the key to making an open, porous ultra-tender burger perfect for catching melted cheese?  Handle the meat as little as possible.  Loosely pack the burger just enough to keep it together.
How to keep your burgers from puffing up when grilling?  Make a slight depression in the center of the patty before placing it on the grill.
And speaking of melted cheese and the 4th of July and the red, white and blue of it all, how about:
Melting blue cheese over the burgers during the final minute or two on the grill.
Garnishing with caramelized onions or sautéed mushrooms.
Topping with sliced red tomatoes.
Pesto Pasta, Potato, and Green Bean Salad
The pasta, potatoes and green beans can all be cooked separately in the same pot.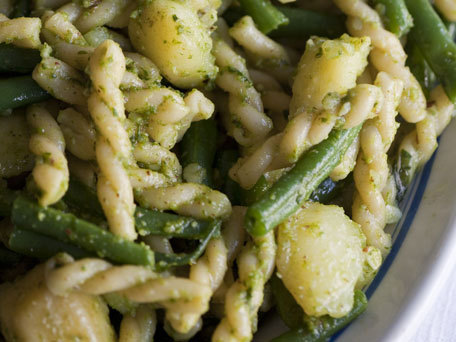 1 recipe classic pesto (from our presto pesto and two secrets post)
Extra-virgin olive oil
8 small Yukon gold potatoes, sliced into 1/4-inch slices
2 cups green beans, trimmed
8 ounces trofie, fusilli or penne pasta
Zest of 1 lemon
Juice of 1 lemon
Kosher salt
Freshly ground black pepper
Fresh basil leaves for garnish (optional)
Make the pesto and set aside.
Bring a large pot of salted water to boil.  Add a splash of olive oil and cook the potatoes until cooked through, about 15 minutes; remove with a slotted spoon and place in a flat dish to cool.  Add the green beans to the boiling water and cook until crisp-tender, about 5 to 6 minutes.  Remove with slotted spoon and place in a serving bowl.  Add the penne and cook until al dente, about 8 minutes.  Remove with slotted spoon and place in the serving bowl. Once the potatoes have cooled, cut them in ¼-inch slices and add to the serving bowl.  Add ½ cup of pesto, the lemon juice and a few tablespoons of the cooking water to the serving bowl and toss gently to combine.  Add more pesto and cooking water as needed to moisten and generously coat the salad.  Add salt and black pepper to taste and toss. Sprinkle with lemon zest and garnish with fresh basil leaves.  Serve warm or at room temperature.
 Charred Corn Salad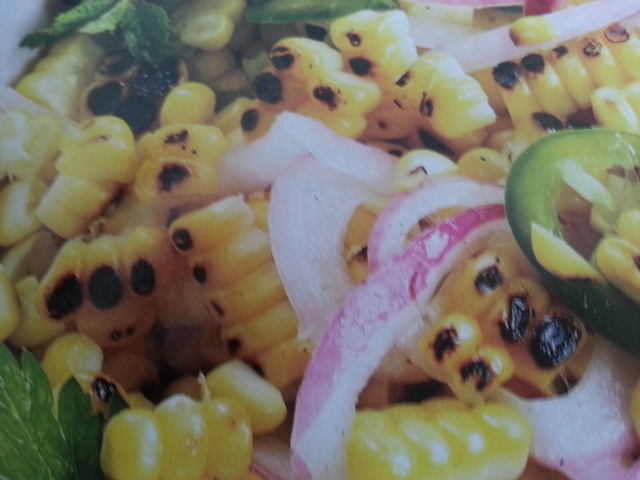 4 large ears of yellow corn, shucked
3 tablespoons extra-virgin olive oil
Salt and pepper to taste
1/2 small red onion, diced
2 1/2 tablespoons fresh lime juice
1 teaspoon maple syrup
1 small orange bell pepper, medium-diced
1 jalapeño, seeded and thinly sliced (optional)
3 tablespoons torn mint leaves
3 tablespoons torn parsley leaves
2 tablespoons julienned fresh basil leaves
2 tablespoons minced fresh chives
Heat a large grill pan or use outdoor grill set on moderately high.  Brush corn with 1 tablespoon olive oil and season with salt and pepper.  Grill, turning, until crisp tender, about 12 minutes.  Let cool.
Meanwhile, in a small bowl, combine the onion and lime juice and let stand for 10 minutes.  Stir in the syrup and 2 tablespoons of olive oil and season with salt and pepper.  Using a large bowl, cut the kernels off the cobs in big sections.  Add the onion dressing and toss.  Add the orange bell pepper, jalapeño if using, mint, parsley, basil, chives.  Serve warm or at room temperature.
Banana Boats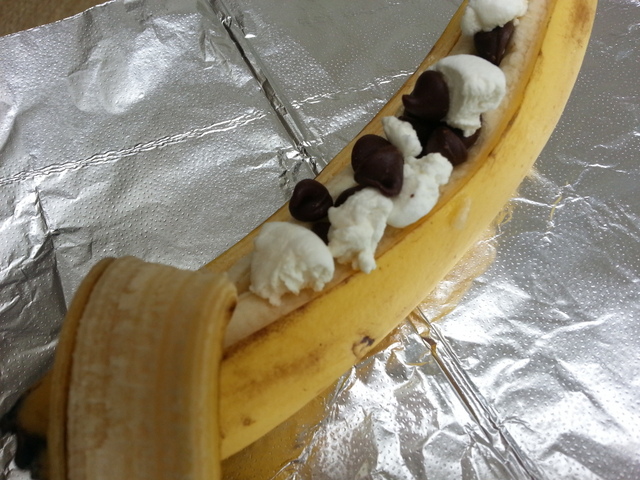 This is a riff on the great American classic, S'mores.  Our friend Anne told us how her mom used to make these for the kids to eat around the campfire and it sounded deliciously decadent.  Here's how she did it:
Using a ripe (but not overripe) banana, peel it on one side, then cut the banana lengthwise on that side so that it forms a sort of boat, not cutting all the way through and leaving 1/2″ on each end uncut.  Put mini-marshmallows and chocolate chips into the "boat" and then close up the banana with the peel.  (Of course, you can use your imagination and also add things like hazelnut spread, graham cracker pieces, even a drizzling of caramel syrup!)
Completely wrap the banana in tin foil and using tongs, hold it over the fire for about 5  to 10 minutes until the banana is soft but not mushy and the marshmallows and chocolate chips are melted. Carefully unwrap the banana and eat with a spoon.  Yum!