"And so with the sunshine and the great bursts of leaves growing on the trees, … I had that familiar conviction that life was beginning over again with the summer."  F. Scott Fitzgerald, The Great Gatsby
Blanket, check.  Thermos, check.
Peanut butter and jelly sandwiches, cold milk, chocolate chip cookies.   Check.  Check.  Check.  And we have a picnic.
But we can do better.  Here are a few ideas for making your Sunday in the park a moveable French feast that reflects this extraordinary time of year when the days are long, the light is incandescent, and life is beautiful.
What would a French picnique be without a crusty baguette, some fine soft cheese, and a bottle of rosé?  But if we want to gild that fleur de lys, how about adding Pan Bagnat, literally "wet bread" – almost like a  niçoise salad but in a sandwich that's been weighted down and held together in a tight bundle.  Add a little green salad and some sweet little cookies to munch .. and then just sit back and enjoy the afternoon.
Pan Bagnat
(serves 6)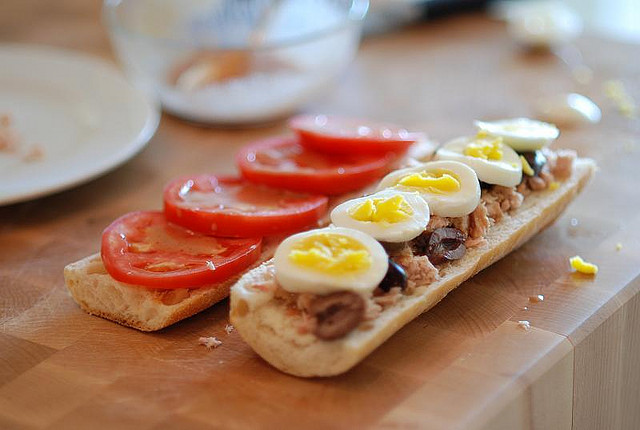 1 crusty French baguette
1 tablespoon red wine vinegar
1 tablespoon lemon juice
1/4 teaspoon sea salt or kosher salt
1/8 teaspoon freshly ground black pepper
3 tablespoons olive oil
1 cup pitted black or niçoise olives, chopped
12 ounces canned tuna packed in olive oil, drained and flaked into pieces.  ( We like the Genova or Progresso brands.  But this is important: do not use water-packed tuna for this.)
2 hard-boiled eggs, peeled and sliced thinly
2 small fresh tomatoes sliced thinly (optional)
1/4 cup thinly sliced red onion (optional)
4 small radishes, thinly sliced (optional)
4 anchovy fillets, drained (optional)
Halve the baguette lengthwise and scoop out a little of the interior of both sides with your fingers.
In a small bowl, whisk the vinegar, lemon juice, salt and pepper until combined.  Whisk in the olive oil until emulsified.
Fill the bottom part of the baguette with the chopped olives, spreading it evenly across the hollowed-out baguette.  Layer the tuna over the olives, then in even layers, add the eggs, tomatoes, red onion, radishes, and anchovy fillets if using.  Drizzle the vinaigrette over the sandwich.
Press down on the sandwich as you add the contents, top with the other half of the baguette, and wrap the sandwich tightly with plastic.
Refrigerate overnight if possible, weighing it down with a plate or cutting board so the bread soaks up all the juices from the vinaigrette.  (Don't worry, it won't get soggy on the outside; this will just enable the flavors to blend.)
The next day, take the sandwich out of the refrigerator and cut into sixths.  Wrap individually for your picnic.  They'll be best at room temperature.
 Punitions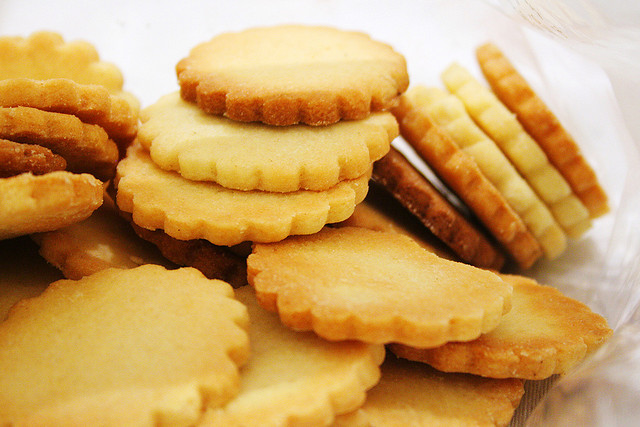 (recipe adapted from Dorie Greenspan and Boulangerie Poilâne)

If you've ever had the pleasure of going to the famous  Poilâne bakery in Paris, you know that not only have they been making the best bread on the planet since 1932, but they also invented lovely little butter cookies called Punitions.  "Punition" is French for "punishment" and the name comes from a little game Pierre Poilâne's grandmother used to play where she would call over her grandchildren as if she were going to punish them but instead would open her palms to reveal a handful of butter cookies.  Here's a version of those famous cookies that the lovely ladies at Poilâne bakery hand out to you as you leave.  These won't have the rick-rack edges of the original (unless you have a fluted cookie cutter), but the taste is the essence of simplicity and goodness, and they make a lovely ending to a perfect picnique!
1 1/4 sticks (5 ounces) unsalted butter, at room temperature
Slightly rounded 1/2 cup sugar
1 large egg, at room temperature
2 cups flour
1.  The original recipe calls for hand blending but using a food processor works just fine, so that's what we recommend.  Put the butter in the bowl of a food processor fitted with the metal blade and process, scraping down the sides of the bowl as needed, until the butter is smooth.  Add sugar and process and scrape until thoroughly blended into the butter.  Add the egg and continue to process, scraping the bowl as needed until the mixture is smooth.  Add the flour all at once, then pulse 10 to 15 times, until the dough forms clumps.
2.   Turn the dough out onto a work surface and gather it into a ball.  Divide the ball in half, shape each half into a disk, and wrap the disks in plastic.  If possible, chill the disks until they are firm, about 4 hours.  If you don't have time, you can roll the dough out immediately; it will be stickier but will still work fine.  (The dough can also be wrapped airtight and refrigerated for up to 4 days or frozen for up to 1 month.)
3.  Position the racks of your oven to divide it into thirds and preheat to 350 degrees.  Line two baking sheets with parchment paper.
4.   Working with one disk at a time, roll the dough out on a lightly floured surface until it is between 1/8 and 1/3 inch thick.  Using a 1 1/2-inch round cookie cutter, cut out as many cookies as you can and place them on the lined sheets, leaving about 1 inch of space between them.
5.   Bake for 8 to 10 minutes or until they are set but still pale.  Even if some of them brown around the edges, that's ok.  It just makes them look homemade!   Transfer the cookies to wire racks and allow to come to room temperature.    They'll keep in a tin for about 5 days at room temperature or frozen for up to a month.