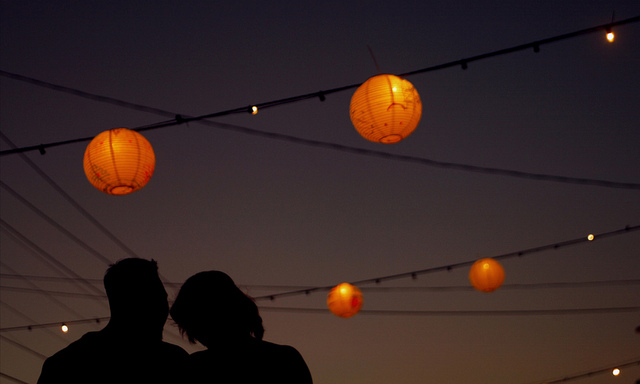 Quick, think about a summer memory.  Maybe it's staying out late to get in a last game of tag before your mom called you inside, or hanging out with friends catching fireflies and sharing dreams and wishes in the darkness, … or maybe it's the blush of first love that just seems a little more momentous on a moonlit summer night when the sun is slow to set and time feels like it's standing still…. You know what we're talking about, we know that you do!
There's something about summer evenings that seems to promise the best life has to offer, no matter what our age.  Chances are some of your memories are tied up with music, maybe concerts and picnics in the park.  Growing up, Joan went to the Hollywood Bowl and Rhona went to the Carter Barron in Washington, DC.  We saw the best artists of the time… and heard music from Beethoven to Belafonte, from Dave Brubeck to Roberta Flack.  (See how we're dating ourselves?)
Here in Santa Barbara, we have several beautiful venues that come alive from June to August, many of them showcasing great performances against the backdrop of a star-filled sky.  And the icing on the cake is the picnic you can bring to enjoy before the show.   Here are a few ideas to get you in the mood for the sweetness that only a summer night can bring.
All through the summer, UCSB's fabulous Art & Lectures, in conjunction with Santa Barbara County Arts Commission, Santa Barbara County Park Foundation, and the Community Services Department of Santa Barbara County, offers free Friday night movies in the Sunken Gardens at the Santa Barbara Courthouse.  The best of Alfred Hitchcock's movies await you this summer.  The films start at 8:30, but do come early (people start securing a spot on the lawn as early as 4:30).  A perfect place for a leisurely picnic and an entertaining evening with friends and family.
The Music Academy of the West's Summer Festival offers a wonderful opportunity for pre-concert picnicking on the magnificent Miraflores campus in Montecito.  Find a table, spread your tablecloth, unpack your picnic basket, and enjoy this lovely setting before heading into Hahn Hall.

On any Thursday night throughout the summer, head over to Chase Palm Park and enjoy free concerts, courtesy of the city of Santa Barbara.  You can't beat the location overlooking our magnificent shoreline.  Bring friends, family, and your favorite picnic fare.
Speaking of picnic fare, how about a few make-ahead Italian-inspired recipes, perfect for packing up and heading out to enjoy one of these fabulous venues.
Pork Sandwich Tuscan Style
Leave it to the Italians to create a pronto ad andare (ready to go) sandwich perfect for your alfresco dining.

(recipe adapted from Joanne Weir via Patty Corrigan)

Ingredients
2 teaspoons fresh chopped sage
2 teaspoons fresh chopped rosemary
½ teaspoon freshly ground black pepper
2 cloves garlic, minced
Kosher salt and freshly ground black pepper
¼ teaspoon fennel pollen or 1 tablespoon fresh fennel fronds, minced
4 tablespoons extra virgin olive oil
1 pork tenderloin, trimmed
1 loaf crusty baguette
Instructions
Heat a frying pan over medium high heat. Add 1 tablespoon of the oil. Cook the pork, turning occasionally, until golden on all sides, 8 to 10 minutes. Roll the pork in the herb mixture and set aside. Cut the baguette in half the long way and scoop out the soft insides. Brush the inside of the baguette with the remaining 3 tablespoons olive oil. Place the pork on the inside of the baguette so that the pork is completely enclosed. Trim off the excess ends of the bread. Tie the baguette, at 1-to 2-inch intervals, with kitchen string.
Preheat an oven to 375°F. Place the pork on a baking sheet and roast until done, 155°F on an instant-read thermometer inserted into the thickest part, 25 to 30 minutes.
Remove from the oven, let rest 10 minutes. Remove the strings and cut into slices. Wrap individual servings in tin foil.
Heirloom Tomato Salad with Feta and Mint
Time to take advantage of the endless varieties of tomatoes available at the farmers market and hopefully in your garden. This easy-to-assemble salad will pair perfectly with the Tuscan pork. Adjust the quantities according to taste and servings needed.
Ingredients
Heirloom tomatoes of different varieties and colors, cut into different shapes and sizes
Kosher salt and freshly ground black pepper
Fresh feta cheese, cut into ½-inch chunks (try the Israel feta at Trader's Joes)
Mint leaves, torn into pieces
Extra virgin olive oil
Balsamic vinegar
Instructions
In a flat bowl, arrange the tomatoes and season with the salt and pepper. Add the feta and mint leaves to the bowl. Gently toss with olive oil to taste. Add a drizzle of balsamic vinegar and toss gently to combine. Salad can be made an hour ahead of time to let the flavors marry. Pack up in individual food containers.
Almond and Lemon Biscotti Dipped in White Chocolate
We can't think of a more perfect dolce from Giada De Laurentiis to round out this Italian-inspired picnic menu.

Makes 20 biscotti
Ingredients
2 cups all-purpose flour
¾ cup cornmeal
1½ teaspoons baking powder
1 teaspoon salt
1 cup sugar
3 large eggs
3 tablespoons grated lemon zest (from about 3 to 4 lemons)
¾ cup coarsely chopped whole almonds
18 ounces white chocolate chips
Preheat the oven to 325 degrees F.
Instructions
Line a large baking sheet with parchment paper. In a large bowl, whisk together the flour, cornmeal, baking powder, and salt.
In another large bowl, beat the sugar and eggs with an electric mixture until pale yellow, about 3 minutes. Mix in the lemon zest and then the flour, and beat until just blended. (The dough will be sticky). Stir in the almonds. Let the dough rest for 5 minutes.
Divide the dough evenly into 2 equal mounds and place on the prepared baking sheet. With moist hands, space the dough evenly apart and form into 2 (9 by-3-inch) logs. Bake for 35 minutes until lightly browned. Cool for 5 minutes. Using a serrated knife, cut the logs crosswise into ¾-inch-thick diagonal slices. Arrange the biscotti cut side down on the same baking sheet. Bake until the cookies are pale golden, about 25 minutes. Let cool completely.
Place the chocolate chips in a medium bowl. Place the bowl over a pan of simmering water, making sure the bottom of the pan does not touch the water. Stir until the chocolate is melted and smooth. Dip the end of each biscotti in the chocolate. Transfer the dipped biscotti to a wire rack, set over a baking sheet, until the chocolate has hardened. Wrap in individual bags or store in an airtight container.