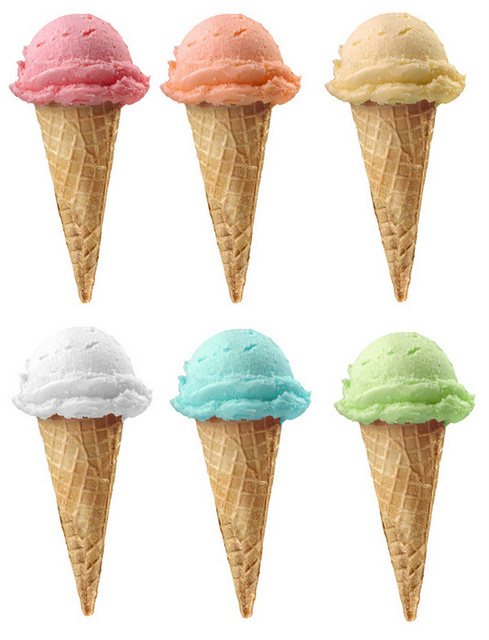 We can't finish off the summer without a little scoop of creamy homemade magic.  Using fresh fruit or a little nip of brandy, and omitting the eggs which usually make up the custard in ice cream, we came up with a few delectable frozen treats.  They're lighter than typical ice creams and with a softer consistency, so they definitely need to be chilled for a few hours before freezing.   You don't need an ice cream maker for the yummy lemon recipe below, but for the others, it's very handy and an easy way to keep delicious desserts in your freezer that don't have the stabilizers and chemicals of commercial brands.
Try a tiny scoop of any of these to accompany your fruit crostatas or cobblers, or in a shot glass with a little cookie for a sweet finish to your summer meal.  And have a safe and fun-filled Labor Day weekend!
Laurie's (Embarrassingly) Easy Lemon Ice Cream
Our friend Laurie shared this tart, refreshing, and amazingly easy-to-make lemon ice cream recipe with us a few years ago.  We've been making it ever since.  No ice cream maker, no complicated ingredients or techniques, and it doubles easily.  What's not to like?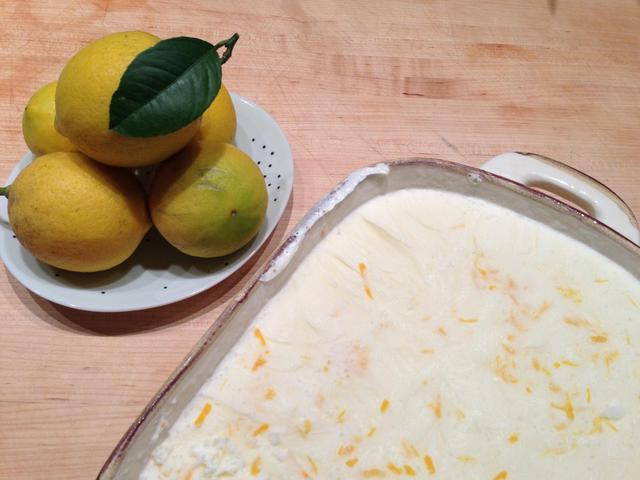 Serves 4
Zest of 1 lemon
5 – 6 tablespoons freshly squeezed lemon juice (2 -3 lemons)
1 scant cup sugar
2 cups heavy whipping cream
In a medium bowl, zest the lemon.  Add the lemon juice and sugar and whisk together until completely blended, about 1 to 2 minutes.  Add the cream and whisk until thoroughly mixed and smooth.  Taste for tartness.  Add more lemon juice to increase tartness if desired.  Pour into an 8-inch-square glass baking dish.  Cover with tin foil and place in the freezer until mixture sets, at least 5 hours.  That's it!
Best to scoop out with small ice cream scooper since it's pretty shallow.  Garnish with mint, rosemary, lemon leaves, raspberries or whatever you like.
 To make lemon ice, just substitute 2 cups non-fat milk or I cup water and 1 cup milk for the whipping cream.  Everything else is the same.
Vanilla Armagnac Ice Cream
(adapted from Barefoot in Paris, by Ina Garten)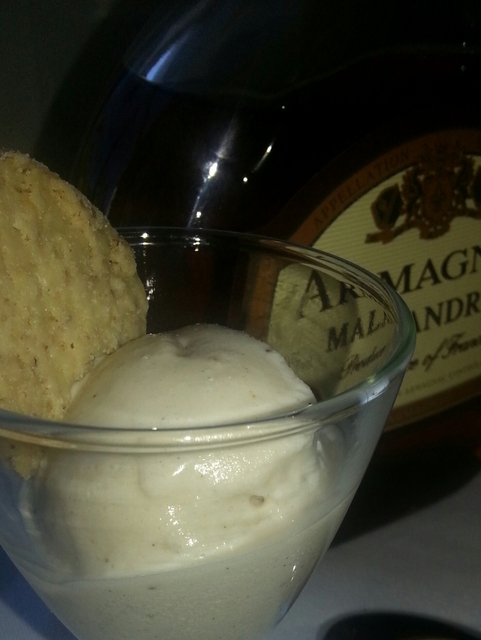 This is really more like frozen whipped cream that has been flavored with brandy.  It's one of our very favorites and adds an elegant note to the simplest dinner as long as you're ok with liqueur-flavored ice cream.
3 cups heavy cream
2/3 cup sugar
1 teaspoon pure vanilla extract
Seeds scraped from 1 vanilla bean
1/4 brandy or Armagnac
Warm the cream, sugar, vanilla, and vanilla seeds in a small saucepan over medium heat until the sugar is dissolved.  Be sure that all the sugar is dissolved, then strain into a bowl, cover, and chill well, for at least an hour.
Add the brandy or Armagnac and freeze the mixture in an ice cream freezer according to the manufacturer's directions.  Spoon into a container, cover, and chill in the freezer for a few hours before serving.
 Fresh Strawberry Ice Cream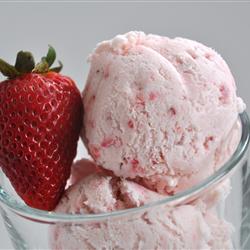 1-1/2 cups fresh strawberries, rinsed and hulled
3/4 cup whole milk
2/3 cup sugar
1-1/2 tsp vanilla extract
pinch of salt
1 tablespoon framboise (raspberry liqueur) optional
1 ½ cups heavy cream
Put the strawberries in the bowl of a food processor and pulse several times to puree.  In another bowl, whisk to combine the milk, sugar, vanilla and salt until the sugar is dissolved.
Stir in the heavy cream.
Stir in the strawberries with all its juices. Cover and refrigerate for at least 2 hours.
Pour the strawberry mixture into the frozen bowl of your ice cream freezer.  Add the framboise if using.
Follow the directions on your machine; typically it needs to go for about 20 minutes.
Because there are no eggs, we recommend freezing it for another 2 hours before serving so it isn't too soft.
And if you don't have the time or desire to make your own ice cream, here are two local places that will do it for you.  Both Rori's Artisanal Creamery and Here's the Scoop serve creative flavors using fresh seasonal ingredients and the reviews have been fantastic!


Menu at Rori's.  Divine — although remember when ice cream cones cost $1?