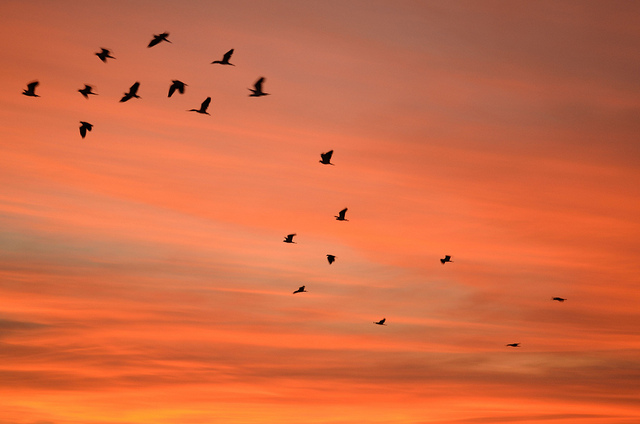 When we say the end of summer is upon us, let's agree we're going to resist the scary metaphor of advanced middle age and focus only on the actual calendar.  Summer is just summer.  In fact, some would argue we're smack dab in the middle of the best part of it, what with the Santa Barbara fog already burning off by mid-morning and local beaches still crowded with happy tourists.  In the markets we're seeing corn at its peak and tomatoes as sweet as they can be.
But truth be told, we can also see the writing on the garden wall. (Still no metaphor here.)  It's the end of stone fruit season for sure; oh yes, that door is definitely closing.  And blueberries are taking their final bows.  So in honor of those exquisite peaches, plums, and berries, let's hear it for a last gasp of delightful jams, ice creams, and cobblers.  As the days begin to shorten and the last of summer fades away, we can at least remember and enjoy what's left of our garden bounty before that "back to school feeling" takes over.  We'll be gathering pumpkins before too long.  (We're referencing October here, folks, nothing more.)
Peach Blueberry Crostata
(adapted from Barefoot Contessa at Home by Ina Garten)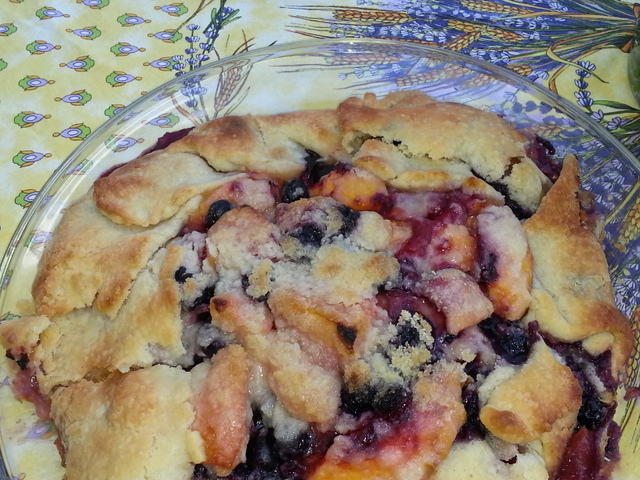 The addition of blueberries was an afterthought; certainly raspberries would work also.  But the original intent was to make a simple peach crostata and if you're lovers of summer peaches like we are, we suggest you resist the temptation to add other fruit and try it with just peaches.
For the pastry: (makes 2 crostatas)
2 cups flour
1/4 cup superfine sugar (regular granulated sugar will work too)
1/2 teaspoon salt
1/2 pound (2 sticks) cold unsalted butter, diced
6 tablespoons (3 ounces) ice water
For the filling: (makes 1 crostata)
2 pounds very ripe peaches, peeled (put peach in boiling water for 30 seconds to loosen peel)
1/2 pint fresh blueberries (if not using, just increase amount of peaches by 1/2 pound)
1 tablespoon plus 1/4 cup all-purpose flour
1 tablespoon plus 1/4 cup granulated sugar
1 teaspoon grated orange zest
2 tablespoons freshly squeezed orange juice
1/4 teaspoon salt
4 tablespoons (1/2 stick) cold unsalted butter, diced
For the pastry, place the flour, sugar, and salt in a food processor fitted with the metal blade.  Pulse a few times to combine.  Add the butter and pulse 12 to 15 times, or until the butter is the size of peas.  With the motor running, add the ice water all at once through the feed tube.  Combine, but stop just before the dough comes together.  Turn the dough out onto a well-floured board, roll it into a ball, cut in half, and form into 2 flat disks.  Wrap the disks in plastic and refrigerate for at least 3 hours or for best results, overnight.  Freeze the second disk for future use.
Preheat the oven to 450 degrees.  Line a sheet pan with parchment paper.
Roll the pastry into an 11-inch circle on a lightly floured surface then transfer it to the sheet pan.
For the filling, cut the peaches in wedges and place them in a bowl with the blueberries.  Toss them with 1 tablespoon of the flour, 1 tablespoon of the sugar, the orange zest and the orange juice.  Place the fruit on the dough circle, leaving a 1 1/2 inch border.
Combine the 1/4 cup flour, the 1/4 cup sugar, and the salt in a food processor fitted with the metal blade.  Add the butter and pulse until the mixture is crumbly.  With your fingers, sprinkle evenly over the fruit.  Gently then fold the border of the pastry over the fruit, pleating it to make an edge.
Bake for 20 to 25 minutes, until the crust is golden.  Let the crostata cool for 5 minutes, then using two large spatulas (we needed 4 spatulas and an extra person for this part!) transfer it to a wire rack to cool completely or to a serving plate directly.  Serve warm or at room temperature.  Great with a scoop of vanilla ice cream or whipped cream, but perfect all by itself.
Plum Freezer Jam
( adapted from recipe by Martha Stewart)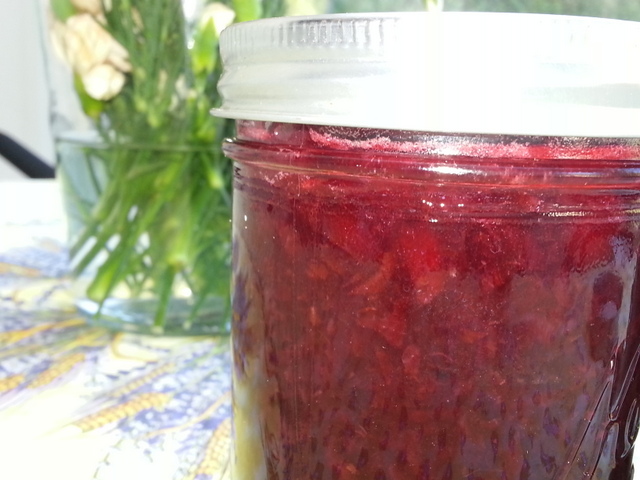 (Note:  We usually make jam with no pectin at all, just fresh fruit, lemon juice, and sugar.  With strawberries it works great and the bright fruit flavor comes through.  But this recipe calls for pectin.  And since it was Martha Stewart's recommendation and since it was plums, we thought it best to use the ingredients as she suggested and in fact, this jam sets beautifully and is absolutely delicious.)
5 cups ripe plums, about 3 pounds, pitted and crushed (use a food processor and pulse a few times)
1/3 cup fresh lemon juice (about 2 lemons)
2 1/2 cups sugar
1 package pectin, powdered no-sugar-required (1.75 ounces)
Have your sterilized mason jars and lids ready.
Put plums and lemon juice in a pot and stir; bring to a boil over medium-high heat.
In a bowl, combine sugar and pectin.  Then add to boiling plums and boil for one more minute.
Skim off foam from top, pour into mason jars, seal, and let sit for 2 -3 hours to cool and set.   Then refrigerate or freeze.