Here in Santa Barbara we can pick from a number of creative chefs that cater all sorts of events: showers, weddings, intimate dinner parties.  The latter seems like such a luxury.  So when our good friends Ron and Sherri asked us to join them and another couple to attend a chef's dinner at their house, help prepare dinner, and enjoy a gourmet meal, we accepted the invitation with delight and great anticipation.  We were not disappointed.
Chef Erika Heinemann of Savvy Wine Food hails from Northern California.  Citing Thomas Keller from the French Laundry and Alice Waters from Chez Panisse as her inspirations, she honed her skills as the executive chef at Duckhorn winery where she focused on food and wine pairing.  Charming and informative, Erika eased us into the kitchen and put us all to work, chopping vegetables, simmering garlic confit, sautéing zucchini and creating creamy sauces.  And all of a sudden, with the help of a little Prosecco, lots of laughter, and Erika's patient guidance, we were transformed, for one memorable night, into gourmet chefs.  With this menu, you can be too:
Green Salad with Individual Goat Cheese Soufflés
Baked Fish with Garlic Confit
Zucchini Gratin
Fresh Cherry Crostata
 Green Salad with Individual Goat Cheese Soufflés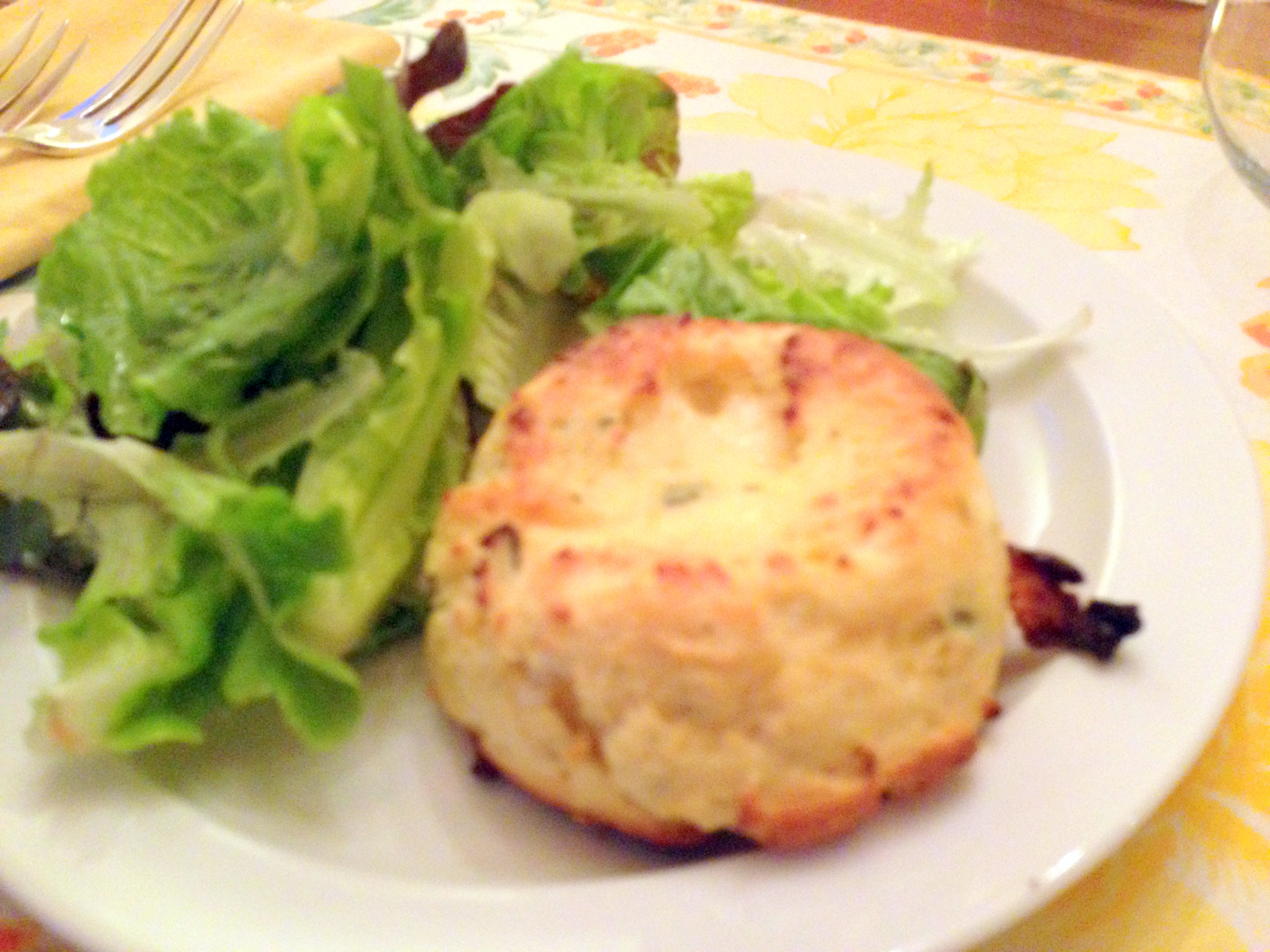 We love this recipe because it can be prepared up to 2 days ahead of time and popped in the oven just before you're ready to serve.  It's an impressive first course.
½ pound firm goat cheese
4 large eggs
5 tablespoons unsalted butter, plus extra for baking sheet
1/3 cup all-purpose flour
1/1/3 cup whole milk
2 teaspoons Dijon mustard
2 teaspoons finely chopped fresh thyme leaves
Kosher salt and freshly ground white pepper
Salad greens
Favorite vinaigrette
Preheat oven to 375 degrees.
Butter six (¾ cup) ramekins.  Crumble goat cheese and separate eggs.  In a saucepan melt butter over moderately low heat and whisk in flour.  Bring flour and butter to a simmer, and cook whisking constantly about 3 minutes.  Whisk in milk.  Bring mixture to a boil, whisking constantly.  Lower heat and simmer another 3 minutes, whisking occasionally.  Remove pan from heat, add egg yolks, mustard, 1 teaspoon of thyme, about 2/3 of the goat cheese, and salt and pepper to taste.  Whisk until cheese is melted.  Transfer mixture to a large bowl.
In the bowl of an electric mixer fitted with a whisk attachment, beat egg whites with a pinch of salt until they just hold stiff peaks.  Fold ¼ whites into yolk mixture to lighten.  Gradually fold in remaining whites.  Fold in remaining cheese and thyme, gently but thoroughly.
Divide soufflé mixture among ramekins and arrange in a baking pan just large enough to hold them.  Add enough hot water to baking pan to reach half way up the sides of the ramekins.  Bake soufflés in the middle of the oven until slightly puffed and golden brown about 25 to 30 minutes.  Transfer to wire rack.  Let soufflés stand, uncovered, 30 minutes (soufflés will fall slightly).
Lightly butter a baking sheet.  Run a thin knife around the edges of the soufflés.  Invert each soufflé onto palm of hand or small plate and carefully put right side up onto baking sheet.  (Soufflés can be made up to this point 2 days ahead and refrigerated, covered.)
Increase oven temperature to 425 degrees.  Bake soufflés in middle of oven until slightly puffed and heated through about 5 minutes.
While the soufflés are baking, toss the salad greens with your favorite vinaigrette and distribute on 6 individual salad plates.  Top salad with soufflés and serve immediately.