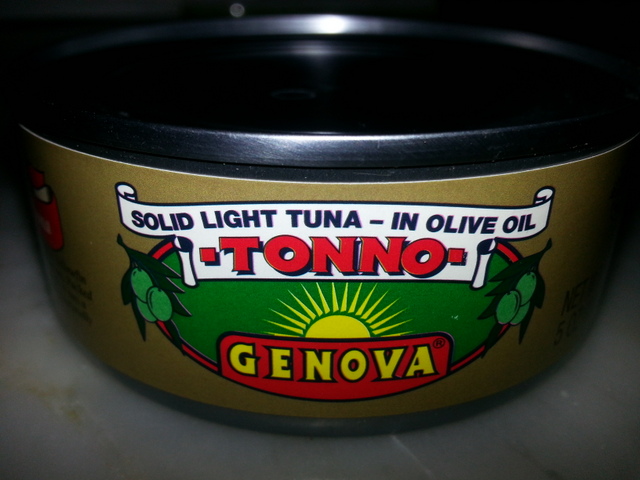 We're big fans of Italian tuna, moist and flavorful, packed in olive oil and not like most other types of canned tuna that we find chalky and tasteless.  We really think once you've tried the Italian kind you'll never go back to any other.  And if you're concerned about the extra calories in the olive oil, remember that it takes the place of any mayonnaise you'd normally use, so in addition to being tastier, it's much healthier.
Here are two summertime staples in our house. We actually had the salad every night for dinner last week, and when we served the sandwiches for lunch, they disappeared right off the plate. Try pairing them with small glasses of cold gazpacho or cucumber dill soup for an easy buffet or picnic lunch.
Summer Tuna Salad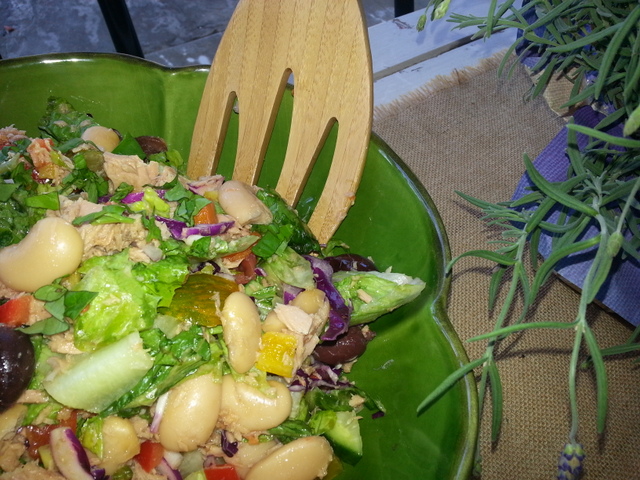 2 cans Italian tuna (packed in olive oil). Very important.
1 can white Cannellini beans or wide butter beans if you can find them, drained and rinsed
½ each red, yellow, orange peppers diced.
2 -3 mini-cucumbers or ½ English cucumber, diced
12 pitted Kalamata or Nicoise olives
2 scallions, chopped
1 small red onion, peeled and diced
6 marinated artichoke hearts (optional)
6 basil leaves, chopped (optional)
1-2 tablespoons of any other fresh herbs you have, like tarragon, parsley, dill (optional) but don't use rosemary
1 cup cherry tomatoes, cut in half (optional)
2 cups romaine, radicchio, or butter lettuce (optional)
1 avocado, sliced
6 tablespoons red wine vinegar
12 tablespoons olive oil (this should include the oil in the tuna cans)
½ lemon, seeded
Put undrained tuna in a large bowl and break up with a fork.
Add beans and combine.
Squeeze lemon over tuna, avocado, and beans.
Add peppers, cucumbers, olives, red onion, scallions, artichoke hearts if using.
Add chopped herbs.
Add lettuce if using.
Add wine vinegar, olive oil.
Toss and allow it to sit for about 10 minutes to let flavors combine.
Artichoke and Tuna Panini with Garbanzo Bean Spread
(Adapted from Giada de Laurentiis)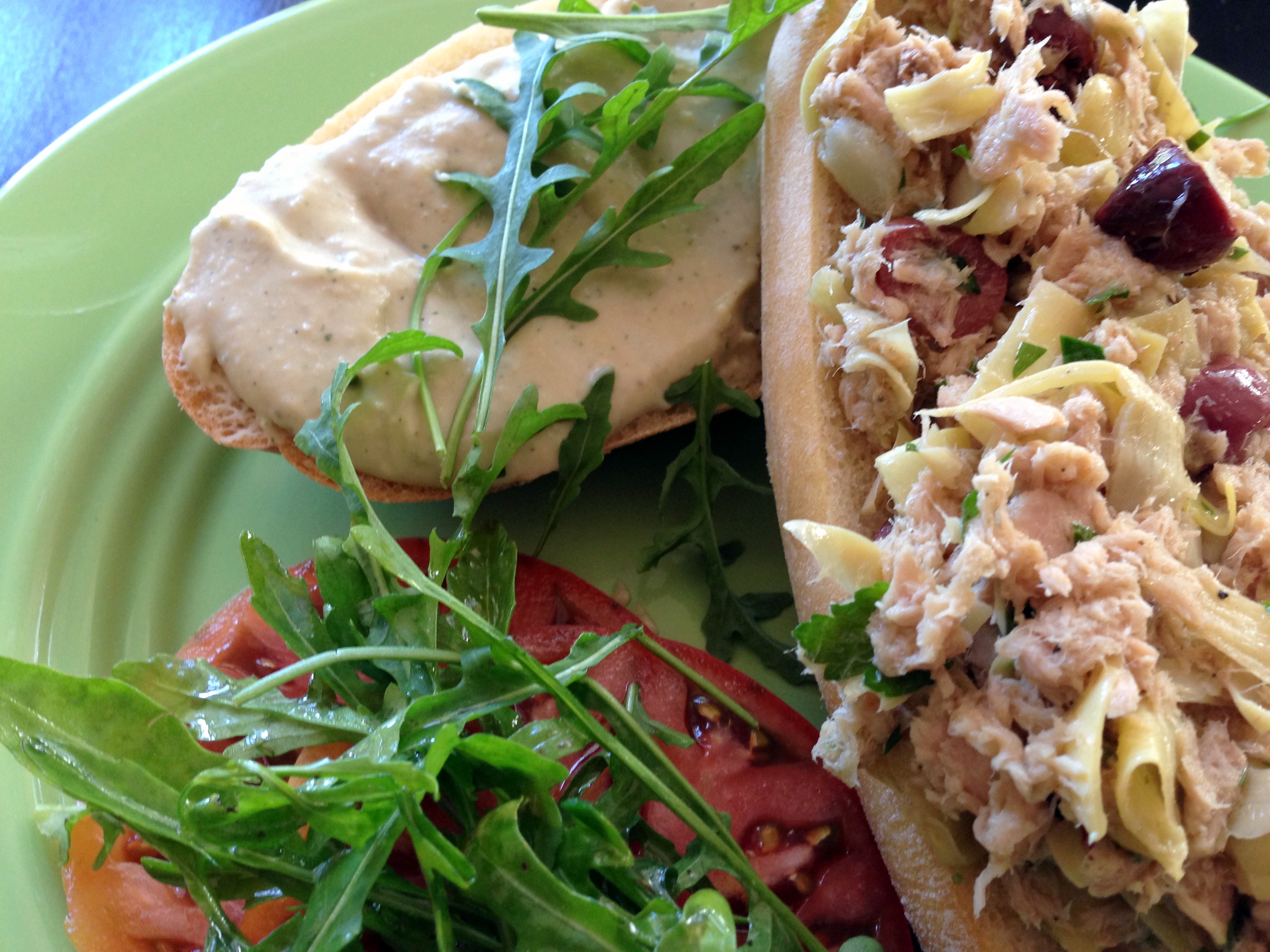 Garbanzo Bean Spread
1 (15 1/2-ounce) can garbanzo beans, drained
2 tablespoons tahini, optional
2 cloves garlic
1/4 cup fresh mint leaves
2 teaspoons lemon zest
3 tablespoons lemon juice
3 tablespoons extra-virgin olive oil
1/4 teaspoon salt
1/4 teaspoon freshly ground black pepper
Panini
1/2 cup pitted black olives, finely chopped
1/4 – 1/2 cup extra-virgin olive oil
1/2 teaspoon salt
1/2 teaspoon freshly ground black pepper
2 (5 1/2-ounce) cans Italian tuna in olive oil, drained (recommended: Genova or Flot)
1 (13 3/4-ounce) can quartered artichoke hearts, drained and halved
1/4 cup fresh parsley, chopped
2 tablespoons freshly squeezed lemon juice
2 cups arugula
Balsamic vinegar
4 French or ciabatta rolls, sliced in half lengthwise
To make the Garbanzo Bean Spread: Combine all the ingredients in a food processor. Pulse until the mixture is smooth. Transfer to a small bowl and set aside.
To make the Panini: Combine the black olives, olive oil, salt, pepper, tuna, artichokes, parsley, and lemon juice in a bowl.  Lay out the sliced rolls. Spread the garbanzo bean spread on both halves of the rolls. Spoon the tuna mixture over the bean spread.  Toss arugula with balsamic vinegar to taste and place on sandwich.  Close the sandwich, cut in half, and serve.