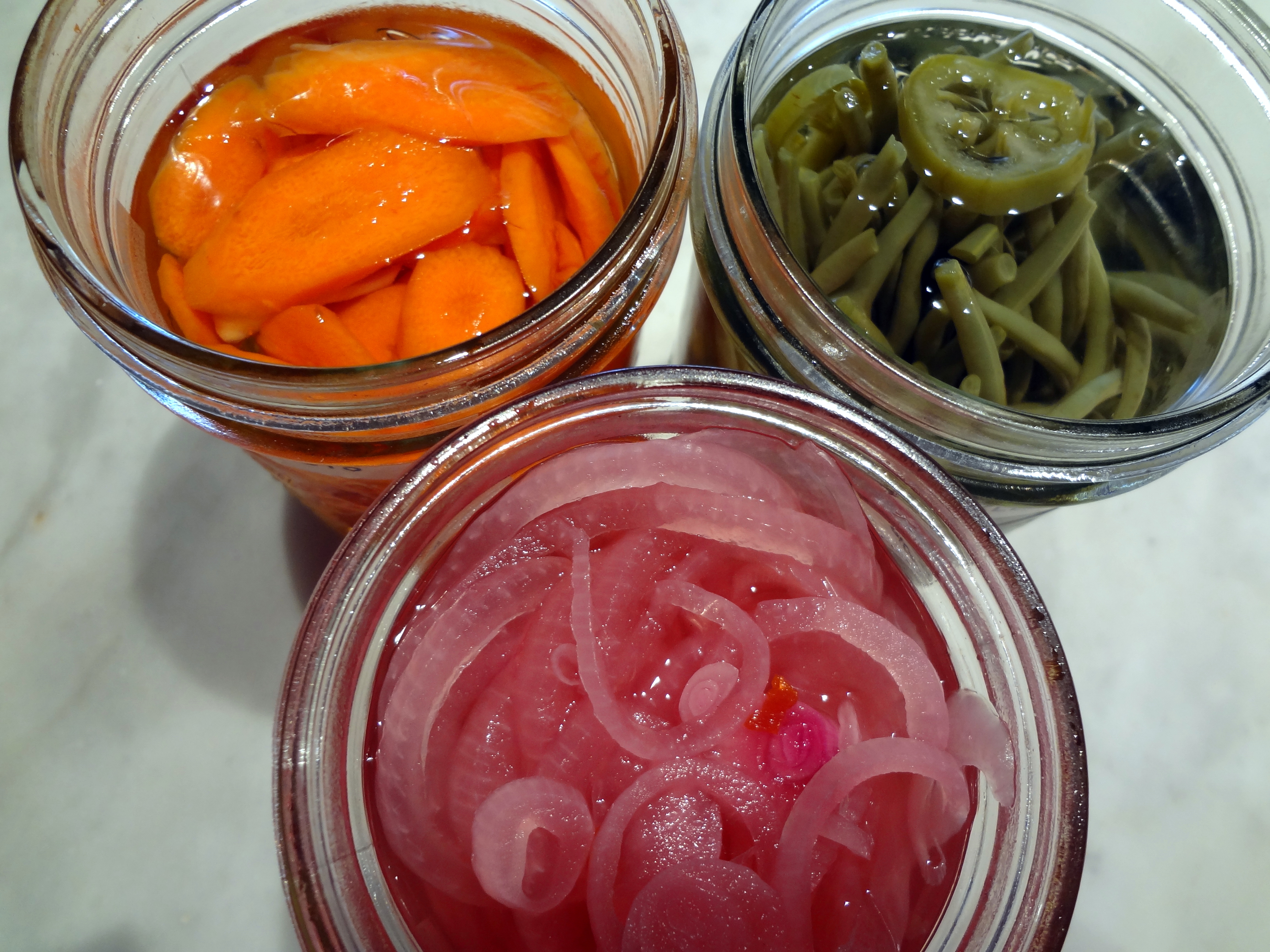 Not just for cucumbers anymore, it seems like people are pickling a peck of vegetables and fruits – onions, carrots, green beans, asparagus, watermelon rinds, grapes, and yes, like Peter Piper, even a peck of peppers.  It's not just the latest trend either; people have been pickling for over 4,000 years to help preserve the harvest and provide food for the long winter months and long journeys on land and sea.  Asian cuisine pickles carrot and radishes and serves them as a salad or to add a little zest to a Banh Mi sandwich.  Italians pickle a garden of vegetables, call it Giardiniera (gardener) and serve them as an appetizer or use them as a relish with meats.  In Arab countries, turnips, peppers, carrots, green olives, cucumbers, beetroot, cabbage, lemons, and cauliflower are pickled and called mekhallelre.  And of course, we can't forget German sauerkraut and Korean kimchi.  We could go on and on, but we think you get the picture.  We'll just provide a few basic recipes for you as a jumping off point.  One note of caution:  these are small quantity recipes that we refrigerate and that can be enjoyed for 3 to 4 weeks.  Please follow guidelines for proper canning if you would like to preserve.
Pickled Red Onions
(adapted from recipe from Osteria by Rick Tramonto)
These onions add a vibrant zestiness served with grilled flank steak, tossed into salads, or added to sandwiches.
1 cups red wine or distilled vinegar
1/4 – 1/2 cup sugar
Kosher salt and freshly ground black pepper
1 bay leaf
Pinch of crushed red pepper flakes
2 red onions, thinly sliced
In a heavy saucepan, heat 3 cups of water with the wine vinegar, sugar, 1 teaspoon of salt, 1 teaspoon of black pepper, the bay leaf, and the red pepper for 2 to 3 minutes, or until the salt and sugar are dissolved.
Put the onions in a glass bowl or 1 quart mason jar.  Pour the pickling liquid over the onions, cover, and allow to come to room temperature before refrigerating for at least 24 hours.
Pickled Carrots
We adapted this recipe from a delightful cookbook/memoir that Joan's dear friend Kathy gave her, called Every Grain of Rice:  A Taste of Our Chinese Childhood in America, by Ellen Blonder and Annabel Low.  This is often served as a salad at new baby celebrations and any time as a side dish to balance out richer dishes.
½ cup water
½ cup cider vinegar
1 cup sugar
4 carrots
1 4-inch-piece of ginger, optional
2 tablespoons salt
2 teaspoons toasted sesame seeds (optional)
Combine the water, vinegar, and sugar in a small enamel saucepan and bring to a boil over medium heat, stirring occasionally, until the sugar dissolves, about 4 minutes.  Remove from the heat and cool to room temperature
Peel the carrots and cut diagonally into paper-thin slices.  You may use a mandolin or a vegetable peeler.  Peel and then cut the ginger diagonally into paper-thin slices.
Place the carrot and ginger in a shallow bowl and sprinkle with the salt.  Let stand 20 minutes.  Place in a colander and rinse well under cold water.  Squeeze dry and place in a clean quart jar.  Pour the brine over and stir lightly to distribute evenly.  Cover and refrigerate for 2 days before serving. Remove the carrots and ginger from the jar with a slotted spoon; serve in small shallow dishes with a sprinkling of toasted sesame seeds, if using.
Pickled Green Beans with Garlic and Jalapeño
The jalapeño gives these pickled beans a nice kick, but you could eliminate easily and/or add some fresh dill.  If you happen to be a martini fan, you can trade out the typical garnish of olives or onions for a few zesty beans.
1 1/4 cups water
1 cup white wine or cider vinegar
1/4 cup sugar
1 1/2 tablespoons kosher salt1 pound green beans, trimmed to stand in a 16-ounce mason jar
2 cloves garlic, lightly-crushed
1 jalapeño, cut in 1/4-inch circles
In a heavy saucepan, heat the water , wine vinegar, salt, and sugar for 2 to 3 minutes, or until the sugar and salt are dissolved.  Cool.
Put the green beans, garlic, and jalapeño in a 16-ounce mason jar and add the pickling liquid to the top of the jar.  Allow to come to room temperature before refrigerating for at least 24 hours.