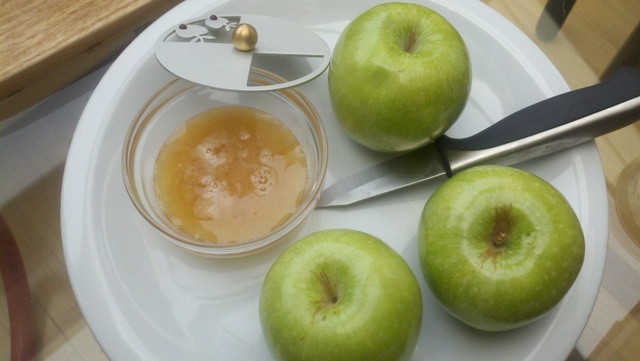 Rosh Hashanah comes early this year.  A day when Jewish people all over the world celebrate the coming of a new year, it's a joyful holiday, observed at the table by dipping traditional foods like challah (egg bread) and sliced apples in honey to symbolize a sweet year to come.
Here's our recipe for a light and delicious challah, the making of which was a weekly ritual for my grandmother, but for my family is more of a seasonal treat during these "days of awe."  As I form the dough, I think of how much the world has changed since our parents' day; they would find so much unrecognizable.  But some things stay the same, and the sight of this traditional bread would be familiar to them all.
This holiday is a time to reflect on the year that has just ended and think about how we might improve the world in the year to come.  With the turmoil in the Middle East presenting new challenges daily, we all worry for the future.  How will the world react this time and what will our leaders do? These are problems worthy of King Solomon and there are clearly no easy answers.  But we discuss and we think and sometimes we pray.
And in the meantime, we have a bite of challah with a dash of sweet honey.  Couldn't hurt.
Granny's Challah
(adapted for the modern kitchen from a recipe by Bessie Adoff)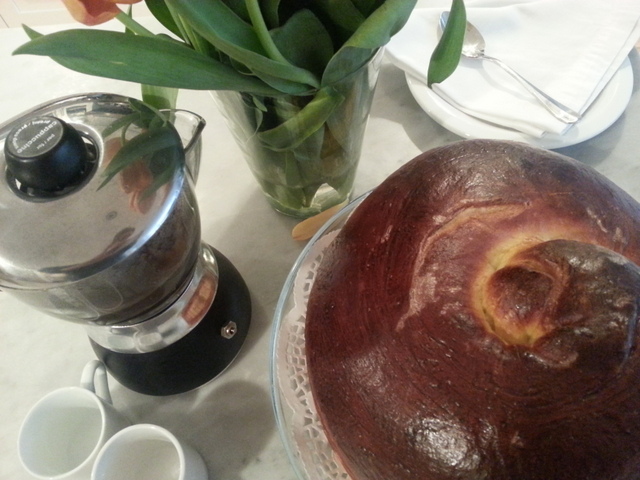 Linda Amster, editor of The New York Times Jewish Cookbook, says that challah dough is an easy dough to mix, even for inexperienced bakers.  It's usually baked in a long braided oval shape but for Rosh Hashanah, the dough is traditionally shaped into a coiled round loaf, "a circle that symbolizes the completeness of the year as well as eternity, a time without beginning or end."
6 cups all-purpose flour or bread flour
1 1/2 cups warm water
2 eggs at room temperature plus 1 egg yolk
1 teaspoon sugar or 3/4 cup honey
1 tablespoon shortening (I use Crisco)
1 tablespoon salt
2 envelopes dry yeast or 2 cakes of yeast
cooking spray, like Pam, or 4 tablespoons melted butter
Lightly spray or butter the inside of a large ceramic or glass bowl and set aside.
Put the flour in the bowl of an electric mixer fitted with the dough hook.  Add water, eggs, sugar or  honey, shortening, and salt.  Crumble in the yeast and mix together to form the dough, about five minutes on low speed.
Put the dough in the ceramic or glass bowl and cover with a clean kitchen towel; let rise for 30 minutes.
Lightly punch down the dough, pat or knead by hand a few times, and let rise again for 30 minutes.
Put the dough on a lightly floured surface.  To braid into a long loaf, divide the dough into 3 equal parts, roll into long log shapes, and braid, moistening the last part and sticking it together.  To form into a round loaf, roll the dough with your hands into one long rope, about 2 feet, and then, working from the inside out, start a coil shape around and around until you've used up all the dough.  Moisten the last part and stick it to the rest of the loaf.
If baking a long braided loaf, put onto a cookie sheet lined with parchment paper or sprayed with cooking spray; if baking a round loaf, put into a 9-inch cake pan lined with parchment paper or sprayed with cooking spray (or brushed with melted butter) and allow to rise 15 more minutes.
Preheat oven to 375 degrees.
Brush top with a mixture of 1 egg yolk and a little water.
Allow to rise another 15 minutes.
Bake for about 45 minutes to 1 hour, until top is golden brown.
Allow to cool on wire rack.
And may you and your loved ones have a sweet year.