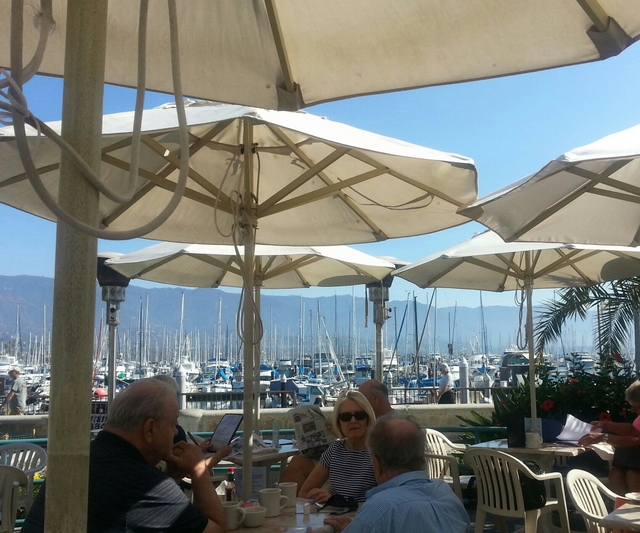 After a fast-paced run near the beach and a quick volleyball game on the sand, a girl works up an appetite.  At least that's what we hear.  We like to go for a nice walk.  Then we have breakfast.
One of our favorite places to enjoy that all-important meal is at the Breakwater Cafe.  Guess where it is!
The Breakwater Cafe is a Santa Barbara institution, having been at that same spot in the marina for over 50 years.  And for us, it's a convenient place to have our monthly tete-a-tetes where we decide the big issues of the day:    what are we doing with this blog?  why are we doing it?  how are our children?  what's up in the nation's capital?  what is twerking?  how do we feel about immigrant reform?  and why did Matthew have to die on Downton Abby?
Ask anyone in Santa Barbara what their favorite breakfast spot is and you'll get an immediate answer.  There are many places tucked away in each and every neighborhood,  and just like Cheers, people tend to go where everybody knows their name.  Some of these cafes are now serving the children and grandchildren of their original customers and some are new kids on the block.  Here are a few of our favorites… what are yours?  We'd love to know.
Jeannine's (3 locations): 15 E. Figueroa; 3607 State St; 1253 Coast Village Rd.
Montecito Coffee Shop:  1498 East Valley Road
Farmer Boy: 3427 State St.
East Beach Grill – on the waterfront, famous for their banana wheat germ pancakes: 1118 E. Cabrillo Blvd.
The Boathouse by Hendry's Beach: 2981 Cliff Dr.

Scarlet Begonia –  relatively new in Victoria Court: 11 W. Victoria St.
Summerland Beach Cafe: 2294 Lillie Ave.
Tre Lune: 1151 Coast Village Rd.
Tupelo Junction Cafe:  1218 State St.

D'Angelo Bread and Bakery – makes their bread right on the premises:  25 W. Gutierrez St.

The Breakwater is famous for their corned beef hash — a retro dish that somehow never falls out of favor.  Here's our recipe, adapted from the one and only Marion Cunningham, author of The Breakfast Book.
Corned Beef Hash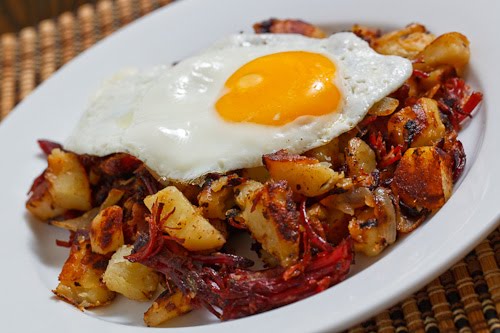 (serves 4)
8 ounces finely diced corned beef
2 large potatoes, peeled and diced
1 large onion, diced
1 red pepper, diced (optional)
salt and pepper to taste
3 tablespoons butter
2 tablespoons olive oil
4 eggs
Heat the oil and butter over medium-high heat in a heavy-bottomed or cast iron skillet.  Saute the potatoes, stirring frequently, for about 10 minutes or until browned.  Add the onions and continue cooking for another 5 minutes until onions begin to brown.
Sprinkle mixture with a little salt and (lots of) pepper.  Then add corned beef, stir well and brown for about 5 minutes.  Spread mixture along bottom of skillet with a spatula and press it down.
Cover and cook over medium-low heat for about 10 minutes.  Be patient.  Don't rush this part.  Uncover and check the bottom of the hash to see how brown it is getting – it will take at least 10 minutes to get lightly browned if the heat is moderately low.  Turn the heat to high and cook, uncovered, for 5 minutes more.
While waiting, in a separate pan or pot of boiling water, fry or poach eggs for about 2 minutes.
Invert the hash onto a warm plate, and top each serving with one poached or sunny-side-up egg.