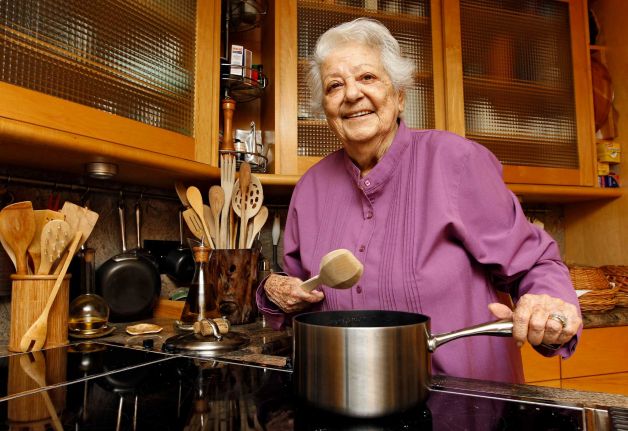 The New York Times ran a story yesterday about the doyenne of Italian cooking, Marcella Hazan, who passed away on Sunday at the age of 89.  Although she was an academic, receiving a doctorate in biology as a young woman in Italy, she learned to cook as a young bride in New York because she couldn't tolerate what passed for Italian food in the local restaurants.  She never really learned to write in English, but for many years she ran a cooking school in her Manhattan apartment and published six books that became the bible of Italian-American cooks everywhere.   Her mantra was "keep things simple" and through her recipes, a whole generation learned how to cook uncomplicated, authentic, regional Italian-style food.
Just the other day, my nephew mentioned a recipe for tomato sauce that he and his girlfriend had come across quite by accident;  it was "simple but delicious" he said, and only had tomatoes, butter, and an onion in it.  The obituary in today's paper features just such a recipe, and we can't help but wonder if that accidental gem was actually Marcella's.  Here it is, one of her most well-known dishes, a tribute to the great Marcella Hazan, who was apparently a force of nature in the classroom and in the kitchen, and a gift to us all.
 Marcella Hazan's Tomato Sauce
(adapted from "Spoon Fed" by Kim Severson and reprinted in the New York Times)
This recipe makes enough sauce for a pound of pasta.
2 cups tomatoes, with their juices (for example, a 28-ounce can of San Marzano whole peeled tomatoes)
5 tablespoons butter
1 onion, peeled and cut in half
salt to taste
Combine the tomatoes, their juices, the butter and the onion halves in a saucepan.  Add a pinch or two of salt.  Place over medium heat and bring to a simmer.  Cook, uncovered, for about 45 minutes.  Stir occasionally, mashing any large pieces of tomato with a spoon.  Add salt as needed.  Discard the onion before tossing the sauce with pasta.