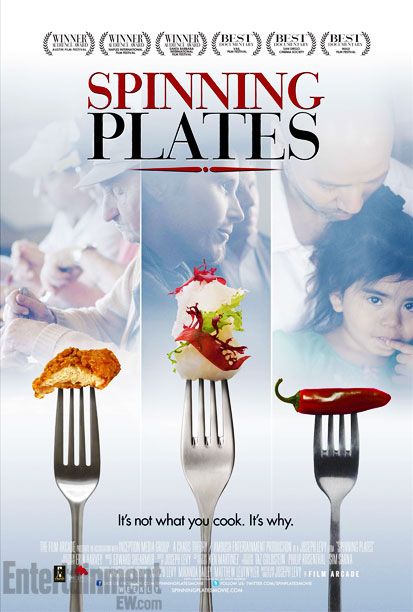 When someone in your extended family does something remarkable and gets recognition for it, you do something that in Yiddish we call "kvelling."  It means to be bursting with pride and it is a very very good thing!   This is what we're feeling these days as our dear friend, Joseph Levy, continues to have a year that will go down in his family history as the beginning of the beginning… a year of wins!  Most importantly, he got engaged to the woman of his dreams, our Lisa.  And now his film, Spinning Plates, which appeared in many film festivals all over the country last year and won the prize for "audience favorite" in virtually all of them, is opening in theaters all across the country.  The movie is a documentary unlike any you've ever seen; it's about three restauranteurs who are as different as they can be, yet show similar vulnerabilities when faced with challenges in their professional and personal lives.  It's poignant and lovely and quite wonderful,  so we wanted to help spread the word.  (Go to spinningplatesmovie.com to find a theater near you).
Thomas Keller, of The French Laundry and Bouchon fame, is in the movie and is now helping to publicize it … so in honor of his involvement, we thought we'd feature our version of a Thomas Keller recipe you'll love.
Here's to you, Joseph … may you have continued success!
Apple Fritters
(serves 6)
(adapted very slightly from ad hoc at home by Thomas Keller)
1 cup all-purpose flour
2 tablespoons sugar
1 1/2 teaspoons baking powder
1/8 teaspoon cinnamon
1/2 teaspoon kosher salt
1 large egg
1/2 cup plus 1 tablespoon whole milk
3 large Fuji, Gala, or Golden Delicious apples
Canola oil for deep-frying
Powdered sugar for dusting
Whisk together the flour, sugar, baking powder, cinnamon, and salt in a medium bowl.  Lightly beat the egg and milk in a small bowl.  Whisk into the dry ingredients until combined.  The batter can be covered and refrigerated for up to 3 hours.
Peel the apples and slice into  2-inch-long, 1/4-inch-thick matchsticks.  Fold into the batter.
Heat about 1 1/2 inches of oil to 325 degrees F in a wide deep pot.  Set a cooling rack over a baking sheet and line with paper towels.  Using tongs, gently lift up about 5 to 6 of the apple matchsticks from the batter, allowing the excess batter to drip back into the bowl — the fritter should be irregular in shape, with just a very light coating of batter – and add to the hot oil.
Add a few more fritters to the pot, without crowding, and fry for about 5 minutes, turning the fritters from time to time, until crisp and golden brown.  Use a slotted spoon to transfer them to the paper towels, and fry the remaining fritters in batches.
Stack the fritters on a serving platter, sprinkle generously with powdered sugar, and serve immediately.