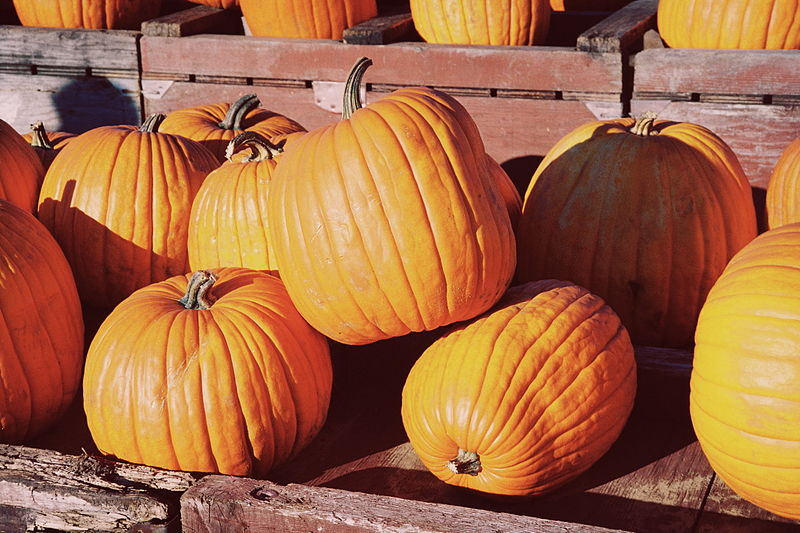 Whether we live in Santa Barbara or Secaucus, when October rolls around, it's pumpkin time.  Today we share with you a few seasonal dishes that transcend geography and usher in the season in a most inviting way.   Cue the cinnamon.  Good times are coming.
Pumpkin Risotto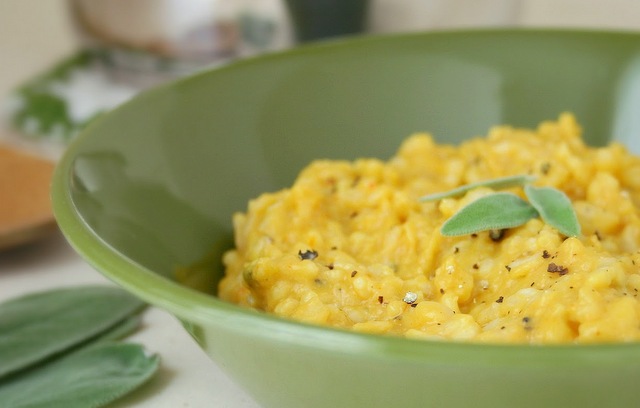 (adapted from Food and Wine Magazine)
This recipe uses fresh pumpkin, but don't be intimidated if you've only ever used the stuff from the can … it's just like using butternut squash, which, by the way, you can always substitute here.
2 tablespoons olive oil
1/2 pound fresh pumpkin, peeled and cut into 3/4-inch dice or 1 1/3 cups (about 6 mini-pumpkins scooped out and saved for serving)
2 medium white onions, finely diced
3/4 cup dry white wine such as Riesling
1 1/2 teaspoons ground nutmeg (if you can use freshly grated nutmeg, all the better.)
1 teaspoon freshly ground white pepper
1 teaspoon salt
7 cups vegetable or chicken stock
5 tablespoons unsalted butter
1 1/2 cups arborio rice (about 11 ounces)
3 tablespoons finely chopped fresh flat-leaf Italian parsley (optional)
1/2 cup freshly grated Parmesan cheese, plus more for serving
whole sage leaves for garnish (optional)
Heat oil in medium saucepan.  Add the pumpkin and half the onions and cook over moderately high heat, stirring frequently, about 7 minutes.  Stir in the wine nutmeg white pepper, and salt and cook, stirring occasionally, until most of the liquid has evaporated, about 12 minutes.  Remove from the heat and let cool slightly.  In a food processor puree the pumpkin mixture until smooth.  Transfer to a small bowl.
In a medium saucepan, bring the vegetable or chicken stock to a boil over moderate heat.  Reduce the heat to low and keep the stock hot In a medium saucepan, heat 2 1/2 tablespoons of the butter until it begins to sizzle.  Add the rice and remaining onions and cook over moderately high heat, stirring with a wooden spoon until the onions are translucent, about 7 minutes.  Immediately stir in 1 cup of the hot stock and cook, stirring constantly, until all of the liquid has been absorbed, about 2 minutes.
Reduce heat to moderate and gradually add 3 more cups of the hot stock 1 cup at a time, stirring and cooking until each cup is almost absorbed before adding the next, about 15 minutes.  Stir in the pumpkin puree.  Continue adding the remaining 3 cups stock, 1 cup at a time, stirring and cooking as above, until the rice is tender, about 10 minutes longer.  The risotto will be quite loose.  Stir in the parsley and the remaining 2 12 tablespoons butter.
To serve, spoon the risotto into 6 warmed soup plates (or the hollowed out mini-pumpkins) and sprinkle the Parmesan on top.  Add sage leaves if using.  Serve immediately.
Pumpkin Bread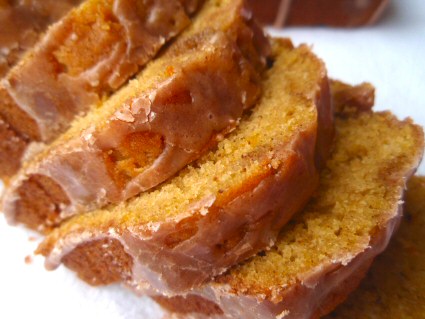 When Rhona worked at our local elementary school, one of the moms always brought this prize winner for the Halloween parties and we have been making it ever since.  Here's her recipe, complete with optional but oh-so delicious frosting.  Thank you, Cindy Anderson!
1 cup vegetable oil
3 cups sugar
4 eggs
2/3 cup water
3 1/2 cups all-purpose flour
1/2 teaspoon baking powder
1 1/2 teaspoons salt
2 teaspoons baking soda
1 teaspoon ground cloves
1 teaspoon cinnamon
1 teaspoon nutmeg
1 15-ounce can of pumpkin puree
Preheat oven to 350 degrees.
Lightly coat a 13″ x 9″ loaf pan with cooking spray.
In a large mixing bowl or electric mixer on low speed, combine oil and sugar; then add eggs, pumpkin, and spices.
Add dry ingredients and water and mix until just combined.
Pour batter into a 13″ x 9″ loaf pan.
Bake for one hour.  Leave in pan for 10 minutes then let cool completely on wire rack before frosting.
Frosting:
2 tablespoons butter, melted
2 teaspoons prepared coffee
1 cup powdered sugar, sifted
1 teaspoon vanilla
Combine all ingredients until smooth; then spread on cooled pumpkin bread.  Allow to set before slicing.
Pumpkin Cheesecake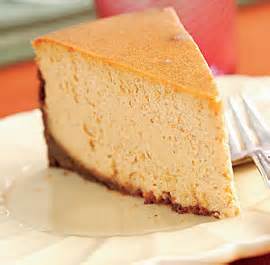 (adapted from Martha Stewart's Everyday Food)
This is the recipe Joan always made for her mom, who loved it and requested it every holiday!   Light and fluffy, it's a great alternative to pumpkin pie.
For the crust:
1 1/4 cups graham-cracker crumbs (If using whole crackers, use 10 and pulse in food processor until ground)
1/4 cup sugar
4 tablespoons unsalted butter, melted
For the filling:
4 8-ounce packages bar cream cheese, softened
1 1/4 cups sugar
3 tablespoons all-purpose flour
1 cup canned pumpkin puree
2 tablespoons pumpkin-pie spice*
1 tablespoon vanilla
1/2 teaspoon salt
4 large eggs, room temperature
Preheat oven to 350 degrees, with rack in center.  Assemble a 9-inch nonstick springform pan; if your pan isn't nonstick, coat lightly with cooking spray.
To make the crust:  In a medium bowl, mix cracker crumbs, sugar, and butter until moistened; press firmly into bottom of pan.  Bake until golden around edges, about 10 to 12 minutes.
To make the filling:  With an electric mixer, beat cream cheese and sugar on low speed until smooth; add flour but do not overmix  Add pumpkin puree, pie spice, vanilla, and salt; mix just until smooth  Add eggs one at a time, mixing until each is incorporated before adding the next.
Place springform pan on a rimmed baking sheet.  Pour filling into springform pan and gently smooth the top.
Tranfer to oven; reduce oven temperature to 300 degrees.  Bake 45 minutes.  Turn off oven; let cheesecake stay in oven 2 hours more (without opeing.. this is the key to an uncracked top!)
Remove from oven; cool completely.  Cover with plastic wrap and refrigerate until firm, at least 4 hours.
Unmold before serving.
* You can make your own pumpkin pie spice mix by combining 1 12/ teaspoons ground ginger, 1 teaspoon ground cinnamon, and 1/4 teaspoon ground nutmeg.
Brown Butter and Sage Sauce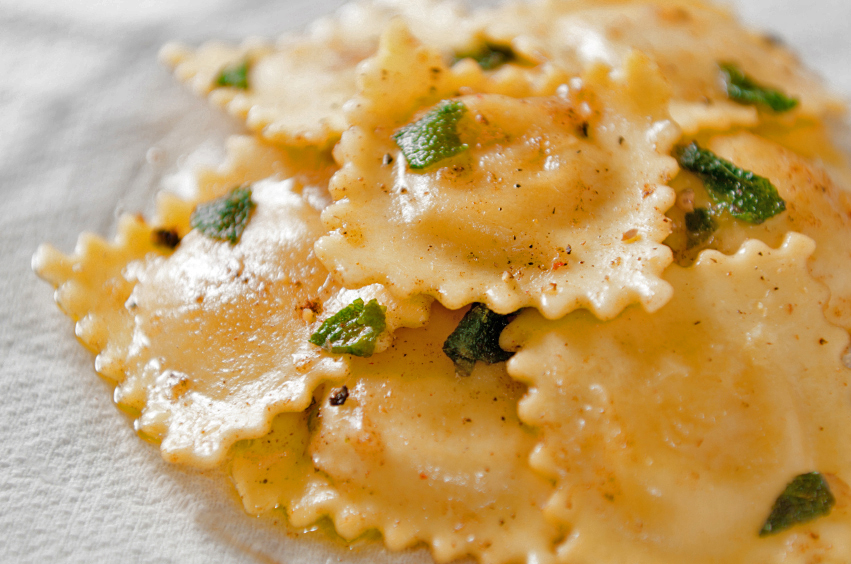 This is an easy sauce for your prepared pumpkin ravioli, which is easily found at markets this time of year.
Melt 4 tablespoons butter over low to medium heat in a large heavy skillet until it begins to foam, about 5 minutes.  Immediately remove from heat and stir in 2 tablespoons sage (chopped or whole) and 2 tablespoons lemon juice.  Cook, stirring often until sage is crisp and butter is golden brown; keep warm and toss with cooked ravioli.