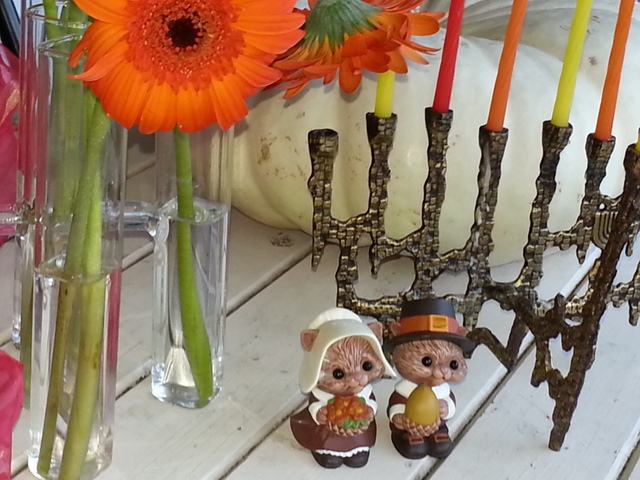 Every 70,000 years, the first night of Hanukkah converges with Thanksgiving, and although it's not exactly at the top of our worry list, in fact, this is the year!  So even before we put the turkey in the oven, before we peel the yams or bake the pumpkin pie, we're lighting the menorah, spinning the dreidle, and making latkes! 
If you love traditional potato pancakes, check out our post from last year [Hanukkah Sweet and Savory].  But in honor of this year's crazy holiday mash-up, we present our friend Trudy's sweet potato latkes, a treat we won't wait another 70,000 years to enjoy.
Also, while we're on the subject, this is a good time to remember that savory pancakes come in many varieties.  Try shredded zucchini and carrots mixed with potatoes, or a version we fell in love with last summer when we were in Hawaii … a Japanese specialty that's made with scallions and is a diet staple there, whether served as an appetizer,  main course, or side.
Enjoy our latkes variations and if you're celebrating Hanukkah, may the glow of the candles light your Thanksgiving feast.  And don't forget to take a picture for your descendants 70,000 years hence.  They'll get a kick out of it 🙂
Trudy's Sweet Potato Latkes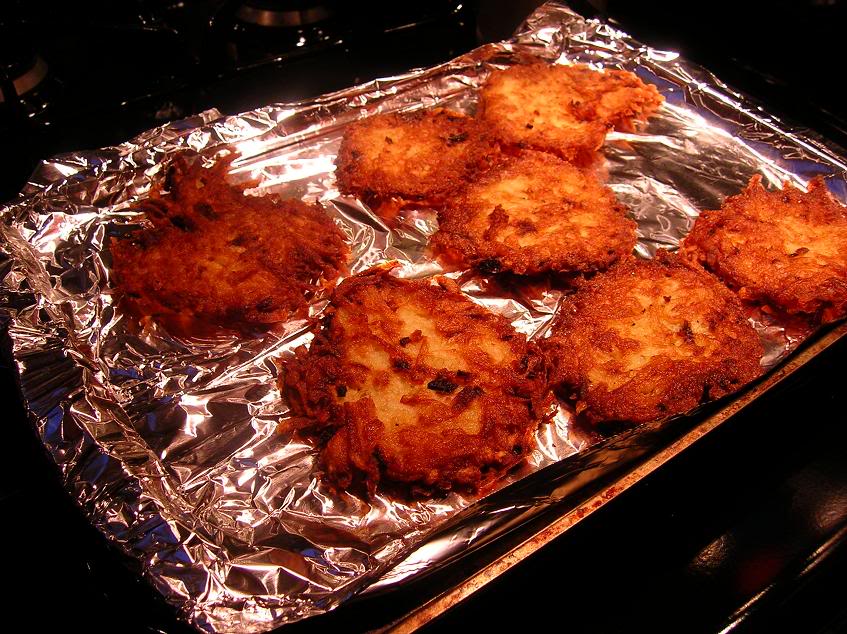 (adapted from Epicurious)
Trudy sent us the idea for these from her home in Honolulu, where she lives with The Happiest Man in America (really, look it up!).
For Hanukkah this year, she's making these sweet potato pancakes topped with a marshmallow and garnished with a dollop of her guava cranberry sauce ("very easy, a can of guava jam, a can of cranberry sauce and a couple of dashes to taste of powdered ginger or if you want it chunkier, the whole berry cranberry sauce with the guava jam and chopped crystallized ginger.")
Makes about 26 pancakes
Total Time: 30 min
1 lb sweet potatoes, peeled and coarsely grated
2 scallions, finely chopped
1/3 cup all-purpose flour
2 large eggs, lightly beaten
1 teaspoon salt
1/2 teaspoon black pepper
3/4 cup vegetable oil
Stir together potatoes, scallions, flour, eggs, salt, and pepper.
Heat oil in a deep 12-inch cast iron skillet over moderately high heat until hot but not smoking. Working in batches of 4, spoon 1/8 cup potato mixture into oil and flatten to 3-inch diameter with a slotted spatula. Reduce heat to moderate and cook until golden, about 1 1/2 minutes on each side. Transfer latkes with spatula to paper towels to drain, and continue working in batches until batter is used up.
Mixed Vegetable Latkes
2 cups shredded potatoes
1 cup shredded zucchini
1 cup shredded carrots
1/2 cup chopped onion
1/2 cup flour
salt and pepper to taste
4 eggs, lightly beaten
Vegetable oil for frying
Applesauce and sour cream  for serving
Preheat oven to 200 degrees so as you cook them, you can keep the pancakes warm (in a single layer or they'll steam and get soggy) until all the batter is used.
After shredding vegetables with a hand grater or in a food processor with the medium grating disc, put the vegetables in a sieve set over a large bowl.  Squeeze out excess moisture from the vegetables and allow to drain.  Then combine potatoes, zucchini, carrots, onion, flour, salt, pepper, and eggs in a large bowl.  Add 2 tablespoons of the potato starch that you collected from the draining and mix into the vegetables.  Heat oil in medium skillet over medium heat.
Heat oil in cast iron pan over medium heat and gently add about 2 tablespoons batter for each latke into hot oil.  Fry until golden on both sides, turning once.  Remove from skillet and drain on paper towels before serving.
Okonomiyaki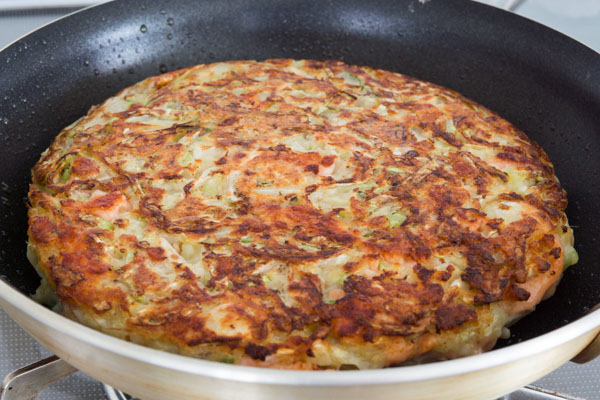 There are so many variations of this, it's impossible to count them all; in fact "okonomi" actually means "as you wish."  There are apps and websites devoted to the dish; it's been described as Japanese pizza or Japanese pancakes, and it can be custard-y or crisp.  If you have access to special okonomiyaki flour or sauce, you can make the truly authentic kind.  But Momoko, Takako, and Miyoko, our extended family from Tokyo, have helped us adapt a recipe for American cooks, using ingredients that you can easily find.  Feel free to add your own touches, like sausage, shrimp, shredded chicken, or yams.
1 cup flour
2/3 cup chicken stock
2 eggs
4 cups shredded cabbage
2 green onions
1/2 cup vegetable oil
Combine all ingredients well with a big spoon or clean hands, until most of the flour is absorbed. At this point you can add whatever additional ingredients you choose and combine it with the batter.  Then heat a cast iron pan and add oil until hot but not smoking.  Spoon 2 tablespoons of batter for each pancake into the pan and cook for about 7 minutes, or until the bottom is browned.  Carefully flip the pancake (or use a second oiled pan to help you) and cook another 7 minutes.  Drain on paper towels briefly before serving.