The Montecito Public Library recently held their major annual fundraiser:  a cookbook sale!   Personally, I have way more cookbooks than I know what to do with, but of course I had to go take a peek, so I was one of the first in line when the doors opened.  At any good book sale, there's always a gem or two that need a home, and somehow, like a true collector, I can never resist.  This particular morning, I just happened to get a text from my newlywed niece while I was browsing, so of course, I had to put a few books in my basket for her… and my kids… and a few friends.  There were some amazing classics that really should be on the bookshelves of everyone who has an interest in cooking, and although I tried to convince the young man next to me to grab some of those, he resisted, (he was there for the books on extreme dieting) so I had to take them!    Rationalization ahead:  the money went to a good cause,  the holidays are almost here, and as my niece said, "Used books are so cool!"
My name is Rhona and I am a cookbook addict.
I came home with quite a haul, and when I told Joan about it, we decided this would be a good time to write about some of our favorite classics, those we'd recommend to all cooks, young and old.  We'll feature some lesser-known titles in future posts, and we even have a giveaway planned, so stay tuned!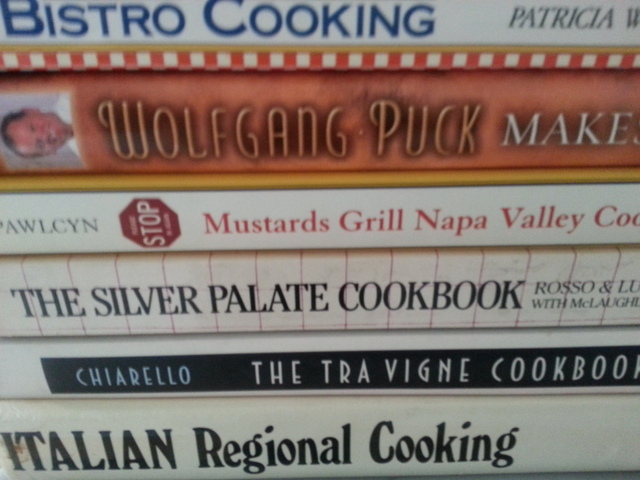 Joan and Rhona's Top 10:
The Silver Palate Cookbook  by Julee Russo and Sheila Lukins
Italian Regional Cooking by Ada Boni 
How to Cook Everything by Mark Bittman
Essentials of Classic Italian Cooking by Marcella Hazan
New York Times Cookbook by Craig Claiborne
The Joy of Cooking by Irma Rombauer
Wolfgang Puck Makes it Easy by Wolfgang Puck
The Moosewood Cookbook by Molly Katzen
Mastering the Art of French Cooking by Julia Child, Louisette Bertholle, and Simone Beck
The Barefoot Contessa by Ina Garten
And here's one of the most famous recipes of all time, the ubiquitous Chicken Marbella, courtesy of The Silver Palate.  Chances are you're quite familiar with this dish, but for those uninitiated, you're in for a treat.  This Moroccan-style meal does duty as a family dinner (just divide the recipe in half) or a crowd pleaser, and can be served hot or at room temperature.  Classic.
Chicken Marbella
(This serves 10 to 12, but recipe can be halved for a smaller group.  And be sure to read the recipe through – it calls for overnight marinating so plan accordingly.)
4 chickens, 2 1/2 pounds each, quartered
1 head of garlic, peeled and finely pureed
1/4 cup dried oregano
kosher salt and freshly ground pepper to taste
1/2 cup red wine vinegar
1/2 cup olive oil
1 cup pitted prunes
1/2 cup pitted Spanish green olives
1/2 cup capers with a bit of juice
6 bay leaves
1 cup brown sugar
1 cup white wine
1/4 cup Italian parsley, finely chopped
In a large bowl, combine chicken quarters, garlic, oregano, pepper and kosher salt to taste, vinegar, olive oil, prunes, olives, capers and juice, and bay leaves.  Cover and let marinate, refrigerated, overnight.
Preheat oven to 350 degrees F.
Arrange chicken in a single layer in one or two large shallow baking pans and spoon marinade over it evenly.  Sprinkle chicken pieces with brown sugar and pour white wine around them.
Bake for 50 minutes to 1 hour, basting frequently with pan juices.  Chicken is done when thigh pieces, pricked with a fork at their thickest, yield clear yellow (not pink) juice.
With a slotted spoon, transfer chicken, prunes, olives, and capers to a serving platter.  Moisten with a few spoonfuls of pan juices and sprinkle generously with parsley.  Pass remaining pan juices in a sauceboat.