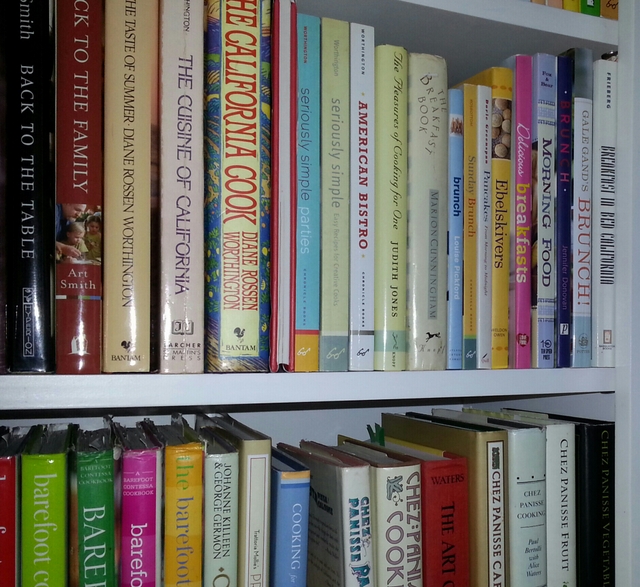 When we were growing up in New York and Los Angeles, the books we read and the movies we saw were how we traveled and how we learned about the rest of the world.   Were they all classics?  Well, have YOU ever seen Tony Curtis in 40 Pounds of Trouble?   We didn't think so.  But movies like that introduced Rhona to life out west, to the beauty of Lake Tahoe and the sunshine of California.  Books like The Moneyman transported Joan back to the France of the 1700s and fueled her lifelong interest in history.  And as new brides, Peg Bracken's I Hate to Cook Book (ironically) taught us how to cook.
Sometimes jewels can be found in unexpected places.  Classics aren't the only ones that can have an impact.  Beethoven is great, but Mancini isn't bad, right?
As adults, cookbooks have been a way for us to both re-visit the past and experience the unfamiliar.  It's not just the recipes, but the photos and the narratives that take us out of the moment and inspire us to create.  Some of them are true literary masterpieces, like anything by Elizabeth David or MFK Fisher – "food lit" at its best.   If you've never looked at these, we urge you to give them a try.  Then get out your Dutch oven or fire up the grill.
Monet said his true masterpiece was his garden… perhaps yours will be a perfect soufflé.
And this month, as we approach the busy holiday season, we're giving away a cookbook we know you'll love, Diane Worthington's "A Taste of the Season."  In order to win, simply comment on this post between now and December 21st telling us about one of YOUR favorites.  We'll choose one entry at random from everyone who participates and announce the winner in our pre-Christmas post.
Joan and Rhona's other faves:
1.   Bistro Cooking by Patricia Wells
2.   The California Cook by Diane Worthington
3.   Around My French Table by Dorie Greenspan
4.   The Classic Pasta Cookbook  by Giuliano Hazan
5.   Jerusalem:  A Cookbook by Yotam Ottolenghi and Sami Tamimi
6.   The Breakfast Book by Marion Cunningham
7.   Cucina Rustica by Viana La Place and Evan Kleiman
8.   The Jewish-American Kitchen by Raymond Sokolov
9.   Canal House Cooks Every Day by Christopher Hirsheimer and Melissa Hamilton
10. Chez Panisse Desserts by Lindsey Shere